Democrats are giving Donald Trump a transparency gut check in the form of a new bill with a mouthful of a name — and an acronym that takes an unsubtle dig at the president.
The "Making Access Records Available to Lead American Government Openness Act" — or MAR-A-LAGO Act — would require the Trump administration to disclose the names of anyone who visits the White House or "any other location at which the President or the Vice President regularly conducts official business."
The legislation, introduced in the House and Senate on Friday, calls for the creation of a publicly available database to be updated every 90 days.
Democrats say the move is necessary after a Whitehouse.gov page featuring visitor access records has said "this page is being updated" ever since Trump took office — and remains unchanged. In addition, they want the public to know who has been visiting Trump's private club in Florida, known as Mar-a-Lago — the namesake of the bill — because he conducts presidential business there.
"He basically moved the office of the presidency," said Richard Painter, the former ethics czar for the George W. Bush administration and vice chair of the Citizens for Responsibility and Ethics in Washington, or CREW. "Under those circumstances, in which taxpayers are paying for you to do government work and for your Secret Service protection, they're entitled to know what private parties are moving in and out of there."
CREW introduced the concept of a publicly accessible White House visitor log in 2009, when they sued the Obama administration to create one. The last White House maintained those logs for the next seven years, jotting down the names of more than 6 million visitors.
According to a CREW spokesman, the organization is currently weighing its options for an administration still in its infancy, as the logs are "a key component of government transparency."
But Trump has shown no indication that he plans to continue the practice in either Washington, D.C., or at Mar-a-Lago — dubbed his "Winter White House" — a place where anyone can gain access with the purchase of a $200,000 membership fee.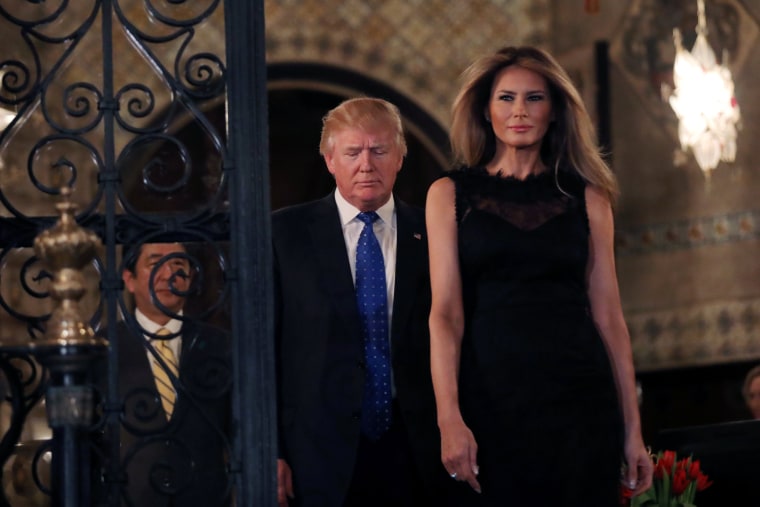 Trump has used the Florida country club to meet with Japanese Prime Minister Shinzo Abe, members of his cabinet and other leaders at a premium cost to taxpayers.
A senior White House official told NBC News that Trump plans to host Chinese President Xi Jinping at the club next month. But under current rules, he wouldn't have to disclose that.
"If the Trump administration isn't going to continue a practice that was widely lauded by leaders across the political spectrum, Congress should mandate disclosure to guarantee public access to the visitor log records," said John Wonderlich, executive director of the Sunlight Foundation, a government transparency watchdog group.
Taxpayers are "entitled to know what private parties are moving in and out of there."
And mandating disclosure is what the MAR-A-LAGO Act intends to do, say the Democrats who introduced it: Sens. Tom Udall of New Mexico, Tom Carper of Delaware, and Sheldon Whitehouse and Jack Reed, both of Rhode Island, as well as Rep. Mike Quigley of Illinois.
Earlier this month, the four senators and other Democratic colleagues wrote an official letter to the president demanding the publication of the visitor logs. In February, Udall and Whitehouse also inquired about who was buying access to Trump through the purchase of a Mar-a-Lago membership.
But there's been no response from the White House, they say. A White House spokeswoman and the National Republican Senatorial Committee did not immediately respond to requests for comment about the bill.
"The American people need to know who has access to the White House if we're going to 'drain the swamp'. So far, all we've seen from the President is murk," Whitehouse said in a statement. "His Administration has stonewalled congressional requests for information about his advisors and appointees' conflicts of interest."
Stonewalling over key transparency details is a common occurrence in the Trump administration, according to these Democratic lawmakers, many of whom have consistently asked for the president to release his tax returns.
The visitor logs would be a productive step in growing public confidence and trust, the Democrats added.
Observers say they're not holding out hope the president or his White House will comply or want to voluntarily release the logs.
"I think that's wishful thinking," Painter said. "I think it will only happen if the law passed."