For one night every summer, Rep. Cedric Richmond is the most powerful man in Congress.
On Thursday, following one of the most bitter party clashes ever witnessed on the House floor, the right-handed Louisiana lawmaker will try to lead his Democratic colleagues to their eighth consecutive win over Republicans in the annual Congressional Baseball Game at Nationals Park.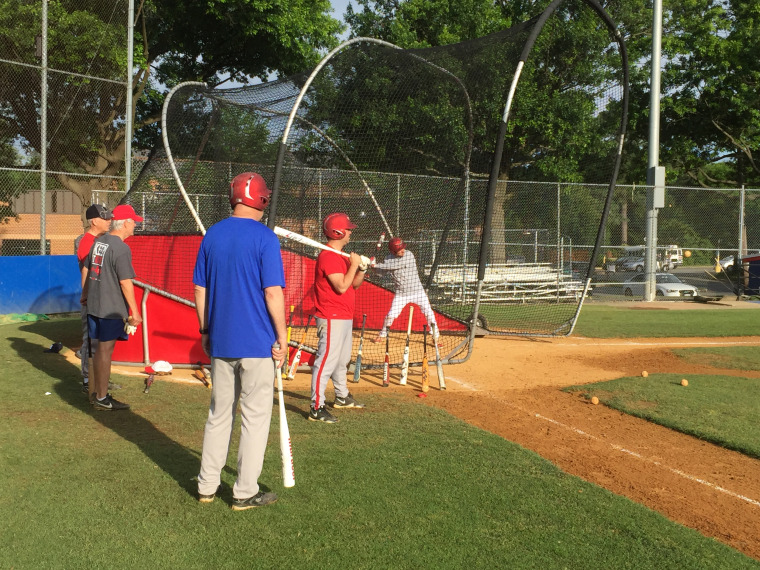 The game is one of the longest-running rivalries in both sports and politics. Organized by professional baseball player-turned-congressman John Tener, it was first played in 1909. Yet no match-up in recent memory has taken place under such partisan hostility: Thursday's game follows an on Democratic sit-in over gun control measures that began before noon Wednesday and stretched through the next afternoon.
With both parties doing battle in the chamber well into the early morning hours, there also looms the question as to which side of the aisle will win the annual game, which has been sponsored since 1962 by Roll Call, the media outlet that presents the Roll Call Trophy.
"It's an extremely competitive game because the players are the most competitive people in the world," said former New Mexico Gov. Bill Richardson, a long-time Democratic team member during his time in Congress.
Richardson, a Congressional Baseball Hall of Famer — yes, that exists — spent the summer of 1967 as a relief pitcher in the prestigious Cape Cod Baseball League alongside future Yankees captain Therman Munson. Richardson eventually changed positions to become "the world's slowest third baseman" for the Democrats.
Related: In 2014, Democrats' Pitching Too Hot for GOP at Congressional Baseball Game
Richardson's favorite memories: Hitting a ball through John Kasich's legs and ripping a pair of deep shots off of Hall of Fame (the real one) pitcher Jim Bunning, also a lawmaker. "I was on second and he stared me down," recalled Richardson of the aging senator. "He had that Hall of Fame form ... [but] his fastballs were like watermelons."
Everyone who's been a part of the game has similar stories of their own. Rep. Bill Pascrell of New Jersey recalls getting beaned by a pitch from NFL great-turned-congressman Steve Largent. Former Rep. Marty Russo, another Congressional Hall of Famer, cites the barehanded double play he and Rep. David Bonior turned after the ball took a bad hop off a rock. And then there's the legendary game in 1979 when former Rep. Ron Paul hit one out of the park.
Rep. Linda Sanchez of California, the only woman currently on either roster, remembers the home plate collision that prompted a "healthcare now" chant from the stands. There was the broken wrist that Rep. Mike Oxley suffered after taking a hit at first base. "In the old days, it was a little more rough and tumble," said current Republican team manager Joe Barton.
There are a few elements of the game that both Democrats and Republicans agree on. They're incredibly proud of the money it raises for charities — The Boys and Girls Clubs of Greater Washington, The Washington Nationals Dream Foundation and The Washington Literacy Center. They also believe that spending time together on the ball field is a great way to bridge relationships between the parties, a theory that will be put to the test again this year.
"The more you know somebody, the more willing you are to trust them and give them the benefit of the doubt," said Barton, who serves on the House Energy and Commerce Committee with his managerial counterpart, Democratic Rep. Mike Doyle.
Russo agrees. "I think sports does that. It transcends partisan politics" he said, citing his close friendship with Dan Quayle, who he competed against in congressional athletics.
Related: Pizza, Pillows Help Fuel the House Rebellion
But make no mistake about it, even under the best of circumstances, both sides take the game incredibly seriously. Practices begin at 6:30 nearly every morning that Congress is in session — Democrats start three months before the game, Republicans start two months prior. Rep. Roger Williams, a Republican coach who reached AA ball in the Atlanta Braves organization, arrives at GOP practice at 5:30 to rake the field. "Either you're totally certifiable or you really like the game," joked New Jersey Rep. Bill Pascrell, a Democratic coach and former catcher who says he once attended some big league tryouts himself.
With a record of 39-38-1, Democrats hold a narrow historical edge over Republicans, but it's their seven-game winning streak that weighs heavily on the current roster. Much of that recent success has been attributed to Richmond, a former Morehouse College outfielder referred to by Democrats as "franchise," who pitched a one hitter in his 2011 debut.
"I'm gonna leave him in until his arm falls off," said Doyle who claims his ace can surpass 80 mph and is also armed with a curveball and changeup.
With no members capable of replicating that velocity, Republicans have secured a pitching machine and brought in former college players to help with practice. "I'd like to send a check for Richmond for governor and get him out of Washington," said Rep. Lou Barletta, the Republican first baseman who once tried out for the Cincinnati Reds. "There's gotta be someone in the country who's a Republican that can pitch."
Republicans will be looking for a strong performance from knuckleballer Rep. Mark Walker of North Carolina. "It's conceivable he could pitch the entire game," said Barton, adding that Rep. John Shimkus of Illinois and Rep. Pat Meehan of Pennsylvania will be available out of the bullpen.
Related: Democrats Continue Gun Control Sit-In as Paul Ryan Adjourns House
After improved hitting last year, Republicans believe their hopes of ending the Democratic dynasty hinge on minimizing errors. "The key to our success is good fielding play," said Barton. "If our infield plays well and our outfield plays well, it'll be a competitive game."
Williams added that "this game is no different than a big league game. You gotta have pitching, you gotta throw strikes, you gotta keep the ball in front of you. I think we're gonna play really well and I think we're gonna win it this year."
Rep. Hakeem Jeffries, a left fielder with a .333 average (in three at bats), said there's plenty of tension on his team, too. "No one on the Democratic side wants to be part of the losing team that breaks that streak," he said.
"Our folks are healthy, our pitcher's in good shape," Democratic cleanup hitter Rep. Patrick Murphy of Florida added." We've had some good batting practice so I feel good about our odds."
The wild card, of course, is how players on both sides will bounce back from the late night floor fight and whether the political turmoil will add fuel to the century old rivalry — or if the game will help soften the tension between the battling parties.
The first pitch is scheduled for 7:05 Thursday night. Comcast NBC Universal is a sponsor of the game.