Super Bowl hero Von Miller of the Denver Broncos has tested positive for the coronavirus after having come down with flu-like symptoms, the player and the team said Thursday.
Miller, 31, a superstar linebacker, "elected to share his diagnosis publicly to emphasize that anyone can be afflicted with coronavirus," according to a team statement.
Full coverage of the coronavirus outbreak
"It's true," Miller told NBC affiliate KUSA of Denver. "I've just been here in the crib, and I started to get a little cough. You know, I have asthma, and I started getting a little cough a couple days ago. My girlfriend, she told me when I was asleep, she said, my cough, it didn't sound normal."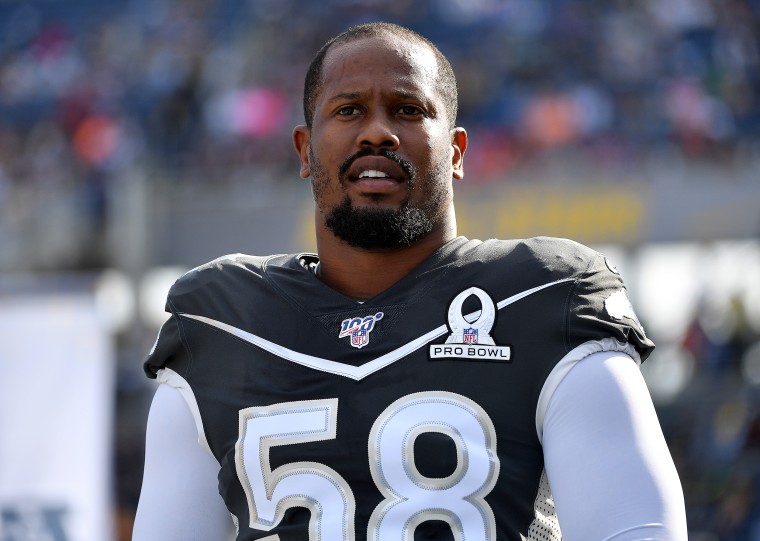 Miller said he's still in a good mood and not in any obvious pain.
"I'm not sure what's going on, but I tell you what, I'm in good spirits. I'm still Von," he told KUSA. "I'm not feeling sick or hurting or anything like that."
The Broncos said he's the first person in their organization to have tested positive for the virus.
Download the NBC News app for full coverage and alerts about the coronavirus outbreak
"Von is doing well and recovering at home in self-isolation," the team said. "He remains under the care of team doctors, who are following all coronavirus treatment procedures to ensure a safe environment for Von and our community."
Miller is among only a handful of defensive players ever to win the Most Valuable Player award in pro football's ultimate game, leading his Broncos to a 24-10 victory over the Carolina Panthers in Super Bowl 50 on Feb. 7, 2016.