DENVER — The Denver Post editor who oversaw an editorial critical of budget and staff cuts made by the newspaper's New York-based hedge fund owners said he resigned Thursday after another piece critical of the company was rejected.
Editorial Page Editor Chuck Plunkett said in an interview he resigned Thursday after Digital First Media management refused to run a new piece that mentioned last week's dismissal of an editor at a DFM-owned newspaper, as well as new financial data on the company, controlled by Alden Global Capital.
"I was trying to follow good journalism ethics and I was not allowed to do it anymore," Plunkett said.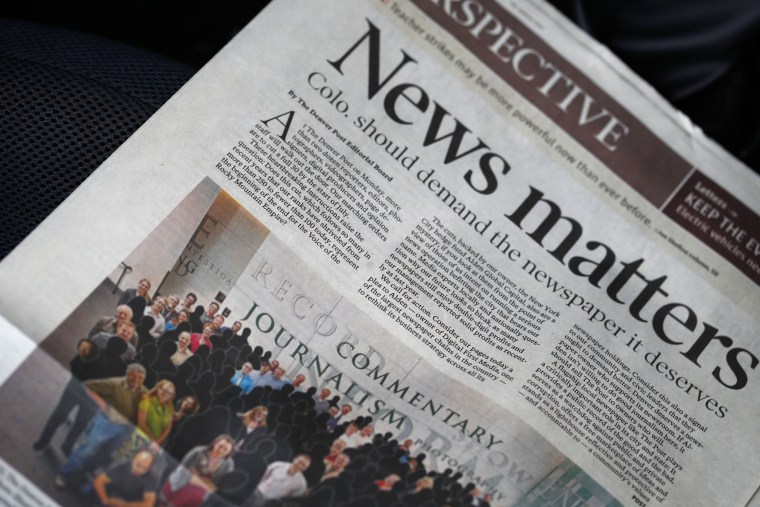 The Post on April 6 published Plunkett's initial editorial headlined "As vultures circle, The Denver Post must be saved," calling on Alden to sell the newspaper after cutting 30 more positions in the newsroom, leaving it at a fraction of its size just a few years ago. Plunkett did not inform the newspaper's editor or owners of his intentions to publish the editorial.
After about a week, Plunkett said, the message came down from Digital First's chief operating officer Guy Gilmore "that we weren't supposed to be biting the hand that fed us."
Gilmore did not respond to a request for comment Thursday night.
Plunkett said it was made clear to him he had to stay quiet and he did not publish some opinion pieces submitted on the newspaper's future, which has roiled Denver's leadership and led to a national debate over the future of local journalism. Then, last week, the editorial page editor of The Boulder Daily Camera said he was dismissed after he self-published an editorial echoing Plunkett's that had been rejected by leadership.
On Tuesday, a prominent newspaper analyst published what he said were internal figures of the profits Digital First made off its newspapers. Plunkett decided he couldn't stay silent and filed another editorial. But he had to send it to the Post's editor, Lee Ann Colacioppo, to send to Gilmore for approval. The piece was rejected, Plunkett said, and he resigned.
Colacioppo, whom Plunkett praised, did not respond to a request for comment.
"I was boxed into a corner and given an ethical quandary I couldn't resolve," Plunkett said.
This story has been corrected to show that Digital First's chief operating officer's first name is Guy, not Greg.