The Department of Justice announced several steps Thursday to start collecting nationwide data on interactions between law enforcement and civilians, including police shootings and in-custody deaths.
The move follows demands born out of protests surrounding the deaths of unarmed black people in places like Ferguson, Missouri, and Baltimore, Maryland.
So far, the task of aggregating information on police shootings has largely fallen to news media — most notably The Washington Post and The Guardian.
Related: Black Men Dying at the Hands of Police
In a statement announcing the new initiatives, Attorney General Loretta Lynch called them "vital efforts toward increasing transparency and building trust between law enforcement and the communities we serve." The pilot data collection program is set to begin early next year.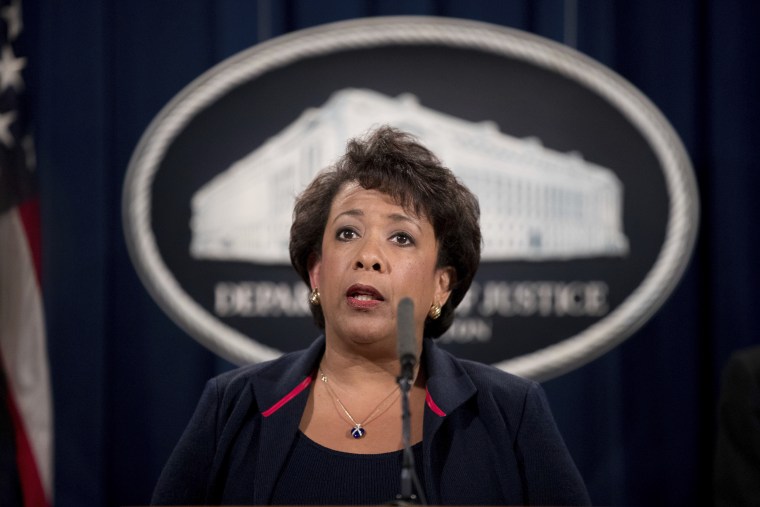 "Accurate and comprehensive data on the use of force by law enforcement is essential to an informed and productive discussion about community-police relations," Lynch said. "In the days ahead, the Department of Justice will continue to work alongside our local, state, tribal and federal partners to ensure that we put in place a system to collect data that is comprehensive, useful and responsive to the needs of the communities we serve."
Under the plan, the Federal Bureau of Investigation will assemble data on use of force by tens of thousands of agents at the largest law enforcement agencies, as well as the Bureau of Alcohol, Tobacco, Firearms and Explosives, Drug Enforcement Administration and U.S. Marshals Service.
Additionally, the DOJ plans to finalize a proposal for collecting "death-in-custody" data from state and local law enforcement agencies. The first public comment period on the proposal closed last week, according to a press release, and the department plans to issue an updated proposal in the near future.
A 2014 measure passed by Congress called the Death in Custody Reporting Act (DCRA) requires states and federal law enforcement agencies to submit data to the DOJ about civilians who died during interactions with law enforcement or in their custody, and authorized the attorney general to impose a financial penalty on states that don't comply. Lynch has issued a memorandum to federal law enforcement agencies formally notifying them of their reporting obligations under the DCRA, the press release said.