/ Source: Associated Press
A Colorado sheriff's deputy was killed and several more were wounded in a shootout while responding to a report of a domestic disturbance, the sheriff's office said Sunday.
Five deputies in all were shot in suburban Denver, the Douglas County Sheriff's Office said on Twitter Sunday morning.
Citing the Douglas County Coroner, the sheriff's office identified the suspect as Matthew Riehl, 37. Riehl was killed in the shootout.
"Officers were called to a residence on a disturbance, once they were there, they were met with gunfire from the suspect," Sheriff Tony Spurlock said at a news conference Sunday afternoon. "Four officers were injured and one officer was killed in the line of duty."
"There were well over 100 rounds fired in this engagement, 100 rounds from the suspect," he said.
In addition to the deputies, two civilians were also shot by the suspect, Spurlock said, but did not have life-threatening injuries.
The officer who was killed was identified as Deputy Zackari Parrish, a 29-year-old father of two, Spurlock said.
"We are deeply saddened by the loss of Zackari," he said, adding that it was "very difficult today to see Zack for the last time."
The four injured officers were all in stable condition, he said. They were identified as Deputy Michael Doyle, 28; Deputy Taylor Davis, 30; Deputy Jeffrey Pelle, 32; and Castle Rock Police Department Officer Tom O'Donnell, 41.
Jeff Pelle is the son of Boulder County Sheriff Joe Pelle.
"Earlier this morning, our son, Douglas County sheriff's deputy, Jeff Pelle, was shot during the Copper Canyon shooting. Jeff underwent surgery as a result of his injuries, and is recovering," Sheriff Pelle said in a statement posted on Twitter by the sheriff's office public information officer.
"We are currently with our son and his wife. He is in good spirits considering the gravity and severity of what occurred earlier this morning," he added.
Spurlock said officers responded at the residence on a call of a "verbal disturbance" at around 5:15 a.m. local time (7:15 a.m. ET).
Spurlock described the shooting as "more of an ambush style of attack."
"He knew we were coming," he said.
He said the disturbance was not a female-male domestic violence type of incident and the suspect was "making a ton of noise." Two men lived in the apartment complex, he said. The roommate was not injured and was cooperating with authorities, he added.
Earlier, the sheriff's office said via its Twitter account that a major highway south of the city was shut down Sunday. Residents in the area were asked to shelter in place, and avoid windows and exterior walls.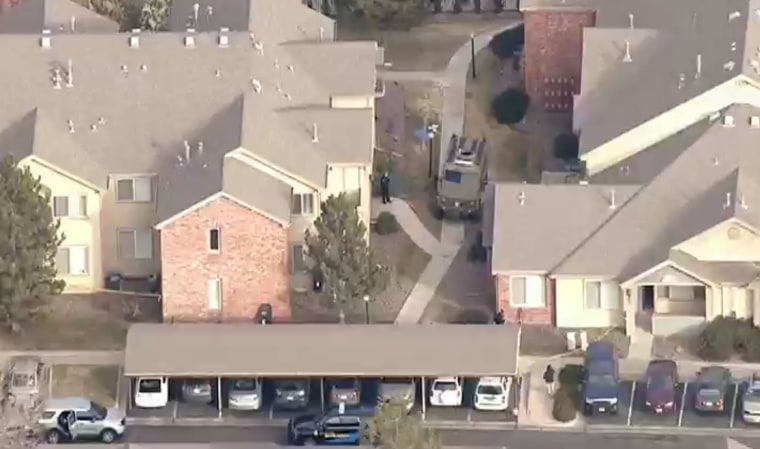 President Donald Trump offered condolences on Twitter Sunday afternoon.