Deputies knew about disturbing YouTube videos posted by the Isla Vista killer three weeks before the rampage, but did not watch them until after he fatally stabbed and shot six UCSB students, the Santa Barbara County Sheriff's Department said Thursday.
The sheriff's department clarified details of the minutes before and after last Friday's attack by Elliot Rodger who outlined plans of his violent rampage in a lengthy written manifesto and video vowing "retribution."
The night of the May 23 killings, Rodger, 22, uploaded a YouTube video, in which he described plans to "punish" Isla Vista, at 9:17 p.m., 10 minutes before the first gunshots were reported.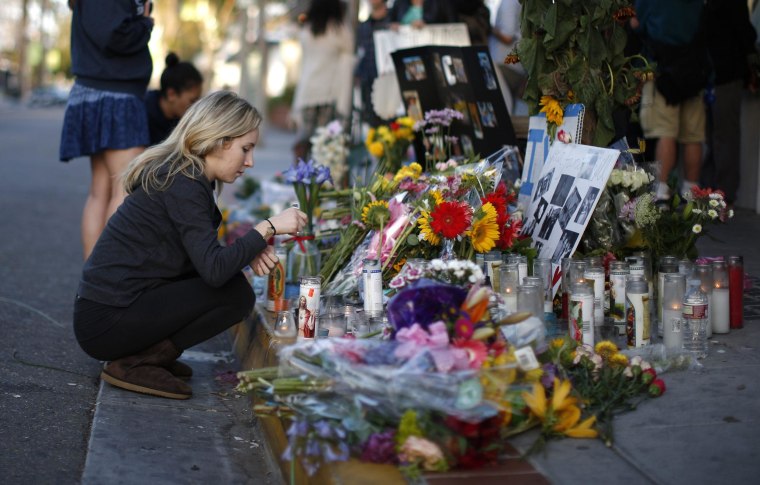 One minute after posting the video, he emailed his 137-page written manifesto to several people, including his parents and his therapist, according to a department statement.
The first reports of gunshots in the small college town were reported at 9:27 p.m., according to the department's timeline.
Eight minutes later, the shooting spree was over, with three people shot dead, 13 injured and Rodger dead from an apparent self-inflicted gunshot wound.
Three other men were later found stabbed to death in Rodger's apartment, near UC Santa Barbara.
Rodger's therapist saw the emailed manifesto at 10 p.m. and contacted the sheriff's department at 10:11 p.m., the statement said.
The department viewed the manifesto and YouTube video for the first time at 10:26 p.m.
The department also released details of an April 30 welfare check on Rodger. Deputies who responded to the check found him "shy, timid and polite" and had him call his mother to tell her he was ok before leaving him.
Deputies asked Rodger about reported disturbing videos he posted online, which Rodger said were a way for him to express himself after having trouble "fitting in socially in Isla Vista."
The deputies did not watch the videos after speaking with Rodger.
"Based upon the information available to them at the time, Sheriff's deputies concluded that Rodger was not an immediate threat to himself or others, and that they did not have cause to place him on an involuntary mental health hold, or to enter or search his residence. Therefore, they did not view the videos or conduct a weapons check on Rodger."
The statement did not address how the deputies first learned about Rodger's videos.
Officials expect the investigation to take at least six months, calling it "one of the most complex investigations in the history of the Santa Barbara County Sheriff's Department."