Disgraced former police officer Derek Chauvin pleaded guilty to tax evasion in Minnesota on Friday admitting he hid tens of thousands of dollars from the state.
He pleaded guilty to two counts of tax evasion, entering the plea in a Minnesota court before Washington County Judge Sheridan Hawley.
He was sentenced to 13 months in prison, according to a spokesperson for the county's prosecutor's office, which will run concurrently for killing George Floyd on May 25, 2020. Floyd's murder was captured on video and sparked a summer of civil rights protests across America.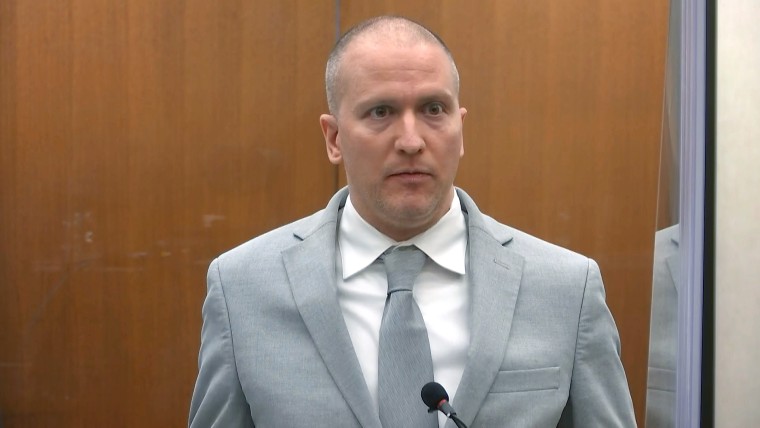 Chauvin, the former Minneapolis police officer, and his ex-wife, Kellie May Chauvin, who has also gone under the names Kellie Thao and Kellie Xiong, were charged in the tax matter shortly after Floyd's killing.
They were accused of shortchanging the state of Minnesota by allegedly failing to pay taxes on $464,433 of joint income from 2014 through 2019, including $95,000 he made working as an off-duty security officer, officials have said.
She was a real estate agent in that time and also operated a photography business. Together they owed $37,868 to the state, which included unpaid taxes, interest and fees, officials have said.
Chauvin's ex-wife, who now lives in Wisconsin, pleaded guilty on Feb. 24 to two counts of aiding and abetting failing to file taxes. Her plea agreement called for three years of probation and restitution of $37,868, with no more than 45 days of community service. Hawley said she will be sentenced May 12.
The tax investigation began in June 2020, after the Minnesota Department of Revenue received information about suspicious filings by Derek Chauvin. The agency started a review and then opened an investigation.
The probe found the Chauvins did not file state tax returns for 2016, 2017 or 2018, and did not report all of their income for 2014 and 2015. When tax returns for 2016 through 2019 were filed in June 2020, the Chauvins did not report all of their income in those years either, the complaints said.
The 46-year-old Chauvin is the white police officer seen in the video kneeling on the neck of Floyd, who is Black, for 9 1/2 minutes in the early summer of 2020 as the victim said he couldn't breathe and eventually went limp.
Almost a year later, a Minneapolis jury convicted Chauvin of second- and third-degree murder as well as second-degree manslaughter. He's now serving a 22 1/2-year sentence on that state conviction.
Chauvin appeared remotely on Friday from a federal prison in Arizona where he's serving 21 years for violating Floyd's civil rights.