A federal grand jury has indicted Derek Chauvin and three other former Minneapolis police officers on charges of violating George Floyd's civil rights during the arrest that led to his death last year, according to the indictment unsealed Friday.
Three of the former officers — Chauvin, 45; Tou Thao, 35; and J. Alexander Kueng, 27 — were each charged with two counts of deprivation of rights under color of law, according to the indictment from the U.S. Department of Justice. The fourth, Thomas Lane, 38, was charged one count of deprivation of rights under color of law.
In video shot by a bystander and local traffic camera, Thao was seen standing between onlookers and his fellow officers as they pinned Floyd to the pavement. Lane and Kueng were also spotted on top of Floyd as Chauvin applied deadly pressure to the victim's neck.
Chauvin "willfully deprived George Floyd of the right, secured and protected by the Constitution and laws of the United States, to be free from an unreasonable force by a police officer," according to the indictment.
Floyd's brother, Rodney Floyd, said at a news conference Saturday that news of the indictment "put a smile on our faces." He praised the attorney general, who called the family, for holding "these guys to their accountability."
Brandon Williams said his uncle, Floyd, was like a father figure to him. He told reporters that the family was "very grateful" for the attorney general's phone call.
"If you saw that video, it's self-explanatory. We all know that it was a murder and torture in broad daylight," he said. "We all know that his civil rights were violated."
A Minneapolis jury last month convicted Chauvin of second- and third-degree murder, as well as second-degree manslaughter, after hearing evidence that he put his knee on Floyd's neck for nine minutes and 29 seconds.
He was taken into custody moments after his conviction. Chauvin's sentencing is set for June 25.
Thao, Kueng and Lane go on trial in August.
Lawyers for the four defendants could not immediately be reached for comment on Friday.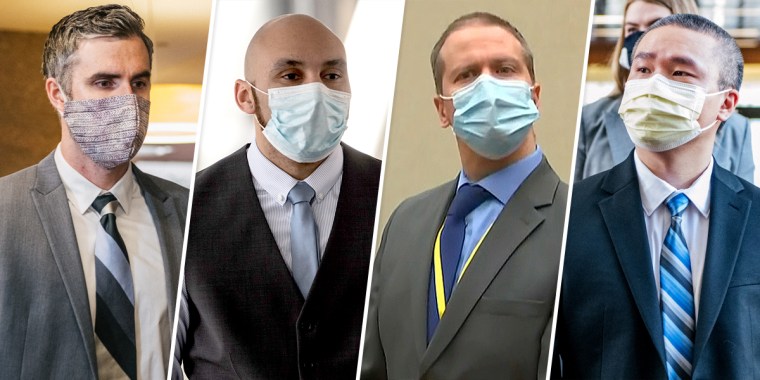 In a separate two-count indictment, Chauvin was also charged with violating the civil rights of a boy, then 14, on Sept. 4, 2017.
Prosecutors in the Floyd case wanted to introduce evidence about Chauvin's 17-minute encounter with the teenager. However, the judge ruled against it.
"Chauvin, without legal justification, held the teenager by the throat and struck the teenager multiple times in the head with a flashlight," according to the separate indictment.
Chauvin "held his knee on the neck and the upper back of the teenager even after the teenager was lying prone, handcuffed, and unresisting, also resulting in bodily injury," the indictment states.
Download the NBC News app for breaking news and politics
The Rev. Al Sharpton welcomed the indictments and said the legal action "shows we have a Justice Department that deals with police criminality."
"What we couldn't get them to do in the case of Eric Garner, Michael Brown in Ferguson, and countless others, we are finally seeing them do today, and this is a significant development for those of us who have been engaged in the struggle and police reform movement," added Sharpton, who is host of MSNBC's "Politics Nation."
The legal team representing Floyd's family said the indictments show that Chauvin has a "pattern and practice of behavior."
"We are encouraged by these charges and eager to see continued justice in this historic case that will impact Black citizens and all Americans for generations to come," the team said in a statement.