High winds and heavy rains brought more misery to the Eastern Seaboard Thursday, a day after a squall line thundered across the South and produced widespread flooding, tornadoes and violent storms that leveled homes and killed at least two people.
The National Weather Service issued watches and warnings predicting damaging winds, flooding and perhaps even more tornadoes as the storm system pushed toward the Atlantic.
Major cities including Washington, Baltimore, Philadelphia and New York were lashed by gusts of up to 60 mph Thursday, strong enough to topple trees and bring down power lines. The accompanying storms could bring up to an inch of rain per hour and lead to flash flooding, the weather service said. 
Even stronger winds, gusting to 65 mph, were predicted for Boston and parts of New England.
Nearly 430,000 homes and businesses were without electricity following the storm Thursday, about half of them in Massachusetts, according to National Grid and Western Mass. The rest of the outages were spread throughout the Northeast and included nearly 74,000 customers in Connecticut, 74,000 in Rhode Island and 37,000 in New Jersey, according to local utility providers.
Traffic delays were also in effect due to the windy conditions. Some flights to Newark International Airport were delayed more than two and a half hours and flights going to LaGuardia Airport in New York were delayed a little more than an hour, according to the FAA.
On Wednesday, eight different states confirmed tornadoes: Georgia, Arkansas, Tennessee, Oklahoma, Missouri, Illinois, Mississippi and Indiana.
The hardest-hit area was Adairsville, Ga., where a tornado ripped through Interstate 75, overturning cars and destroying homes and businesses.
"The sky was swirling," Theresa Chitwood, who owns the Adairsville Travel Plaza, told the Associated Press.
Anthony Raines, 51, was killed when a tree crashed down on his mobile home, crushing him in his bed, Bartow County Coroner Joel Guyton told the Associated Press. Nine other people were hospitalized for minor injuries, authorities said.
Another death reported from the storms was in Tennessee, where a tree fell Tuesday onto a storage shed a man had taken shelter in.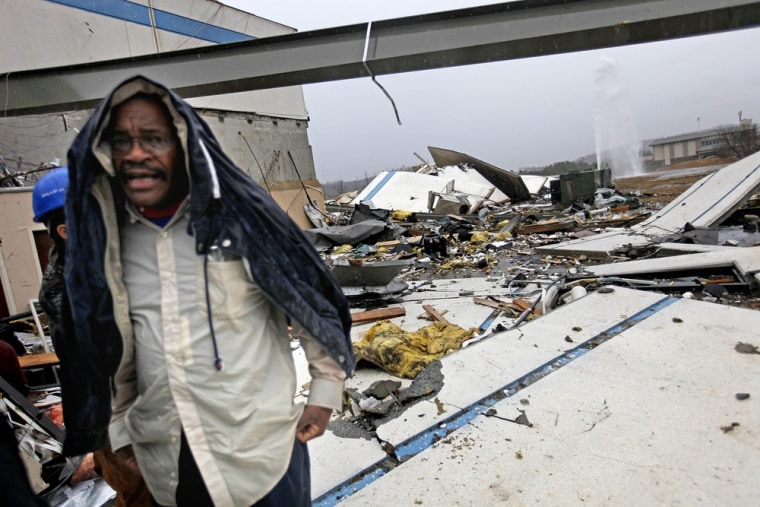 The Adairsville Supermarket, a 55,000-square-foot staple in the town since 1958, was reduced to a massive pile of rubble, the Atlanta Journal-Constitution reported.  Only a few people were inside at the time of destruction, but all of them managed to escape unscathed, the store's owner Dilip Patel told the newspaper.
Across the street, a hotel was also a nearly-flattened pile of rubble and most of the roof was gone.
"It was like you just opened it up with a can opener," Trish Cooper, a hotel guest, told the Atlanta Journal-Constitution. "You could just see everything."
The storms were largely caused by a mass of cold air and high winds colliding with warm, wet air from the Gulf of Mexico that brought balmy temperatures to much of the East and Midwest.
As the cold air takes hold, a return to winter proper follows suit.
Winter storm warnings were in effect Thursday in Colorado, Wyoming and Montana, while parts of the Northern Plains and Upper Midwest hunkered down under wind chills predicted to dip as low as 55 degrees below zero in North Dakota.
"Dangerous wind chills of 20-50 degrees below zero are possible for the Dakotas and Minnesota," Weather Channel meteorologist Kevin Roth said.
In more populous areas, including the Twin Cities, wind chills had potential to reach minus 40 degrees, the weather service said.
Those in the Upper Midwest who escape the worst of the wind chills still won't have it easy. Forecasters warned of heavy lake-effect snows from Wisconsin to Western New York.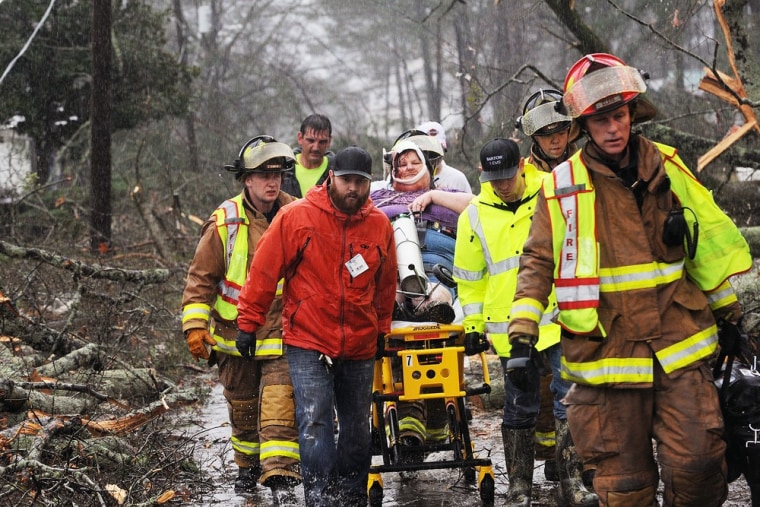 Related: