The bodies were found more than a decade ago on a windswept spit of Long Island sand near Gilgo Beach, where the only sounds during the off-season are the screeching of seagulls and waves pounding the shore.
There were 11 victims, all but two young women who had been working as sex workers when they vanished.
But the mystery of what might have happened to at least four of the women would not be revealed until Friday when a 59-year-old architect named Rex Heuermann, who had been living quietly in the Nassau County town of Massapequa Park and commuting regularly to his office in Manhattan, appeared before a Long Island judge to face murder charges in the deaths of three of the women.
Through his attorney, Heuermann pleaded not guilty. He remains a suspect in the disappearance and death of the fourth woman.
Until last year, investigators had been wrestling with the seemingly unsolvable crimes as they searched for a predator with a predilection for petite female sex workers with hazel or green eyes.
The fact that a 2-year-old girl and a young Asian man were also found at Gilgo Beach in 2010 and 2011 only deepened the mystery and widened the investigation.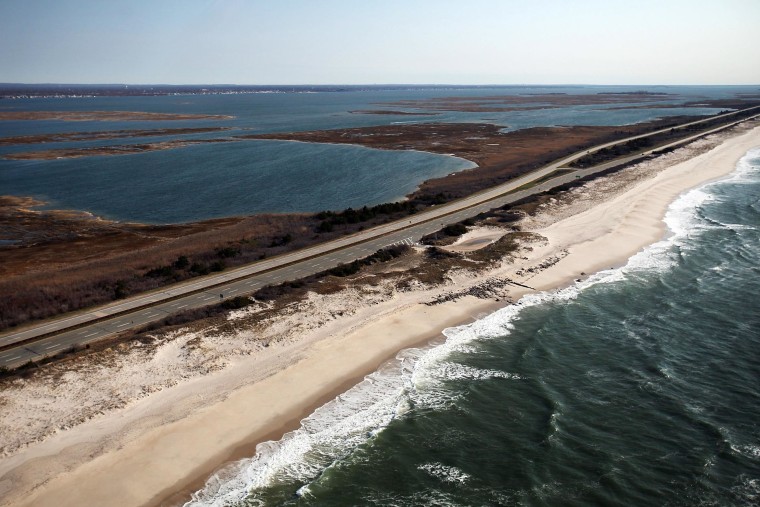 But last year, Suffolk County's new police commissioner, a former high-ranking New York Police Department veteran named Rodney Harrison, took over the dormant search and formed what The New York Daily News called a "dream team of detectives" to track down the killer.
"I believe this case is solvable and identifying the person or people responsible for these murders is a top priority," Harrison declared in February 2022.
The Gilgo Beach Homicide Investigation Task Force marked the first time local, state and federal officials combined forces to track down a suspected serial killer, Suffolk County officials said.
The effort culminated Thursday in Heuermann's arrest at his Manhattan office.
"We'll all be sleeping a lot easier tonight," New York Gov. Kathy Hochul said Friday shortly before Heuermann appeared in court.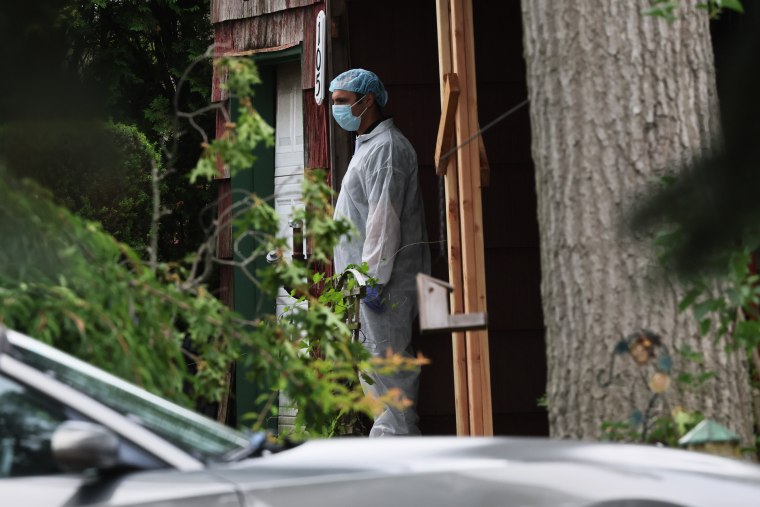 But the case was marked from the start by apparent missteps and accusations that investigators were dragging their feet because of a cultural bias against sex workers.
Melissa Cann, whose 20-year-old sister, Maureen Brainard-Barnes, vanished in July 2007, described in a New York Magazine interview what happened when she told a police officer her sister was missing and that she was a sex worker.
"Soon as I told him what she was doing up in Manhattan, it was like he didn't care," Cann said. 
The struggle to get the wheels of justice moving inspired a Netflix movie in 2020 called "Lost Girls" about Mari Gilbert's effort to find her 24-year-old daughter, Shannan Gilbert, a sex worker from New Jersey who vanished in May 2010 and whose body was later found on Gilgo Beach.
Mari Gilbert was stabbed to death in July 2016 by one of her other daughters, Sarra, who suffered from schizophrenia. 
Suffolk County investigators "dropped the ball from the beginning," Shannan Gilbert's sister, Sherre, said in a May 2022 interview with NBC News.
Brainard-Barnes was the first woman to be reported missing, but the investigation did not pick up steam until December 2010, when a team of Suffolk County investigators spurred by Mari Gilbert went out to Gilgo Beach to search for her daughter.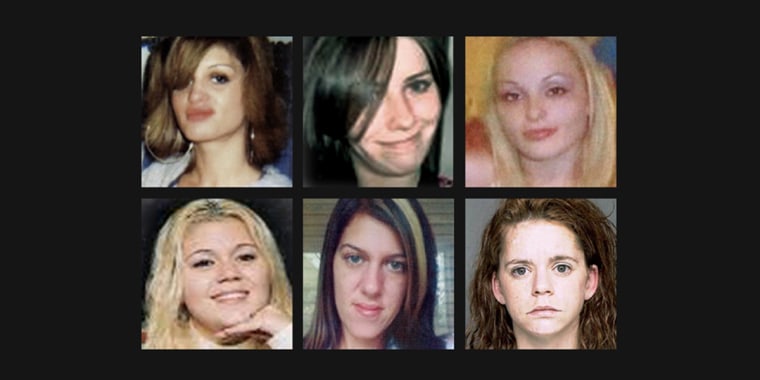 A veteran Suffolk County Police Department officer named John Mallia and his search dog, Blue, came across "a set of human remains," according to a document released Friday in which investigators laid out their arguments for why Heuermann should be denied bail.
The remains were later identified as those of 24-year-old Melissa Barthelemy, who was last seen alive in July 2009. 
The remains of Brainard-Barnes, Megan Waterman, 22, and Amber Lynn Costello, 27, were found days later wrapped in burlap sacks as were Barthelemy's.
"The cause of all four women was determined to be homicidal violence," the bail application stated.
Prosecutors also said in the document that Heuermann used burner phones and multiple email accounts to search for sites depicting sexual violence, to reach sex workers and to keep up with the investigation of the murders.
He used fictitious names for email accounts and phones "to conduct thousands of searches related to sex workers, sadistic, torture-related pornography and child pornography," according to the document.
Search terms often focused on violent sexual acts involving underage girls.
Barthelemy's burner phone was used to make "taunting phone calls" to her family members in the days after her disappearance in which a male voice admitted to killing and sexually assaulting Barthelemy, according to the bail document.
The calls were later traced to a location near Heuermann's office.
Heuermann was in part identified as a suspect by DNA left on pizza crust he threw out in a Manhattan trash can when a hair found on Waterman's body was matched with DNA found on the crust.
Heuermann was charged Friday in the deaths of Barthelemy, Waterman and Costello but not Brainard-Barnes or Shannan Gilbert.
Thanks to the persistence of her sister, Shannan Gilbert's terrifying last words would become her epitaph.
On May 1, 2010, at 4:51 a.m., Gilbert made a 22-minute 911 call shortly after a date with a customer named John Brewer in Oak Beach on Long Island that was followed by two more shorter calls to the dispatcher for help, police said.
Brewer has admitted seeing Shannan Gilbert that night but has not been implicated in her death, police said.
While Shannan Gilbert's calls were hard to follow at times and some words sounded slurred, the message police said she repeated was, "Somebody's after me! There's somebody after me! There's somebody after me!"
Those 911 recordings were not released by investigators until May 2020 when Suffolk County officials continued to insist Shannan Gilbert was the victim of a "tragic accident" and may have been using drugs or succumbed to the elements after she reached the beach and got disoriented.
They continued to maintain Shannan Gilbert was not the victim of a crime even after Michael Baden, the world-famous pathologist who reported that George Floyd died as a result of a Minneapolis police officer kneeling on his neck, did an autopsy and concluded the young woman could have been strangled.
"I don't care if anybody thinks she was on drugs, that's fine," Sherre Gilbert said in May 2022. "But I just don't believe she would run in a drug-induced paranoia and just strip her clothes all the way off, throw her phone down with her clothes and then just keep running naked into the marsh. I just don't believe that."
CORRECTION (July 19, 2023, 3:10 p.m. ET): A previous version of this article misspelled the last name of the Suffolk County police commissioner. He is Rodney Harrison, not Rodney Harris