A Detroit teacher sickout continued into a second day on Tuesday, as the city's school district reeled from a funding crisis that could threaten some educators' paychecks.
All but a handful of the city's 97 public schools were closed as of 7 a.m., NBC affiliate WDIV reported.
Dozens of teachers gathered outside district headquarters in red union t-shirts and with signs with messages like "No pay no work" and "DPS better have my money" and "This is teacher abuse."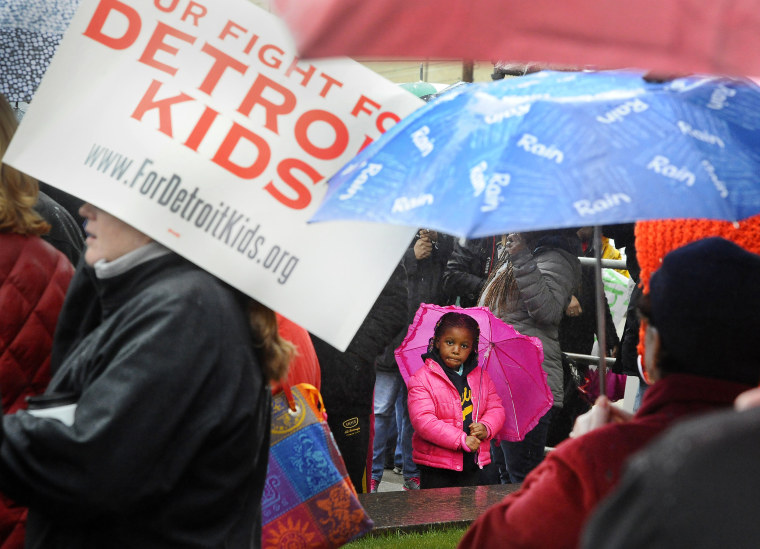 At the same time, Detroit was dealing with a second civic emergency — residents losing water service.
The city's Department of Water and Sewerage shut off service to 500 homes on Tuesday morning, a fraction of the 20,000 who have defaulted on their payments, spokesman Bryan Peckinpaugh said. Hundreds of them have been rushing to pay their bills, but it is likely that another 500 or so households will be shut off on Wednesday, he said.
Related: No Water, No Teachers: Behind Detroit's Surge, Old Problems Stubbornly Persist
The teachers have been protesting decrepit conditions at Detroit schools — and the city's inability to fix things — for months, including with occasional sickouts.
The current actions may represent the most sustained effort, spurred by warnings from the state-appointed emergency manager, Steven Rhodes, who said Michigan's latest allocation of stopgap funding may run out by the end of June. Union officials say that because of the district's pay lag, teachers wouldn't be compensated for work done from April 28 onward. They compared it to a lockout.
"Our members want to work," said Ivy Bailey, president of the Detroit Federation of Teachers. "They have the right to be paid the pretty modest salaries they were paid."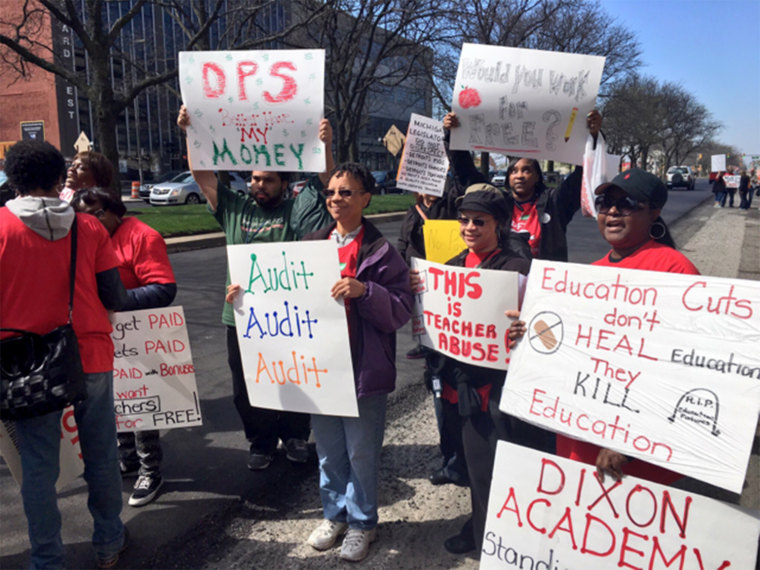 Union leaders said they were working to find someone "in a position of authority" to guarantee that Detroit teachers would get paid for their work the rest of the school year.
They also called for an audit of the district's finances, which Rhodes says it cannot afford.
Monday's sickouts prevented all but a few hundred of the district's 46,000 students to miss school, Rhodes said. A similar number was affected on Tuesday.
The walkouts have angered many in the state Legislature — which approves the emergency budget measures —who point out that teacher strikes are illegal in Michigan. A bailout bill for the district remains under discussion in Lansing.
Gov. Rick Snyder suggested that the sickouts were undermining the teachers' cause by creating ill will in the capitol. "It would be great if they would stop because it makes it more difficult to take legislative action," Snyder said. "What they're doing is creating issues and concerns with legislators."