The suspicious device that shut down the rental car at the Albuquerque, New Mexico, airport, was an elaborate hoax device that included no explosives, authorities said Monday.
The device, which Albuquerque police described earlier Monday as a pipe bomb, was attached to the bottom of the Avis rental car right Sunday morning next to the gas tank, said Simon Drobik, a spokesman for the Albuquerque police.
It was discovered when a mechanic put the car up on a lift for maintenance and noticed an object with a white timer attached to a battery by two blue wires.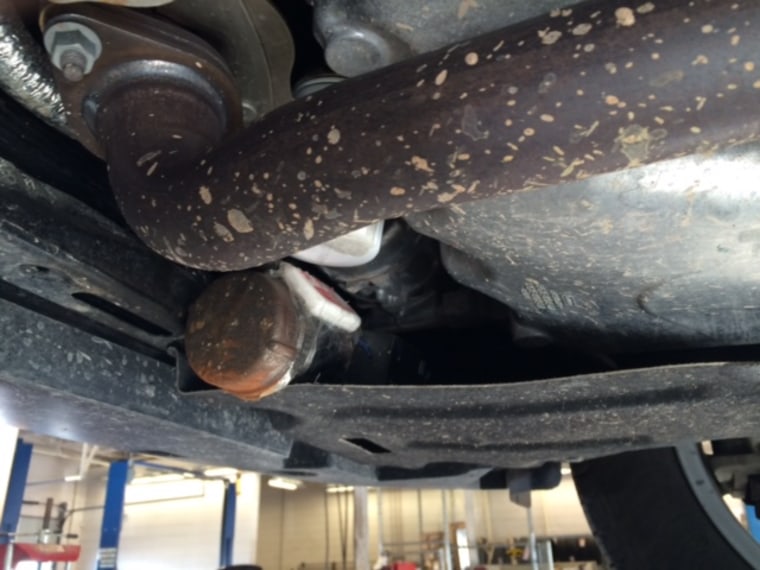 A bomb squad robot removed the device, which the federal Bureau of Alcohol, Firearms, Tobacco and Explosives eventually determined was a hoax, Thomas Mangan, a spokesman for the ATF's Phoenix office, said Monday.
Police said the car was rented elsewhere and dropped off Sunday morning at Albuquerque International Sunport airport. The FBI is working to determine where the car was rented, Drobik said.
Mangan said the device "posed no threat of exploding or causing injury." But the rental car center was evacuated for several hours Sunday, stranding long lines of travelers hoping to get on the road, and the incident frightened employees at the scene.
Judie Miranda, who went to the airport Sunday morning to pick up a friend — only to be greeted by police and roadblocks — told NBC station KOB that she spent hours comforting rental car workers who were told to stay at their posts.
"I can see the fear that they were having," Miranda said. "Here you get a bomb threat, and they keep them in there. It's sad America has to have this fear."