Department of Education Secretary Betsy DeVos has appointed as the acting head of the department's Office for Civil Rights a woman who once complained of discrimination for being white. The appointment has civil rights advocates leery of the choice.
Attorney Candice Jackson, who was announced as the deputy assistant secretary in the Office for Civil Rights on Wednesday, spoke out about being discriminated against for being white as a college student, according to a report by ProPublica.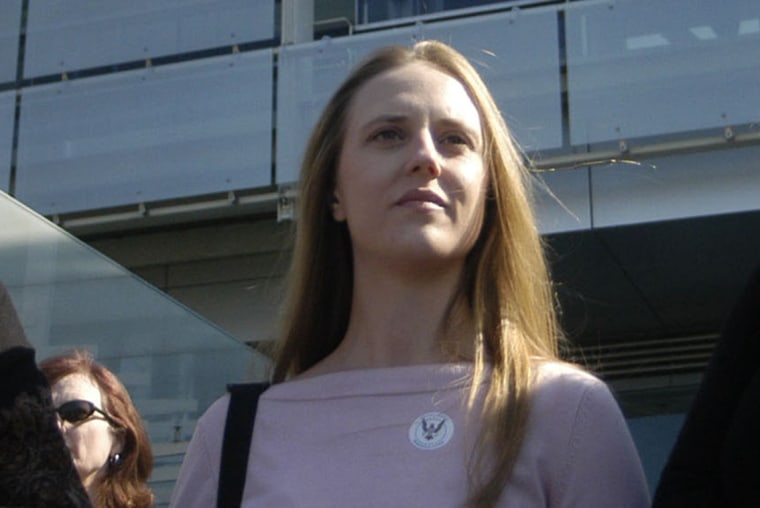 During her time at Stanford University in the mid-1990s, Jackson "gravitated towards a section of the class that provided students with extra help on challenging problems." After finding out it was for minority students, according to ProPublica, she wrote in the Stanford Review, "I am especially disappointed that the University encourages these and other discriminatory programs."
She added, "We need to allow each person to define his or her own achievements instead of assuming competence or incompetence based on race."
Jackson also penned an op-ed blasting affirmative action saying it "promotes racial discrimination," according to to the report.
"As with most liberal solutions to a problem, giving special assistance to minority students is a band-aid solution to a deep problem," she wrote. "No one, least of all the minority student, is well served by receiving special treatment based on race or ethnicity."
Jackson also has written extensively in favor of an economist, Murray N. Rothbard, who called the Civil Rights Act of 1964 "monstrous" and "the source of all the rest of the ills," as well as denounced compulsory education, according to the report.
Related: Why Betsy DeVos is Riling up Education Advocates
The revelations have drawn concern from civil rights advocates who feel Jackson's ideas on race may be at odds with the office's mission of ensuring "vigorous enforcement of civil rights" and serves "student populations facing discrimination and the advocates and institutions promoting systemic solutions to civil rights problems."
"It's not someone I would want to see in this position," said Theodore Shaw, director of the Center for Civil Rights at the University of North Carolina School of Law. "We have good reason to be deeply worried about the enforcement of civil rights at the Department of Education," he said, adding that Jackson's background doesn't indicate any strong experience in civil rights or education issues.
Jackson and the Department of Education did not return NBC News' requests for comment.
However, Jackson did say on her personal website that she was "honored by the opportunity to serve our nation's students and schools."
Liliana Garces, co-director of the Center for Education and Civil Rights at Pennsylvania State University, expressed concern. "I am deeply troubled that someone who has held an idea of reverse discrimination will be holding this role," she said.
"The idea of reverse racism equates being conscious of race with racial discrimination," Garces added. "Statements about reverse discrimination reflect a particular ideology that is detrimental to how we go about addressing racial inequality."
In this case, the federal government has a huge role in "protecting students from discrimination on the basis of race, disability, sex, and so on," said Jon Valant, a fellow at the Brown Center for Education Policy at the Brookings Institution. "What we should want from Office of Civil Rights leaders is sincere concern, sympathy, awareness about the real issues facing students, along with some thoughtfulness about the complexity of those issues."
Related: Betsy DeVos Rolls Back Obama-Era Student Loan Guidance
ACLU Legislative Representative Ian Thompson noted in a statement to NBC News that "We have been disturbed by this administration's demonstrated disregard for civil rights. Regardless of who heads the Office for Civil Rights, we are committed to making sure it does the job that the law requires: protecting students from discrimination."
Jackson's experience is billed on her LinkedIn page as being in "litigation, business organization, entertainment, employment, and other matters."
DeVos, who appointed her, faced scrutiny for not having any relevant experience in education prior to taking the top spot at the Department of Education.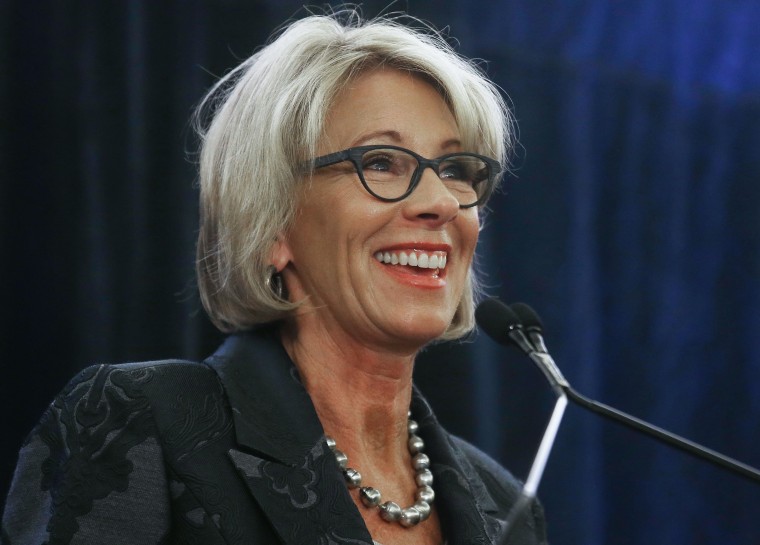 Jackson is most notable for her staunch opposition to Hillary Clinton, even founding the organization Their Lives Foundation based on "victims of those who abuse power, especially when that abuser is another woman" — specifically citing Hillary Clinton.
She also authored the book "Their Lives: The Women Targeted by the Clinton Machine" in 2005. It details the lives of eight women who say they were romantically linked to Bill Clinton and the harassment and threats they received as a result.
"The Office of Civil Rights has been in the crosshairs for Republicans for some time since many Republicans see it as a prime example of executive overreach from the Obama administration, so some scaling back of OCR's activities became inevitable when Trump was elected," said Valant. "I definitely don't think this move changes that."