JACKSON, Miss. — More than eight months after 37-year-old Dexter Wade was killed and later buried in a pauper's field, his mother gave her only son the formal funeral that he'd been denied.  
Civil rights leaders flew in from around the country for the service Monday. Several elected officials, including a member of Congress, found seats in the church audience alongside grieving family members. A gospel choir sang of hoping for better days to come, flanked onstage by 15 ornate flower bouquets, including one shaped in the initials of the man whose violent death and discreet burial had sparked a national outcry: "DW."
At the front of the room, standing before a ruby red casket, Bettersten Wade, Dexter Wade's mother, wiped tears from her cheeks and prepared to say goodbye.
From the church stage, with Dexter Wade's two teenage daughters standing next to her, Bettersten Wade spoke of the months she'd spent searching and praying for her son to return, unaware that he'd been run over by an off-duty police officer and buried at the county penal farm.
"When this battle started," Bettersten Wade said, "I started by myself."
Now, with a live video feed streaming the service to a national audience, she addressed her son directly.
"Dexter," she said, choking up, "you made it home."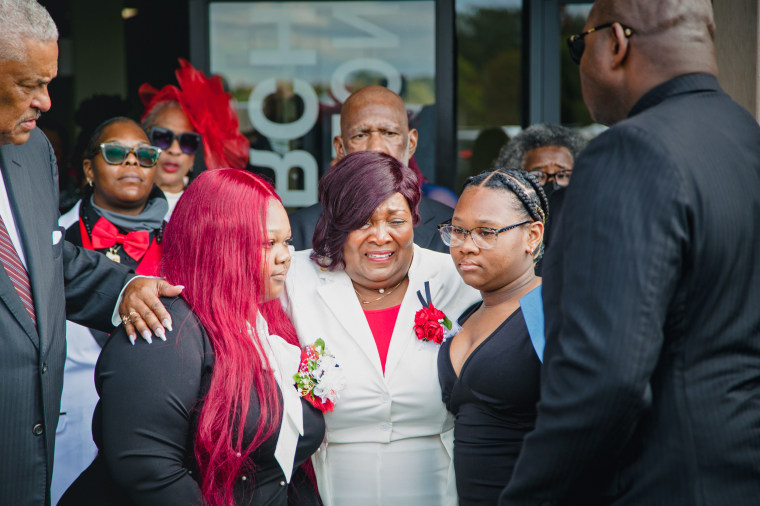 Her quest to find her son began soon after he left home on March 5 and didn't return. For months afterward, missing persons investigators with the Jackson Police Department told her that they didn't have any leads. Then, in late August, officers revealed that he'd been struck by a Jackson police cruiser while he was crossing a six-lane highway less than an hour after he'd left home.
The Hinds County coroner's office told her his body had been buried in a pauper's field in July after authorities had failed to reach his next of kin — even though, according to the family's lawyers, an independent autopsy conducted on the family's behalf this month found that Dexter Wade was buried with a state ID listing his home address.
The case sparked public outrage when NBC News reported about it last month. Civil rights lawyers Ben Crump and Dennis Sweet took on the case, helping arrange for Dexter Wade's exhumation, the independent autopsy and, finally, a funeral. Last week, county workers exhumed his body hours before an agreed-upon time, adding another indignity to Bettersten Wade's ordeal. 
Both Crump and Sweet were in the audience at the New Horizon Church International as the Rev. Al Sharpton, who hosts MSNBC's "PoliticsNation," delivered Dexter Wade's eulogy Monday. Sharpton spoke of Wade's daughters, who would finish growing up without a father, and of fighting to hold the city of Jackson and Hinds County accountable. In all his years advocating on behalf of the families of those killed by police, Sharpton said, he'd "never heard one like this." 
"His life mattered to his mama, to his daughters," Sharpton said. "And we're going to make it matter all over this country."
Crump said giving Wade "a respectable funeral" was just the beginning of the fight for accountability. He has called on the Justice Department to investigate.
Rep. Bennie Thompson, D-Miss, attended the funeral and said Dexter Wade's family deserves to know more about what happened to him. 
"Who was investigating? Were any policies violated?" Thompson said. "To my knowledge, none of this information has been made available."
In a statement last week responding to the allegation that Dexter Wade was buried with an ID listing his home address, a spokesperson for the city of Jackson said Hinds County was responsible for examining, burying and exhuming his body, which remained in county custody from the moment a coroner's investigator arrived at the scene of the collision. The coroner's office didn't respond to requests for comment.
Hinds County District Attorney Jody Owens and Jackson City Council member Kenneth Stokes were also in attendance, part of an outpouring of support from local leaders. Owens has said his office is working with city and county authorities on a "full review" of the case. Stokes issued an apology Sunday on behalf of the City Council and apologized again during the funeral.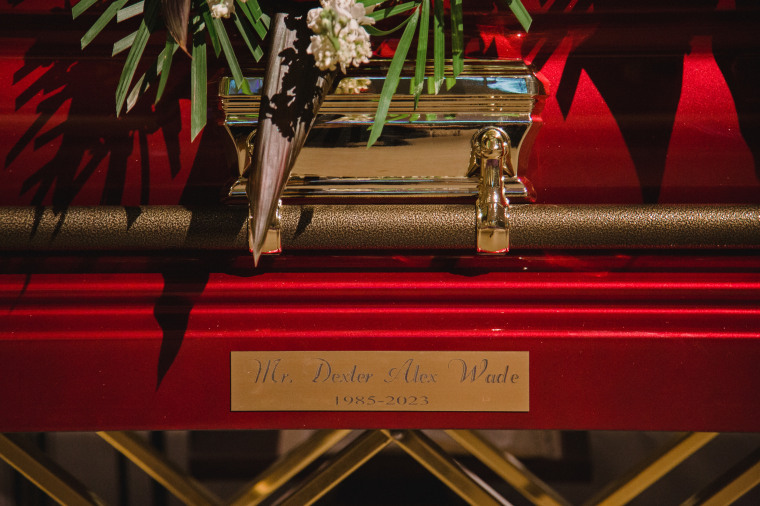 Jackson Mayor Chokwe Antar Lumumba has blamed communication failures for the botched case and said police officers didn't mean to cause the Wade family any harm. Last week, Police Chief Joseph Wade said he had enacted the police department's first-ever policy on death notifications; the city hasn't provided a copy in response to NBC News' requests.
But Bettersten Wade and her lawyers have said the city's responses aren't enough. 
"That's just trivial stuff," Sweet said. "We need some real change."
Bettersten Wade said Monday's funeral brought her some comfort but didn't bring her peace, because so much remains unexplained.
"Now he's going to rest," she said of her son. "He can rest. But his mother is not going to rest until I get justice. Till I find out what happened to him. Till I find out who and what was involved."
When he was buried in a county plot this summer, his grave was marked only by a number: 672.
Now, a white hearse drove Dexter Wade's casket to a newly constructed cemetery, where his mother, father, grandmother, daughters and other relatives gathered around a freshly dug grave. A pastor said a final prayer. Family members placed white, yellow and red roses on the casket. They chanted "Justice for Dexter Wade."
The casket was slowly lowered into the ground. A cover was placed over it with a nameplate: "Dexter Alex Wade 1985-2023." 
At her son's second burial, Bettersten Wade rose and dropped a handful of dirt onto his casket.
"I'll see you when I come home," she said.