The lawyer representing a Mississippi mother whose adult son was run over by an off-duty police officer and was later buried in a pauper's grave without her knowing will ask the Department of Justice to investigate why she wasn't told what happened.
The lawyer, Ben Crump, also said in a news conference Monday that he will help arrange for Dexter Wade's body to be exhumed from where he was buried on the grounds of the Hinds County penal farm, marked only by a number. Crump said he will then arrange for an independent autopsy before Wade is reburied in a cemetery with a headstone bearing his name.
Wade will be given "a proper funeral where his family and loved ones and his two little children and all the community can come out and give him a respectable homegoing service — one that apparently Jackson Police Department didn't intend for him to have," Crump said.
Wade's mother, Bettersten Wade, said it was devastating to search for her missing son for months and beg the Jackson police for answers, only to learn that the department knew all along that he'd been killed the night she last saw him. The experience has made her question the police department's ability to work for its residents.
"The system is supposed to work for me if I call you and say I need help," Bettersten Wade, 65, said at Monday's news conference. "I am a citizen here in Jackson. So I asked for help."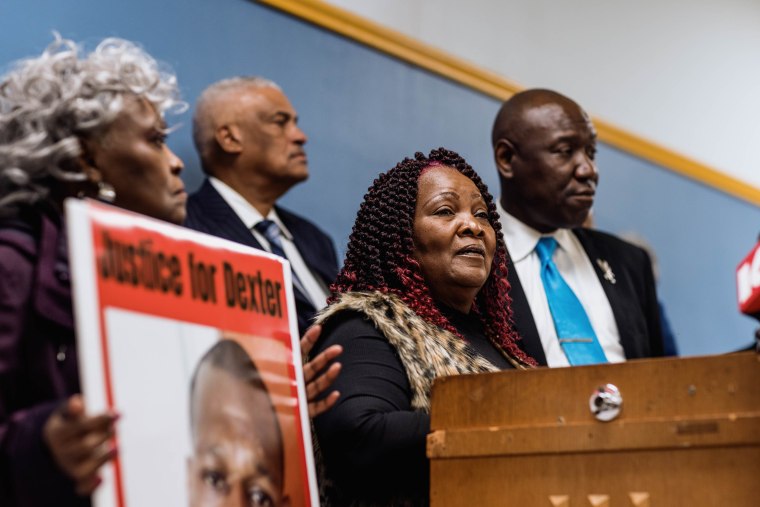 NBC News first reported on what happened to Dexter Wade last week, sparking widespread public outrage. 
"It just doesn't pass the smell test," Crump said. "That's why people all over America are talking about what happened to Dexter Wade in Jackson, Mississippi." 
Crump and Bettersten Wade both accused the Jackson Police Department of having a vendetta against her family because of an earlier case.  
In 2019, Bettersten Wade's 62-year-old brother died after a Jackson officer slammed him to the ground. A jury convicted the officer of manslaughter, and he is appealing.
Bettersten Wade's family has filed a wrongful death lawsuit in her brother's death that accuses Jackson officers of excessive force and attempting to cover up their actions, and accuses the city of failing to properly train and supervise the officers. The city has denied the claims and said it isn't liable for what happened. The officers' lawyers said they acted responsibly and lawfully. A federal judge dismissed some of the family's claims; others remain pending in state court. 
"We are asking for the Department of Justice to investigate this matter because the family does not have trust in the Mississippi officials," Crump said. "Would you after this happened to your brother and child?"
A Department of Justice spokesperson said the agency was aware of the incident but did not comment further.
A city spokesperson said in a statement that "our thoughts and prayers remain with Dexter Wade's family," but the city cannot say anything more because the family is working with lawyers. 
Bettersten Wade last saw Dexter Wade, 37, on March 5, when he left their home with a friend. She reported him missing to the Jackson Police Department the following week. For months, she called missing persons investigators seeking information, and was told there was no news. She posted appeals on Facebook, searched abandoned houses and asked around her neighborhood.
She didn't learn the truth until Aug. 24, when a Jackson accident investigator told her that her son, the father of two teenage girls, had died the night he left home, struck by a police cruiser while crossing a nearby highway. The accident investigator told her to call the Hinds County coroner's office for more information.
A coroner's office investigator told Bettersten Wade that he'd found no ID on her son but noticed his name on a bottle of prescription medication and was able to confirm that identification through fingerprints. The coroner's investigator said he shared Dexter Wade's name, and contact information for Bettersten Wade, with the accident investigations squad. He got no updates from police, and with no one coming forward to claim Dexter Wade's body, the county buried him July 14 in a pauper's field on the grounds of its penal farm. He remains there, at the end of a dirt road, his grave marked No. 672.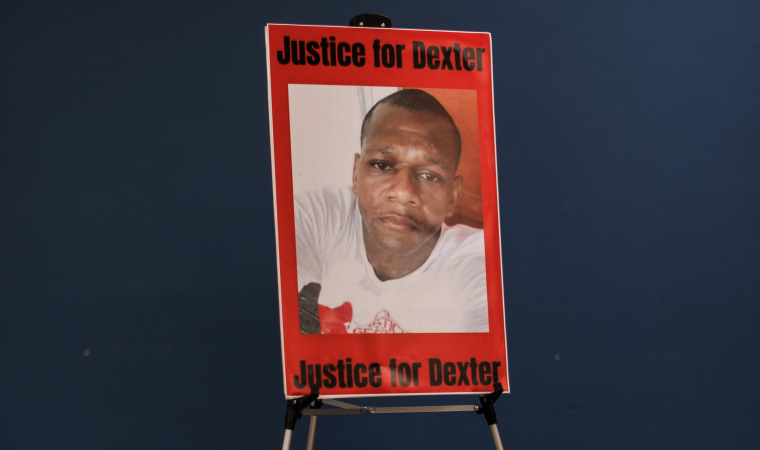 Jackson's police department has not commented on its handling of Dexter Wade's death. But after NBC News reported the story, Jackson Mayor Chokwe Antar Lumumba addressed the case Thursday during his annual State of the City speech.
Lumumba expressed regret and sympathy for Wade's family, and blamed a communication failure that he said was due in part to police receiving an incorrect phone number for Bettersten Wade from the Hinds County coroner's office. Lumumba said police meant no harm.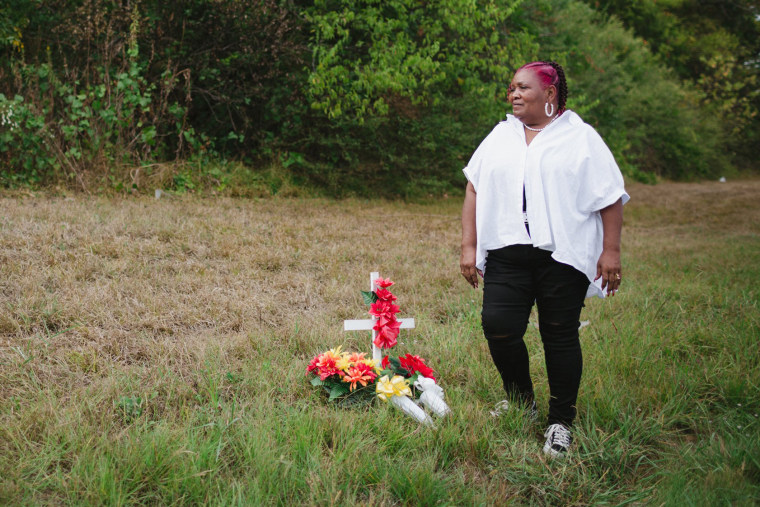 The city has declined to say what phone number police were given. But coroner's office reports and Dexter Wade's hospital records both include a correct number for Bettersten Wade.
Whether the number was correct or not is almost beside the point, Bettersten Wade said, because the police also should have had her name and her address, and could have knocked on her door.