Secretary John Kelly asked Department of Homeland Security staff for the criminal history of thousands of Haitians living in the United States on protected immigration status as he mulls the decision of whether to extend the program set to expire in July.
The Trump administration must soon decide whether to renew "Temporary Protected Status" for some 50,000 Haitians currently living in the U.S. In 2010, the Obama administration granted the status to Haiti after a massive earthquake that devastated the island-nation, killing an estimated 220,000 and displacing 1.5 million.
The 18-month program has been extended three times since.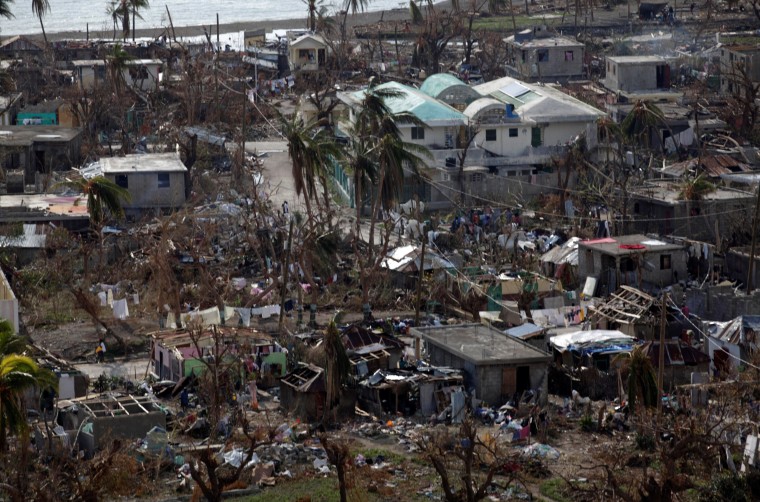 DHS staff said Kelly's requests for criminal data and public benefit usage by Haitian protected status recipients will not be used to make a decision request.
However, the move has raised concerns among immigration advocates who worry about how this information will be used given the administration's more hardline positions on immigration.
"Secretary Kelly hasn't made a decision on (Temporary Protected Status) for Haiti," Joanne Talbot from DHS's Office of Public Affairs told NBC News. "The Secretary's decision will be based on a thorough assessment of the conditions in the country; separately, he has asked the staff for detailed information to increase his understanding of how the program operates. The two actions are separate and distinct."
Federal law regarding Temporary Protected Status does not specify a recipient's behavior as criteria for extending the program and immigration experts say those who receive it are heavily screened before they are granted the protected status. They are also not eligible for welfare benefits.
"The idea that you would deny protection for 50,000 people because there are a few bad apples who wouldn't be eligible for Temporary Protected Status in the first place, makes little to no sense," Tom Jawetz, the vice president of immigration policy at the Center for American Progress, a liberal research organization told NBC News.
Paul Altidor, ambassador of Haiti to the U.S. said his government is in communication with DHS.
"We have as a government requested that Temporary Protected Status be extended for at least 12 to 18 months from our standpoint," Altidor said. "Not because simply Haiti needs it, but we feel that it would be in the interest of both countries as Haiti is putting in motion its development plan based on the catastrophe of the Earthquake in 2010 and a set of other issues that came up along the way that has slowed down our reconstruction process."
Haiti elected a new president in January following a 14-month election process which was further prolonged by a brutal Hurricane in October.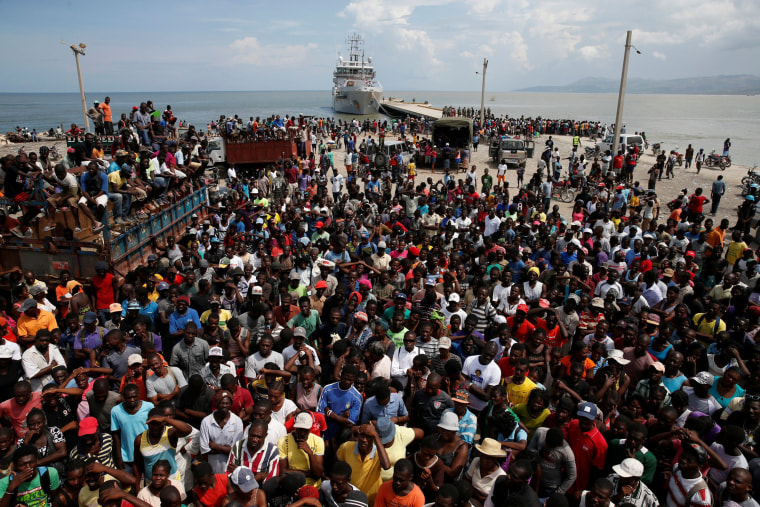 Haitian-born New York City Council member Mathieu Eugene said Temporary Protected Status recipients who have come to his office are looking for an extension on the program, "because they are people who are working hard every single today to provide for themselves and their families and consider it the fabric of the United States."
The Associated Press was the first to report the DHS' request for criminal data of the Haitian community based on inter-agency emails they obtained. The report found that career officials appeared to struggle to find the type of information Kelly was requesting
"We should also find any reports of criminal activity by any individual with (Temporary Protected Status). Even though it's only a snapshot and not representative of the entire situation, we need more than 'Haiti is really poor' stories," wrote Kathy Nuebel-Kovarick, who began her new role April 2 heading immigration policy at U.S. Citizenship and Immigration Services (USCIS), an agency within DHS.
Previously, Kovarick constructed immigration policy under Sen. Chuck Grassley — working closely with Attorney General Jeff Sessions' staff when he was a senator.
Ira Mehlman, media director at the restrictionist Federation for American Immigration Reform, said Temporary Protected Status originally had some merit, but he questions what the program has become.
"You know the T in TPS stands for temporary. But you know people just keep extending their stay here in the United States long past any reasonable time frame after the triggering event," Mehlman said.
The director of USCIS James McCament recommended in April that Sec. Kelly not fully extend Temporary Protected Status status for Haitians because he said conditions have improved significantly. That recommendation has received its share of criticism from lawmakers and advocacy groups.
McCament's agency sent a vastly different report about the conditions in Haiti in December when they said housing shortages, a cholera epidemic, limited medical care, economic concerns, food insecurity and security threats still remained a problem in the country. Haiti was rocked by Hurricane Matthew in October, just weeks after Trump appealed to voters in Miami.
Then-Secretary of State John Kerry recommended Temporary Protected Status be extended.