Seven school districts in California and Washington state said they do not plan to send more students to a Utah facility for troubled teens where a girl recently died. 
Taylor Goodridge, 17, who was from Washington, died in December while attending Diamond Ranch Academy in Hurricane, Utah. The boarding school, which Utah officials say is now in danger of losing its license over allegations of delayed medical care, draws students from across the country. This includes some children whose public school districts pay the $12,000 monthly tuition because there are no local programs that meet their needs. 
Eighteen school districts spent a combined $2.6 million in the past three years to send children with emotional and behavioral issues to Diamond Ranch Academy, according to data from GovSpend, which tracks local government spending through open records requests. Nearly all of the districts were in California and Washington. 
The Utah Department of Health and Human Services placed Diamond Ranch Academy's license on probation immediately after Taylor's death. In February, the department concluded in an inspection that the facility had failed "to provide and seek necessary medical care for an ill client who died several weeks after initial onset of symptoms." Former staff members previously told NBC News that Taylor had been sick in the weeks before her death, but Diamond Ranch Academy did not take her off-campus for medical treatment until she collapsed on Dec. 20; she died later that day. 
The Department of Health and Human Services labeled the citation "extreme" and said it is conducting additional inspections of the facility. In the meantime, Diamond Ranch Academy remains open but is not allowed to accept new students, according to the department. 
Bill Frazier, an attorney for the academy, said it has appealed that violation in an administrative procedure, but declined to comment further. The facility previously declined to comment on allegations by former staff members and students, citing privacy laws.
"Diamond Ranch has fully and transparently cooperated with all agency requests whilst engaging in those administrative and judicial processes," Frazier said. "We will continue to do so."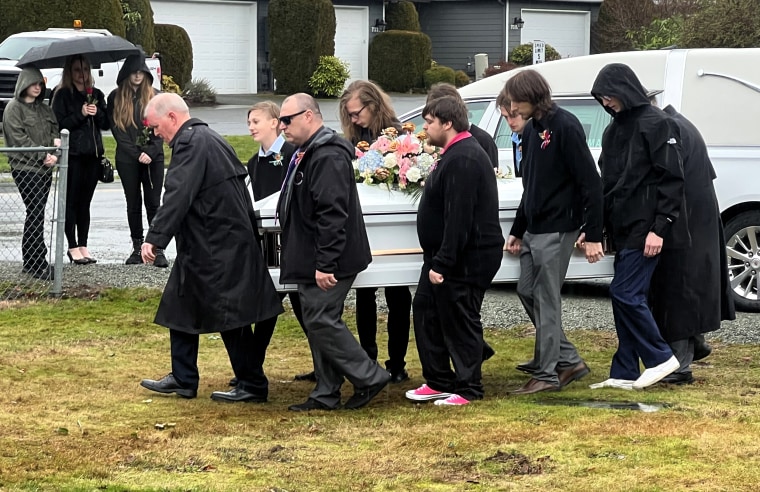 Diamond Ranch Academy, a for-profit program, is one of a number of out-of-state facilities certified by the California and Washington education departments for placing special needs children. 
After Taylor's death, Washington's Office of Superintendent of Public Instruction suspended new placements at Diamond Ranch Academy, pending further investigation by Utah authorities. The California Department of Education declined to comment on the academy, but said it conducts onsite visits of the facilities on its list in at least two out of every three years.
In Alameda County, California, the Livermore Valley Joint Unified School District spent $352,117 to send two students to Diamond Ranch Academy for services that the district could not provide, after doing online research about the facility in 2019.
"While in attendance, and upon their return, evaluations of the students' experiences did not result in cause for concern or additional follow-up," Michelle Dawson, a spokeswoman for Livermore Valley Joint Unified, said in a statement that cited a previous NBC News article about Diamond Ranch Academy. "The death of a student is tragic and your article describes some serious historical allegations of negligence. In light of this new information, we would certainly be hesitant to enroll a student at this school in the future."
NBC News previously reported that Diamond Ranch Academy has been accused in multiple lawsuits over the past decade of mistreating children and restricting their ability to communicate with their families. The facility has denied wrongdoing, disputed some of these allegations and reached out-of-court agreements in multiple cases, while two other suits are ongoing.
In addition to Livermore Valley, other districts that have spent thousands of dollars to place students at Diamond Ranch Academy also expressed reservations. The Dublin Unified School District, also in Alameda County, said it will consider the allegations of child mistreatment at the academy if it is proposed for placement in the future. The Laguna Beach Unified, Irvine Unified and Newport-Mesa Unified school districts in Orange County, California, and the Camas and Bellevue school districts in Washington all said they do not have plans to place a student at the Utah facility.
Several California districts that spent more than $100,000 from 2020 through 2022 to place children at Diamond Ranch Academy — including Calaveras County Office of Education and the William S. Hart Union High School District in Los Angeles County — declined to say how they evaluated the facility or whether they would send students in the future.
Allan Fleck, the special services director for the school district in Camas, a small city outside Portland, Oregon, said he did not encounter problems when placing children at Diamond Ranch Academy while working for another district. He said it's sometimes necessary to send children with special needs to facilities hundreds of miles away because there are no local alternatives.
Records collected by GovSpend showed many of the students sent to Diamond Ranch Academy had individualized education plans. That means they likely had already tried different types of classroom placements in their home district but needed more specialized treatment, said Jill Rowland, an attorney at the nonprofit Alliance for Children's Rights, a nonprofit based in Los Angeles that provides free legal services.
"The point of going somewhere intensive like this is to learn the skills to be able to function in a more positive way in a lower level of care in a community setting," Rowland said. 
She added, "The out-of-state nature of it, though, is scary because it's not eyes on."
Both California and Washington took steps in 2020 to stop sending youth from the foster and juvenile justice systems to out-of-state facilities, but the changes did not extend to children with disabilities who are sent out of state by school districts.
"In our ideal world, we would have the funding from the state and the federal government to provide services to students here in our district," said Shannon McMinimee, general counsel for the Bellevue School District in Washington. "Unfortunately, we are in a state where mental health and behavioral supports for children is drastically underfunded."
Washington's Office of Superintendent Public Instruction said it supports a bill that passed the state Senate this week, which would expand its oversight powers on facilities like Diamond Ranch Academy that accept Washington students with individualized education plans.
The office added that there are no Washington state students receiving special education services currently placed at Diamond Ranch Academy, and it will determine next steps after the Utah Department of Health and Human Services completes its review.