/ Source: Associated Press
Almost exactly a year ago, on Oct. 27, 2016, farm worker Allan Curtis Jones allegedly shot and killed soybean farmer Mike Wallace on a county road in Arkansas. The sheriff later told reporters that the two men had been arguing. Their dispute, the sheriff said, apparently revolved around a phenomenon known in the region as "dicamba drift."
The use of dicamba, a powerful weedkiller that some farmers spray on soybeans and cotton fields, has become increasingly divisive in Arkansas and other heartland states, pitting farmers against each other. Many farmers say the chemical has wafted onto their fields, damaging crops that are not genetically modified to withstand it. Wallace, it seemed, believed it had drifted from a nearby farm and shriveled his soybeans. (Jones, who has pleaded not guilty to a first-degree murder charge, is slated to go to trial in December.)
For farmers across the state, the economic stakes are high. Arkansas ranks third in domestic cotton production, accounting for some 7 percent of the national crop, according to state data. The state ranks tenth in soybean production, and roughly half of that haul is exported.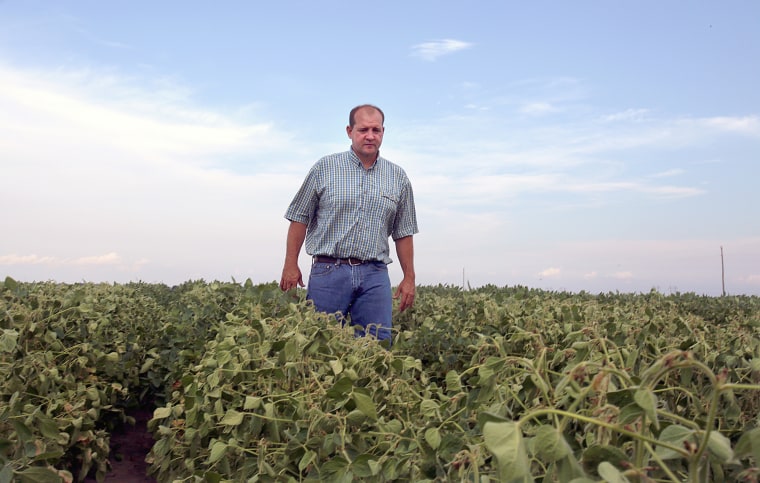 This month, the battle over dicamba appeared to escalate. Monsanto, one of the largest agribusiness companies in America, recently sued Arkansas regulators for banning its version of the herbicide, XtendiMax. The corporate giant asked a state judge to bar the Arkansas Plant Board from enforcing its prohibition of the product.
The plant board referred questions about the lawsuit to the state Agriculture Department. A spokeswoman for the department did not immediately respond to a request for comment.
The plant board adopted the ban last November, preventing XtendiMax from being used each year from April 15 through September 15. The state later approved a temporary restriction that extended to other dicamba weed killers. And last month, the panel nixed a petition from Monsanto to let its herbicide be used in the state.
"The Plant Board's arbitrary approach also has deprived, and if left unchecked will continue to deprive, Arkansas farmers of the best weed management tools available — tools that are available to farmers in every other soybean- and cotton-producing state in the nation," the company said in its lawsuit, filed last Friday.
Scott Partridge, the vice president of global strategy at Monsanto, said in a statement that growers in "33 other states are having an outstanding experience" with its herbicide.
Some growers have hailed dicamba as a useful tool. Brent Schorfheide, a farmer in southern Illinois, told The New York Times last month that the chemical got rid of weeds that had become resistant to Roundup, another Monsanto weed-killing product.
"It cleaned everything up," Schorfheide told The Times. "Without it, our fields would be a disaster."
But many farmers — across Arkansas, but also in Mississippi, Missouri, North Dakota and Tennessee — are reportedly dismayed.
"It's something that is so heartbreaking to me. I see farmers taking sides, and enemies being made," Arkansas farmer David Wildy told NPR earlier this month. "It's a situation that is so catastrophic and appalling, I never would have thought that I would see something like this."
Mindful that neighboring farmers might have planted traditional beans, not genetically-modified ones that can tolerate dicamba, Wildy suggested he would hold off on using the chemical.
"Regardless of how good it is, and how much I need it, if I can't keep it from damaging my neighbor, we can't use it," he told NPR.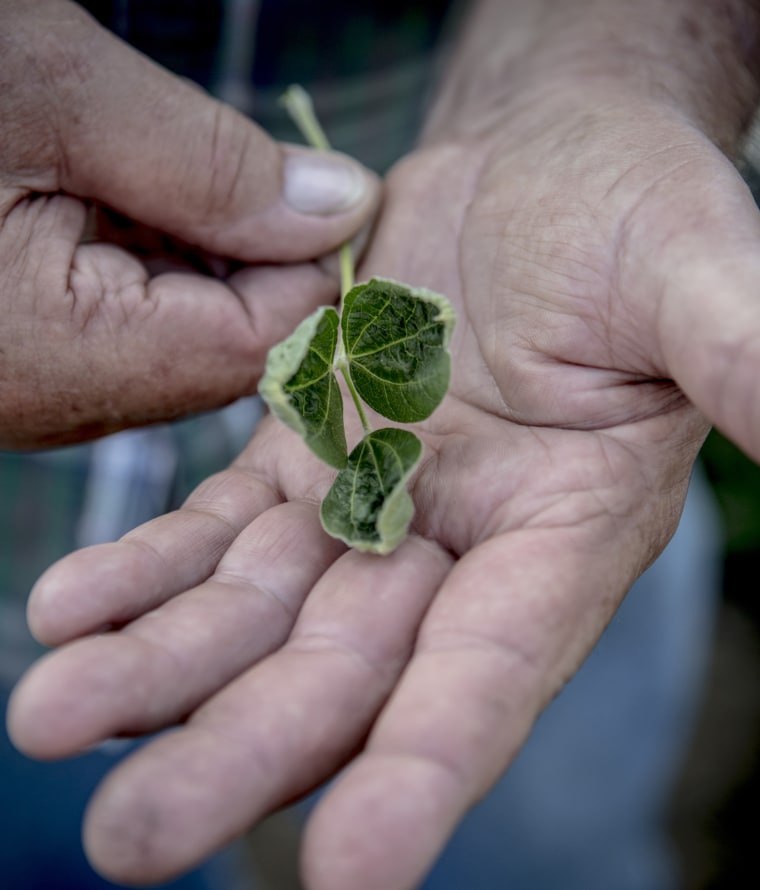 Missouri blocked the use and sale of three dicamba herbicides in July, but it reversed that decision after signing off on new labels and restrictions.
Arkansas is inching closer to implementing another temporary ban on dicamba for next year, according to the Associated Press. The plant board last gave preliminary approval to rules around the use of the herbicide from April 16 through Oct. 31, 2018. The panel will hold a public hearing on the new restrictions next month, the AP reported.
Amid the conflict between Monsanto and Arkansas regulators, the federal government has also weighed in on the issue. The Environmental Protection Agency announced this month it had reached a deal with Monsanto, along with the dicamba-making firms BASF and DuPoint, for new voluntary restrictions on the chemical's use.
"EPA carefully reviewed the available information and developed tangible changes to be implemented during the 2018 growing season," the agency said in a news release on Oct. 13. "This is an example of cooperative federalism that leads to workable national-level solutions."