The announcement by Dick's Sporting Goods on Wednesday that it would stop selling military-style rifles like the AR-15 was instantly powerful, dominating the news cycle while adding fuel to a gun control debate that has raged since the Feb. 14 shooting at Marjory Stoneman Douglas High School in Parkland, Florida.
But in practical terms, the move may not have much impact.
A small fraction ─ about 12 percent ─ of the hundreds of thousands of AR-style rifles sold each year in America are purchased at big-box merchandisers like Dick's, according to Southwick Associates, a market research firm that works for the National Shooting Sports Foundation, a gun industry trade group.
Related: Dick's Sporting Goods will stop selling assault-style rifles
Most such firearms are bought at independent gun shops, the firm says, citing consumer surveys.
"The actual sales impact will be negligible," said Rommel Dionisio, who covers the gun industry for Aegis Capital, where he is managing director of equity research. "It does seem like the press release was making a statement, but the actual financial impact, for them and for their suppliers, should be relatively minor."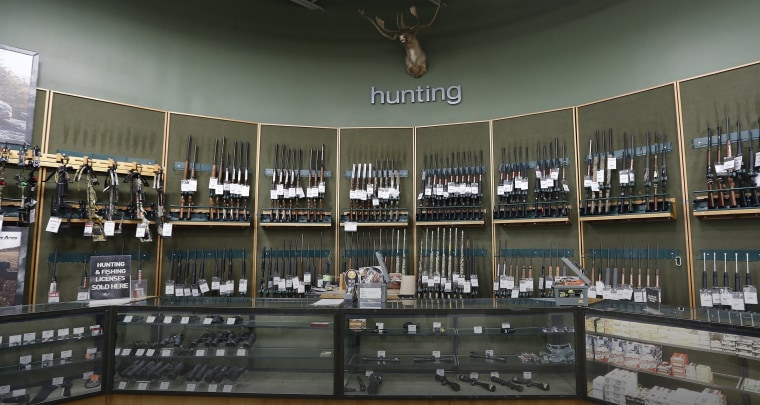 The announcement was actually the second time Dick's has made such a promise.
After the December 2012 massacre at Sandy Hook Elementary School in Newtown, Connecticut, the company halted sales of military-style rifles like the AR-15, which, along with AK-47s, are categorized by the gun industry as "modern sporting rifles."
That move did nothing to stop AR-15 sales, which spiked that year amid calls for stricter gun laws.
A few months later, in the summer of 2013, Dick's opened the first of its line of specialty Field and Stream stores, geared toward hunting and fishing. Those stores began selling AR-style weapons.
On Wednesday, Dick's CEO, Edward Stack, said that would end.
The pledge covers 35 Field and Stream outlets and covers all "modern sporting rifles," along with high-capacity magazines, Stack said.
Stack noted that a Dick's store in Florida legally sold the Parkland murder suspect, Nikolas Cruz, a shotgun last year ─ not the weapon used in the attack. "But it could have been," Stack said.
He also called for new gun control laws.
"We don't want to be a part of this story any longer," Stack told NBC News.
Also Wednesday, Walmart announced that it was raising the minimum age for gun sales in its stores to 21 from 18 and removing weapons resembling assault-style rifles, including nonlethal airsoft guns and toys, from its website.
Walmart stopped selling AR-15s in 2015, but the move had little effect on overall gun sales. The following year, the industry sold a record number of those guns, according to industry estimates. The supermarket chain Kroger said Thursday that it would raise the minimum age to purchase a firearm or ammunition to 21 at its dozens of Fred Meyer locations.
The announcements coincided with moves by several big companies to break with the National Rifle Association over discount programs. Parkland students have pressed lawmakers to do more to keep guns out of schools.
While praised by gun control advocates, Dick's was excoriated by gun rights supporters, who accused the company of trying to wring the debate for public relations points.
"They took a calculated play," said Eric Hung, editor in chief of Pew Pew Tactical, a website geared toward new gun owners. "They probably don't sell that many AR-15s anyway, so this is more of a stunt."
Dick's representatives did not respond to a request for its sales figures.
But firearms sales have been a drag on the company. Last year, the company cited poor sales of rifles as one reason for its declining stock price.
And it's not just Dick's. Following record sales in 2016 — fueled by fears that Democratic presidential candidate Hillary Clinton would win the election and push for gun control — the industry has slumped under President Donald Trump, a seemingly gun-friendly Republican.
Since the Parkland shooting, however, sales have increased along with renewed calls for gun control, according to gun sellers.
"Sales were slow initially this year," said Chris Waltz, president and CEO of the AR-15 Gun Owners of America, which advocates for gun rights and sells guns online. But after the Parkland shooting, "it's a huge line, straight up."
Dick's decision to get out of the AR market "Is not going to impact anything," Waltz said. "They're just going to push everybody to Cabela's and Bass Pro," he added, referring to two of Dick's competitors that are now owned by the same corporation.
Nick Leghorn, senior editor at The Truth About Guns, a firearms blog, said Dick's, which was founded in New York and is based in Pennsylvania, may be trying to appeal to the large segment of its customers who favor gun control to survive in a struggling sports retailing environment.
"Adding something so controversial to their shelves doesn't make good corporate strategy," Leghorn said.
But, he added, it also doesn't make much sense to turn its back on America's most popular rifle.
"I don't know how long it's going to last, honestly," Leghorn said. "I think they'll go back in a couple months — assuming the laws don't change."