Former New York City Mayor Rudy Giuliani and former U.S. Attorney General Mike Mukasey disclosed they wanted to go around prosecutors and cut a deal between the Turkish and U.S. governments for a client accused of laundering Iranian money, a federal prosecutor alleged in a letter to a federal judge Friday.
Giuliani, now President Trump's cyber czar, and Mukasey are part of the defense team for Reza Zarrab, a Turkish-Iranian gold trader charged in federal court with helping the Iranian government avoid sanctions and launder hundreds of millions.
They did not inform the court formally that they were representing the client, and lead attorney Ben Brafman said they would not be appearing in court on behalf of Zarrab. On March 28, the judge asked the defense to disclose the role of the two men in the defense team, and also explain why it had not been disclosed previously.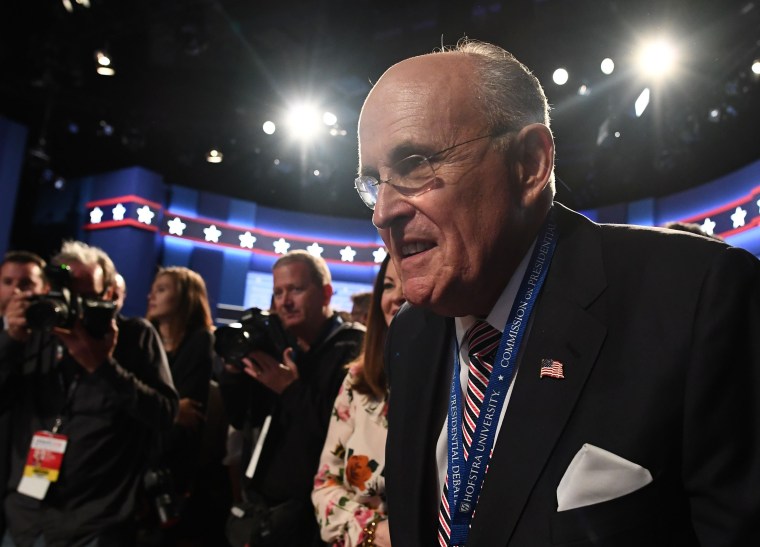 According to the letter sent Friday by Joon Kim, acting U.S. attorney for the Southern District of New York, "They have refused." Kim says Giuliani and Mukasey won't provide details of their participation other than to say they have been retained in a way that "may impact the prosecution."
Related: Giuliani To Help Defend Accused Iran Money Launderer
Kim says that Giuliani and Mukasey told the prosecutor's office, "without protection of attorney-client or work-product privilege," that they went to Turkey in late February to meet with President Recep Erdogan "to discuss potential ways to facilitate a resolution of the charges against the defendant in the case."
According to Kim, they also "informed this Office that Mr. Giuliani and Mr. Mukasey had sought to meet other officials in the U.S. government outside of this Office to discuss a potential disposition of the case."
The New York Times reported Monday night that both Giuliani and Mukasey had previously visited Turkey to discuss the case with Erdogan. A U.S. official contacted by NBC News did not dispute the Times account.
Prior to his terms as mayor, Giuliani had Kim's job -- he was the U.S. Attorney for the Southern District of New York. Mukasey was a judge in the Southern District for almost 20 years.
Related: Judge: Why Is Giuliani Defending Alleged Iranian Money Launderer?
"Putting aside for the moment," said Kim, "the curious claim that the defense hopes ... to negotiate a disposition of the criminal charges in this case without directly engaging the Office prosecuting the case, their contention that a [conflict of interest] hearing is unnecessary is both factually and legally wrong."
Kim asked for a Curcio, or conflict-of-interest, inquiry because the law firms of Giuliani and Mukasey represent some of the banks allegedly used in the money laundering, and because Giuliani's firm also represents the government of Turkey.
In a response filed late Friday, Brafman argued that "the Government is not entitled to know what Messrs. Giuliani and Mukasey are attempting to do in their efforts to assist the defendant." He said the information "quite frankly is none of the Government's business" and is covered by both attorney-client and work-product privilege. He said prosecutors were attempting to attract media attention, not protect the defendant's right to "conflict free counsel."
"If the Government has the temerity to even intimate that Messrs. Giuliani or Mukasey are engaging in any inappropriate conduct," said Brafman, "then let them come out and say it."
Defendant Zarrab, 33, was arrested March 19 in Florida. President Erdogan defended Zarrab when he was fingered in a 2013 Turkish corruption scandal that also implicated Erdogan associates. The Turkish leader called Zarrab, who had given his wife's charity $4.5 million, a philanthropist and praised his contributions to Turkish society. All charges against Zarrab and Erdogan's pals were dropped.
Mukasey declined to comment. Giuliani did not immediately respond to a request for comment.