When Linda Gottlieb hails a taxi cab in New York City and asks the driver to take her home, she has one word to describe how she feels: embarrassed.
Why? Because she has to tell the driver to take her to Trump Place.
"It's nuts that we're now living in a place that is advertising values that none of us believe in," said the film and television producer, who has started a petition signed by hundreds urging landlord Equity Residential to "dump the Trump name." When Gottlieb began renting her 3-bedroom unit on the Upper West Side, Gottlieb said she had no opinion one way or another of the real estate mogul who is now the Republican presidential nominee — other than he was a "glitzy guy."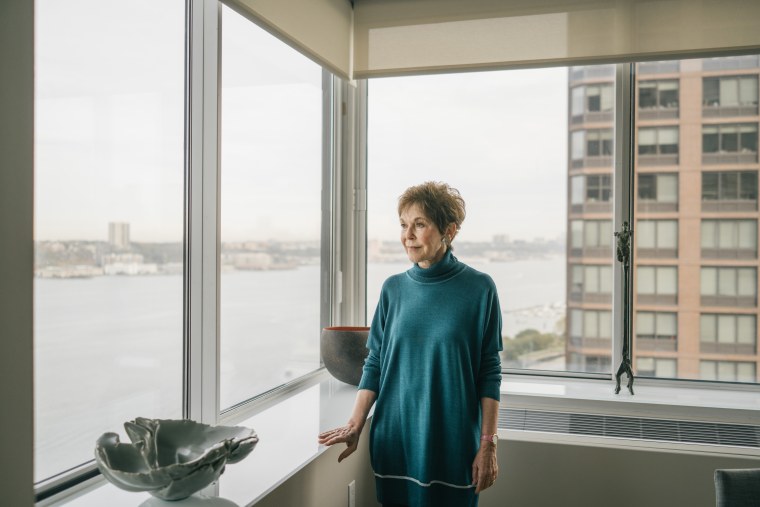 She grew increasingly unhappy with his controversial campaign. But when footage showing Trump bragging in lewd terms about trying to have sex with women came out earlier this month, "that was the straw that broke the camel's back for me," she said.
Gottlieb's sentiment is emblematic of a worrying trend for Trump, in which the real estate mogul's brand appears to be taking a significant hit as a direct result of his divisive presidential campaign.
"Trump" was often synonymous with luxury and success — a high-end retreat for the actually wealthy, and an aspirational vehicle for those who craved wealth.
But today, for some of the affluent elite he once courted, "Trump" is more associated with populist anger and allegations of misogyny, racism and more.
In fact, a new online poll by Morning Consult found that nearly 40 percent of voters said Trump's campaign made them "less likely" to buy Trump-related products. And almost half—46 percent — said they wouldn't stay at a Trump-branded hotel. Even more, 63 percent, said they wouldn't want to play golf on Trump's links.
Related: Trump Businesses Down by More Than 16 Percent in September
The numbers of those visiting Trump properties may be in decline as well. According to Foursquare, which tracks visits from more than 50 million users, stops to Trump-branded hotels, casinos and golf courses dropped 16.5 percent in September compared with a year ago.
"The man is the brand and some of what the man is saying in terms of his beliefs and behaviors are bringing that brand into question. He's probably going to be hurt bad by all of this," said Jonathan Asher, executive vice president at marketing firm Perception Research Services International Inc.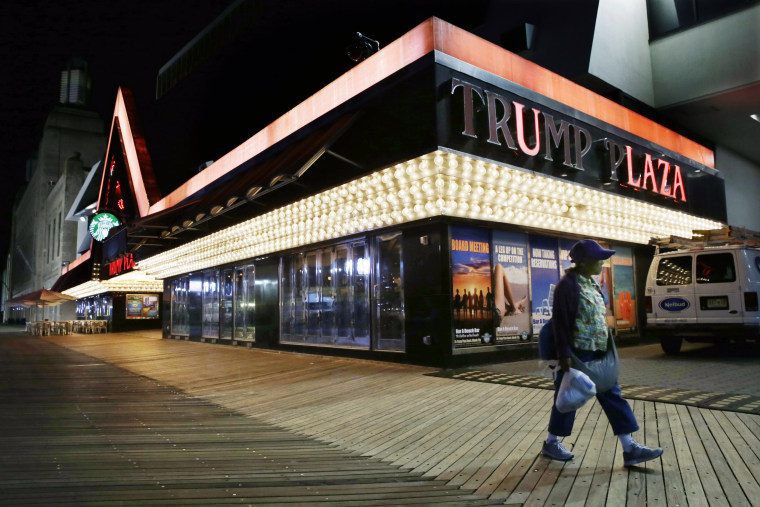 Amanda Miller, vice president of marketing of the Trump Organization, dismissed any notion that the brand was suffering because of the candidate's campaign.
"The Trump Brand remains incredibly strong and we are seeing tremendous success across business units. Trump properties are known for their iconic locations, achieving the highest accolades and for providing unrivaled five-star service. We continue to outperform our competitors and are very enthusiastic about the future and our continued growth," Miller said.
RELATED: Trump a 'Brilliant' Businessman? Tax Experts Say Otherwise
Eric Danziger, CEO of Trump Hotels, asserted the Foursquare data on diminished foot traffic to Trump properties "is manipulated to appear meaningful, when, in reality, the information is inconsequential and does not provide an accurate representation of our performance."
But if Trump has damaged the "Trump" brand, it could be devastating for his business.
He controls more than 500 companies in many fields including residential real estate, hotels, resorts. Of that, 268 bear his last name. His name is also on numerous products from ties to energy drinks to steaks.
And many of his customers aren't happy.
Daniel Neiditch, president of River 2 River Realty, has been selling apartments in Trump buildings in New York for 15 years. He said Trump's White House bid has made his job a lot harder, citing buyers in Mexico and South America who looked at Trump properties but ultimately said they didn't want to buy in a building associated with him.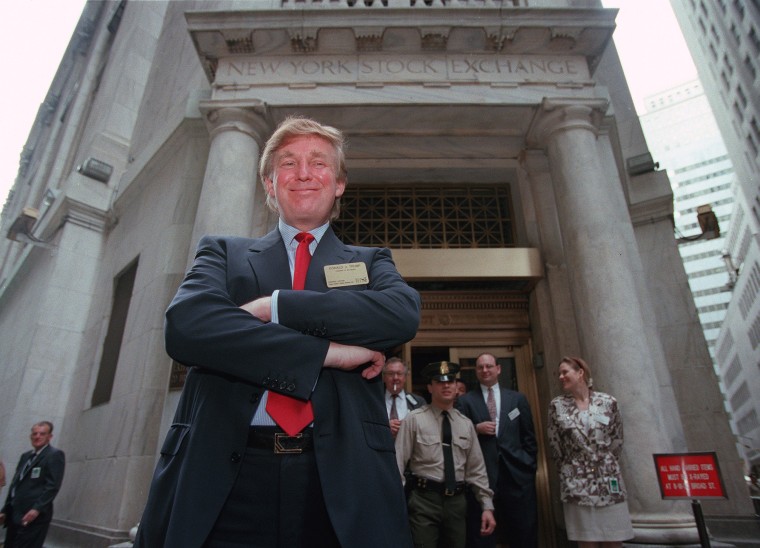 Before Trump's bid, "we would always see a constant flow of buyers who would demand to live in Trump buildings. It went from being a brand that was sought out to a brand that people are turning away from," he said.
In Chicago, high-end wedding planner Reva Nathan said that since Trump has been running for president, clients have been telling her they don't want to have their wedding at the once coveted Trump International Hotel and Tower, where weddings cost anywhere from $50,000 to $100,000.
"I haven't had anybody say to me in the last six months that they want to look into availability at the Trump Hotel Chicago," said Nathan. "…Just last week, one client said to me, again unsolicited, 'I don't even want that name on an invitation.'"
And just this week in Chicago, a city council transportation committee voted unanimously to remove a street sign honoring Trump outside the hotel. The bill heads to the full city council next week.
Trump frequently touts his business ventures on the campaign trail and faced some criticism this week when he stopped in the nation's capital to make a pitch for his new hotel there. "With the notable exception of 1600 Pennsylvania Avenue, this is the most coveted piece of real estate in Washington D.C.," Trump said, even as reports cited prices there being slashed from $750 a night to under $500.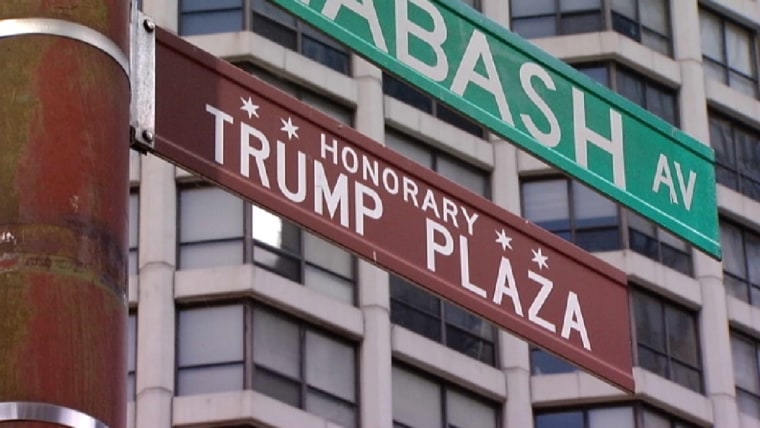 David Loeb, a hotel analyst at Robert W. Baird private equity firm, noted, "You can't just open a hotel and right out of the box be full and have high rates." But he added, "If people think [Trump] is inappropriate, they may stay away and would rather book somewhere else."
The thing is, "Trump has a lot of ardent followers," Loeb said. "But the demographic of his followers are not the ones that stay in very expensive luxury hotels."
Trump's daughter, Ivanka, who runs her own fashion line, also faced backlash this week when Shannon Coulter, the CEO of a communications agency, called for a boycott of her items, urging retailers who carry her products to cut ties with her. The hashtag associated with the boycott, #GrabYourWallet, has gone viral.
"My only goal is to be able to shop at the stores that I love with a clear conscience," said Coulter, who lives in the Bay Area.
One woman, M. Stein., tweeted the #GrabYourWallet hashtag accompanied with a photo of a handwritten message on a pair of Ivanka's shoes that were placed in a trash can. The message said, "Ivanka, you have actively supported a hateful & divisive campaign,so this is where your brand deserves to go."
But whether such declarations translates into a decline of sales is yet to be seen. BrandKeys conducted a national survey of millennial female shoppers that found 51 percent said they were still "extremely likely" or "very likely" in their willingness to consider choosing Ivanka's line in light of Trump's involvement with her father's campaign.
However, a Morning Consult poll showed this week that only 23 percent of women would be willing to buy from the clothing line, while more than half said they wouldn't.
A spokesman for Ivanka's brand dismissed the notion that the line was in trouble, citing 37 percent growth over last year in sales and revenue for 2015 and that her collection will expand from 800 to 1,000 stores nationwide by 2017.
A spokeswoman for Nordstrom, which carries the line, said, "Right now, we don't have any plans to stop carrying the brand." Other stores that carry the line, including Amazon, Macy's and Zappos, did not return request for comment.
Passikoff said recovering Trump's damaged brand will be an uphill battle and cited Martha Stewart and Tiger Woods — two public figures who faced their share of troubles and saw their brands fail to fully recover.
"I don't expect the guy is going broke, but he changed the entire meaning of what the entire Trump brand stands for," said Robert Passikoff, president and founder of Brand Keys, a brand research consultancy group. He said the brand that once stood for opulence and success now stands for "tarnished and shameful."
And then there's some who believe the Trump name is inconsequential, like Ann Rae, a resident at Trump Place in New York.
"We didn't move here because of the name and we're not moving out because of the name. I think living in New York, half of the city has his name on it ... it's just part of New York, it doesn't mean we support him — because we don't." She added, "...It's just a name."