Neither side will comment on whether President Trump discussed the Justice Department's profound concerns about his national security adviser during a private dinner in January with FBI Director James Comey at the White House.
But according to the statements of White House and Justice Department officials, Trump would have been aware of Mike Flynn's FBI troubles when he sat down for dinner with Comey.
The dinner happened on Jan. 27, one day after acting Attorney General Sally Yates came to the White House to brief White House counsel Donald McGahn on Justice Department concerns that Flynn was compromised because he had lied about his contacts with Sergey Kislyak, the Russian ambassador to the U.S.
In February, White House spokesman Sean Spicer told reporters that upon hearing from Yates on the 26th, McGahn "immediately" briefed the president and a small group of senior advisors.
Related: My Dinner with Comey: Clapper, Others Dispute Trump Account of Meeting with FBI DIrector
Three days before Trump's dinner with Comey, on January 24, FBI agents came to the White House to interview Flynn about his discussions with Ambassador Kislyak.
That means Trump would have known about the FBI and Justice Department concerns about Flynn — one of his closest advisers — when he sat down to dinner with Comey.
Comey would have known a lot about the situation, as well. He testified to Congress that he had discussed Flynn with Yates.
Related: Trump Asked Comey If He Was Under Investigation
Whether Trump asked Comey about Flynn is something people close to Comey won't discuss. But one Comey friend told NBC News he is eager to tell his side of the story about the dinner and other matters, preferably at a Congressional hearing.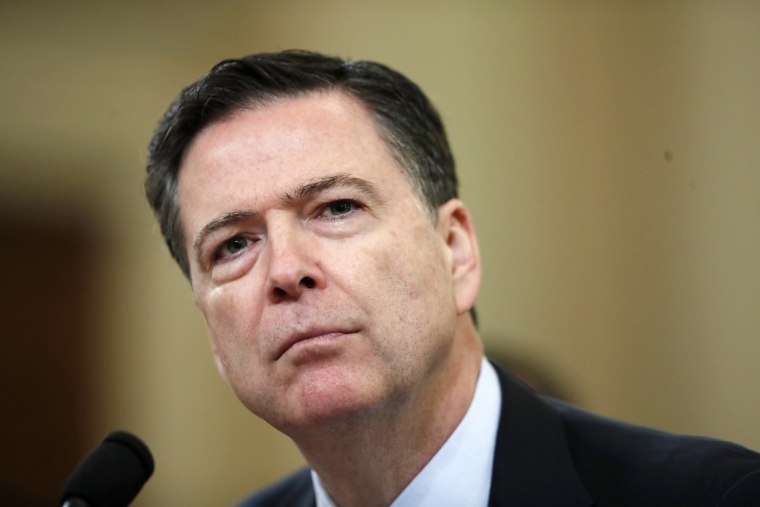 "He wants to do this right," said the source, a former Justice Department official who spoke on condition of anonymity.
White House officials declined to comment.
Comey and Trump met for a hastily-arranged private dinner in the White House on Jan. 27, a week after Trump was sworn in. At the dinner, people close to Comey told NBC News, Trump asked Comey if he could pledge his loyalty. Comey replied that he couldn't do that, but what he could offer was honesty.
Comey told friends he had been summoned to the dinner but was uneasy about whether it could compromise FBI independence. Yet he felt he had no choice but to go.
Trump told a far different story to NBC Nightly News anchor Lester Holt. The president said he believed Comey asked for the dinner. He said Comey asked Trump to retain him as FBI director and assured the president he was not under investigation.
Friends of Comey said they cannot conceive of the FBI director saying either of those things.
The days leading up to the dinner were eventful ones for the young Trump administration.
On Jan. 24, FBI agents came to the White House to interview Flynn.
Yates returned to the White House for a second meeting with McGahn on Jan. 27, the day of the dinner. Flynn was fired by the White House 18 days later, after the Yates warning leaked to the Washington Post.
A former FBI official close to Comey recalls that the dinner invitation "was a last minute thing," and it came in either on the 26th or the 27th.
Former director of national intelligence James Clapper told NBC News' Andrea Mitchell that he was with Comey during the day on the 27th, at an FBI farewell for Clapper.
"He mentioned that he had been invited to the White House to have dinner with the president, and he was uneasy with that because of… even the appearance of compromising the independence of the FBI," Clapper said.
But, Clapper added, "Anyone who is a serving office in the government and you are asked by the president to dinner…you are in a difficult position to refuse to go."