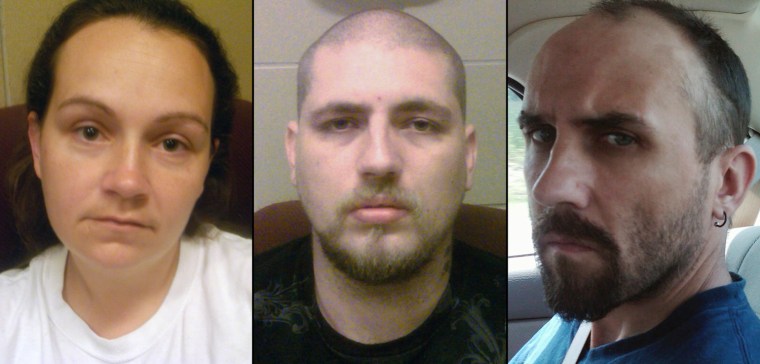 A cognitively disabled woman and her young daughter were held against their will in an Ohio home for more than two years, forced to perform manual labor, threatened by poisonous snakes, and beaten to scare them from ever escaping, authorities announced on Tuesday.
Jessica L. Hunt, 31, and Daniel J. Brown, 33, and Jordie L. Callahan, 26, were arrested in Ashland, Ohio, and charged with forced labor for holding the woman and her child starting in May 2011, the United States Attorney for Northern Ohio said in a statement.
Callahan was also charged with tampering with a witness after allegedly forcing the mother to hit her child and videotaping the incident to use against her if she ever went to the police.
"We are yet again reminded that modern-day slavery exists all around us," said Steven M. Dettelbach, United States Attorney for the Northern District of Ohio. "One of our nation's core values is freedom, yet this woman and her child were denied freedom for two years. The victims in this case endured violence, threats, sub-human living conditions and other horrific acts."
News of the horrific case comes just over a month after the high-profile rescue of three Cleveland women who had been held captive for nearly ten years in the home of Ariel Castro, who faces charges of rape, kidnap and murder.
The Ashland victims were forced to live in inhuman conditions, tasked with shopping, cleaning, and caring for their captors pit bulls and reptiles.
They were beaten, intimidated by firearms, denied food and threatened by the dogs and reptiles which included a poisonous coral snake, a ball python and a Burmese python that weighed 130 pounds, according an affidavit filed by the FBI.
"The actions of the individuals arrested this morning defy comprehension and, quite frankly, are disgusting," said Eric Smith, a lead FBI investigator in  the case, told reporters.
Police say the woman, identified only as "S.E.," suffered a head trauma at 16-years-old and had the functioning mental capacity of a 13-year-old.
For a time, S.E. and her child were forced to sleep on a cement floor with no mattress, and were later moved upstairs to a padlocked room with a freely roaming large iguana and no bed, according to the affidavit.
On multiple occasions they also injured the S.E. so that she needed pain medication which they would then take from her.
The disabled victim also received monthly public assistance payments which were frequently stolen by her captors, according to the affidavit.
Police initiated the investigation in October 2012, after S.E. was caught shoplifting a candy bar. She asked to be taken to jail, telling police the people she lived with "were mean to her," according to the statement. 
Police visited Callahan and Hunt's apartment, informing them that the woman would not be returning. Authorities said Callahan then showed police the video he had taken on his mobile phone in October 2011 when the woman hit her child, investigator said.
The mother later told police that Callahan and Hunt made her strike the child, saying a much worse beating would come if she failed to do so, according to the affidavit. The two told her that if she told anyone about her living conditions, they would show the video to police and her daughter would be taken away, according to police.  
"The streets are a lot safer with these folks locked up," said Ashland Police Chief David Marcelli said.
Officials said S.E. and her daughter are doing relatively well and are getting assistance from both the FBI and non-profits around the area.      
"The individuals in this case preyed upon a human being's disability and her desire to protect her child," said Dettelbach.