The National Park Service said the inscription would be fully erased and replaced with grooved lines matching the rest of the MLK Memorial. Richard Jordan of NBC Washington reports.
A paraphrased quotation that critics said made the Rev. Martin Luther King Jr. sound "arrogant" will be erased from King's monument in Washington in time for the 50th anniversary of his celebrated March on Washington, U.S. officials and the memorial's sculptor said Thursday.
The quotation on the left side of the memorial, which opened in August 2011 on the National Mall, reads: "I was a drum major for justice, peace and righteousness."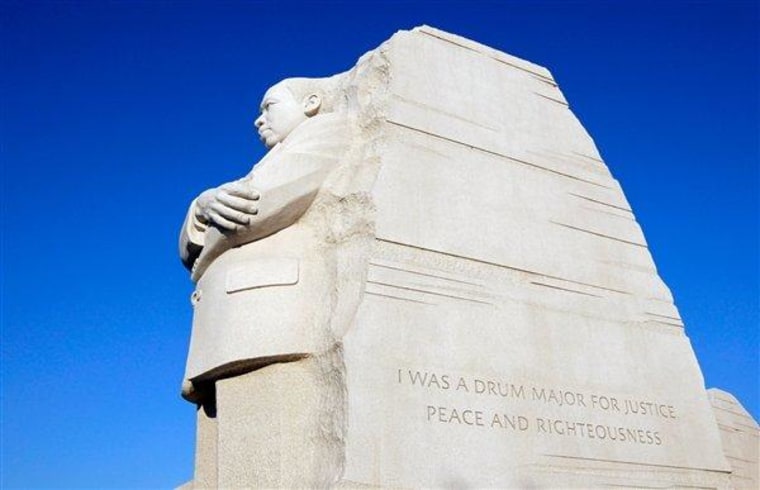 In fact, what King said in Atlanta on Feb. 4, 1968, was this:
"If you want to say that I was a drum major, say that I was a drum major for justice. Say that I was a drum major for peace. I was a drum major for righteousness. And all of the other shallow things will not matter."
The sculptor, Lei Yixin, explained that he shortened the quotation so it would fit. But critics — including civil rights activist and former U.S. poet laureate Maya Angelou — have complained ever since the memorial was unveiled that the truncated quotation made it sound like King was declaring himself a hero, when he was actually downplaying his signficance.
Then-Interior Secretary Ken Salazar ordered the inscription changed in January 2012. In December, Lei recommended simply removing the quotation as the best way to salvage the memorial's structural and artistic integrity. The King family, the King Memorial Foundation and the National Park Service agreed.
On Thursday, the Park Service and Lei said at a Q&A session in Washington that the work to remove the quotation was almost finished.
The new design — simple striations, or lines, cut into the wall to match the rest of the memorial — will be complete by Aug. 24, they said. That's the beginning of a week of celebrations marking the 50th anniversary of the Aug. 28, 1963, March on Washington — the day King delivered his historic "I Have a Dream" speech before the Lincoln Memorial.
Bob Vogel, superintendent of the National Mall, said the dispute was par for the course.
"The history of every memorial — I can't think of one here on the National Mall that hasn't in some way elicited some controversy," he said.