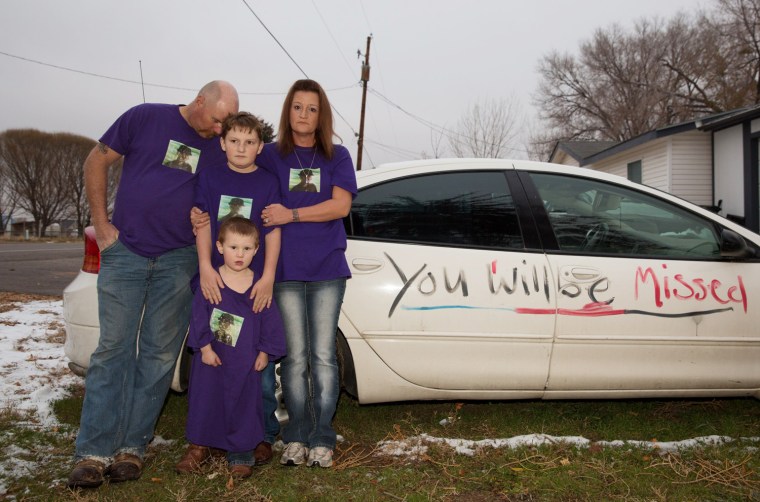 Evie Lesser has a tattoo of her second-oldest son's name scrawled on her left wrist: "Tommy." Her husband Tom bears a tattoo in honor of their son across his chest.
On the night of Sept. 2 last year, Thomas LaVelle Clark, 15, also known as Tommy, was struck from behind by a pickup truck as he walked with a friend along a road near where they lived in Vernal, Utah. Clark, who was wearing a Day-Glo yellow sweatshirt, was thrown about 40 feet on impact and died the next day after being taken off life support.
The driver, Jeffery Lloyd Bascom, then 28, would later tell police he had been texting at the time of the accident. He never even saw the boy, he said. "There is no way our son could have been missed, other than flat out not paying attention," Lesser said in an interview last week.
Bascom was sentenced in July to up to five years in prison and ordered to take part in a public service campaign about the dangers of texting and driving.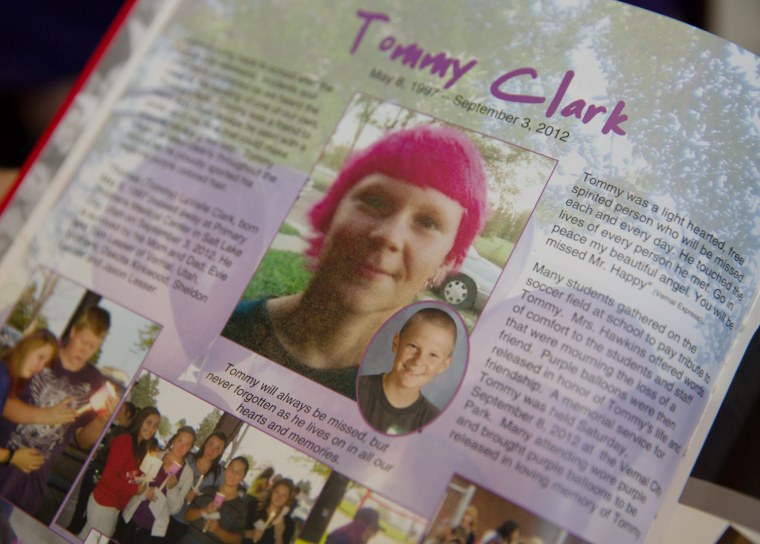 "Now we'll never know what Tommy would have been," said Evie, who has three other sons, Dakota, 21, Sheldon, 12, and Jaxon, 3. 
"Your children are not supposed to go before you," Tom said. "Especially for something as stupid as this."
'Everybody thinks they're the exception'
Safety experts and advocates say they're struggling to convince Americans to stop distracted driving, even as a growing body of evidence shows that drivers who insist on texting or talking on cell phones while behind the wheel pose deadly threats on the nation's roads.
Survey data from State Farm released earlier this month showed that a majority of American drivers admit to distracted driving. Some forms of the dangerous habit have actually increased in recent years, especially among young drivers, according to the data. Fifty-seven percent of drivers admitted to talking on a hand-held cell phone while on the road. About 35 percent reported that they have texted while driving, up from 31 percent in 2009. Among drivers aged 18-29, 77 percent said they used a hand-held cell while driving, and 69 percent admitted to texting behind the wheel.  
Not that Americans believe distracted driving is OK. Nearly three-fourths of survey respondents strongly supported bans on texting while driving, and over half supported imprisonment as the appropriate penalty for fatal cellphone-related crashes.
The problem, according to one expert, is that Americans overestimate their own ability to stay focused while driving and texting or talking on the phone. "People recognize that these things are dangerous, but they think that they themselves are good at it," said Robert Rosenberg, an assistant professor of philosophy at the School of Public Policy at the Georgia Institute of Technology who has written about distracted driving. "Everybody thinks they're the exception."
Data may not reflect true extent of problem
In an age of constant connectivity, cell phone distraction goes beyond calls and texting; State Farm survey respondents also admitted to checking emails and social media while driving. Some motorists are even taking "selfies" while behind the wheel , a disturbing trend that prompted  AAA, the group formerly known as the American Automobile Association, to issue a warning earlier this month. 
While the latest data on highway fatalities from the U.S. Department of Transportation's National Highway Traffic Safety Administration (NHTSA) showed a slight downturn in deaths connected to distracted driving, from 3,360 in 2011 to 3,328 last year, the number of injuries increased by nine percent, from an estimated 387,000 in 2011 to 421,000 last year.
"We lost 3,000 people to distraction-related crashes. That's no small thing. It's real, and it's very dangerous," said NHTSA administrator David Strickland, who believes that the data may underestimate the toll of distracted driving. "It may be a larger problem," he said.
The collection of such data is relatively new for the NHTSA, and the agency is still working to improve how it is gathered and to more accurately identify distraction-related crashes, Strickland said.  One goal is a data initiative to include distraction-related questions on investigatory forms police fill out after crashes, a practice that only exists in some states now.
"We're putting a lot of resources behind it," said Strickland, "but it always goes back to personal responsibility."
Advocates: Hands-free isn't risk-free
To many drivers, being responsible means using hands-free technology such as headsets or voice-activated systems. As car companies compete to attract customers who want connectivity in their vehicles, more in-car options enabling hands-free talking and texting are on the horizon.  
But some safety advocates argue that hands-free technology isn't risk-free and want public education campaigns to include that message.
When Jacy Good's parents were killed while driving home from her college graduation in Allentown, Pa., in May 2008, a teen driver involved in the crash was talking on speaker phone and had his hands on the wheel–still, he was distracted enough to make a left turn through a red light, she said. An 18-wheeler that swerved to miss the teen hit her family's car.
Good, who was also in the car, suffered serious injuries but survived the crash. The teen and truck driver sustained minor injuries. Now, Good is a board member of FocusDriven, a group that advocates for a ban on all cell-phone use – including hands-free – while driving.
"This crazy idea that we need to be connected all the time absolutely does not hold true when you're behind the wheel of a car," said Good, who speaks about distracted driving at schools and community events.
FocusDriven and other safety advocates cite studies showing that cell phone use creates sufficient mental distraction to impair drivers even when their hands are on the wheel. "There really is no difference between hand-held and hands-free," said Strayer, author of a study on distracted driving for the AAA's Foundation for Traffic Safety.
The National Transportation Safety Board (NTSB), an independent federal agency, has called for a nationwide ban on using any portable electronic devices while driving, even hands-free, during non-emergencies.
For its part, the NHTSA points to research showing that a hands-free cell-phone call in itself poses no increased risk as long as drivers keep their eyes on the road. The problem, said administrator Strickland, was that drivers often take their eyes off the road even when using hands-free technology.
Calling for a culture shift
Currently, more than 40 states ban texting for drivers, and 12 states ban hand-held cell phone use. No state has banned all cell phone use in cars.
But legislation may not be the solution to the problem, said Christopher Hart, a member of the NTSB. What's needed, he said, is a culture shift. "It's going to take very effective education, because so many people think it's quite ok to multitask and to drive and text at the same time," he said.
Tom Lesser agrees that more education and awareness are needed–"there needs to be a Dads Against Distracted Driving," he said –and he and his wife hope that talking openly about losing their son Tommy will help.  
"If we can prevent this from happening to one family—one—that's all we want," Evie Lesser said. "I don't want any other family to ever feel this pain."
Related: