CHARLOTTE, N.C. — Billy Graham was born and raised to be a Presbyterian farmer in Charlotte, but, as he is being laid to rest in his hometown, is now remembered here as having been a leading voice for evangelicals worldwide.
During a five-decade career, Graham was largely absent from Charlotte, which nevertheless championed and memorialized him as it developed over the years from a conservative Presbyterian agricultural town into a complex interfaith city known as much for banking as for being the hometown of Billy Graham.
Graham left a lasting imprint on Charlotte, which named a major arterial road the Billy Graham Parkway. And while many of the religious groups that developed here have strong disagreements with Graham and his ministry, their Charlotte chapters still harbor some respect for him.
People in Charlotte "have an unbelievable deep pride for Billy Graham, almost a defensiveness, even though he's been gone since he went to Wheaton," said Ken Garfield, the former religion editor at The Charlotte Observer, referring to Wheaton College in Illinois, Graham's alma mater.
While Graham, who died last week at 99, traveled the nation and world, holding over 400 revival meetings, or crusades, this city — once defined by a conservative Presbyterianism, and later Graham's own brand of evangelicalism — developed a rich multifaith tapestry. It now includes vibrant Roman Catholic, Jewish, Muslim, Hindu, Buddhist, Greek Orthodox and even Baha'i communities.
"To see diversity in Charlotte is to recognize that we don't have one type of Islamic or Christian community or any other religion," said Rodney Sadler, a board member of Mecklenburg Ministries, an interfaith organization, and a professor at Union Presbyterian Seminary in Charlotte. "We have multiple different immigrant and religious communities that have come and thrived here."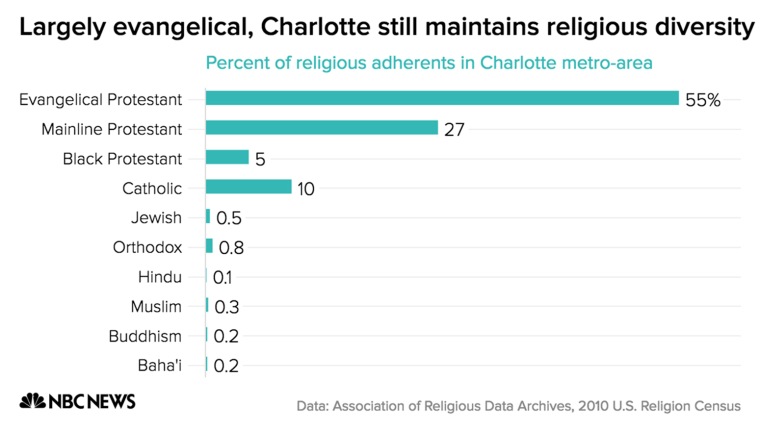 One denomination that has particularly thrived here is Catholicism. Catholic leaders once declared that Charlotte required missionaries, but it now has one of the largest Catholic congregations in the country, St. Matthew Catholic Church, according to America, a Jesuit magazine. The parish serves nearly 11,000 families.
Related: Billy Graham mourners flock from across the nation, globe to pay final respects
Though Graham followed a different faith, members of the congregation take note of their similarities more than their differences.
"The spirit in which he ministered and evangelized is not necessarily any different than the other faith communities here in Charlotte," said Antoinette Usher, operations and facilities director of St. Matthew's. "But he was a remarkable man and a very humble shepherd."
There are now nondenominational churches scattered throughout Charlotte that mirror Graham's large gatherings and unorthodox preaching style. Elevation Church, which began in Charlotte and now has a nationwide following, regularly attracts crowds in the tens of thousands and holds assets valued at nearly $50 million in 2016, according to the church's financial documents.
On Twitter, Elevation's pastor, Steven Furtick, credited Graham with influencing a new generation of preachers.
But other religions do not embrace Graham openly. Many Jews in Charlotte still harbor resentment and even fear over Graham's assertion — in comments secretly recorded by President Richard Nixon in 1972 — that Jews controlled the media.
"The Jewish stranglehold has got to be broken or the country's going down the drain," he told Nixon at the time.
After the tapes were released in 2002, Graham told Jewish leaders that he could not recall having made the statement but would "crawl to them to ask their forgiveness," according to a Newsweek interview from 2006.
"He was sick to his stomach," Graham's brother-in-law Leighton Ford, who preached with him for more than 30 years, told NBC News. "I think he threw up when he heard the Watergate tapes."
Ford said Nixon had used his brother-in-law, and the entire experience made Graham wary of being put in a position of power.
Rabbi Murray Ezring, who leads the conservative Jewish synagogue Temple Israel in Charlotte, said he told his members to remember that it is for God to judge and for them to forgive.
Photos: Mourners bid farewell to Billy Graham
Graham "set an example in many ways that most people can't live up to," Ezring explained. "How can any minister, rabbi, imam or priest be bigger than life, as he was believed to be?"
But critics who are slower to forgive say that Graham's comments, made from a position of power, made intolerance permissible. And even in Charlotte, a community that strives for interfaith cooperation, there is work to do, leaders say.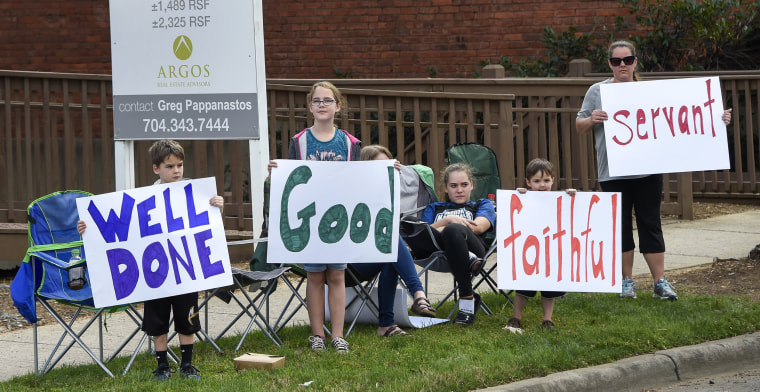 "Every once in a while we will have instances of religious bigotry," said Sadler of Mecklenburg Ministries. "A few members of Temple Beth El have had swastikas spray-painted on their homes. Bomb threats have been leveled against our synagogues at different points of time. Our Islamic communities have had a similar experience. There have been attacks on Muslim people and houses of faith."
A church that welcomes the LGBTQ community was also targeted.
Rose Hamid, a Muslim woman who made headlines when she stood in silent protest at a Donald Trump campaign rally in South Carolina in 2016, said she held a deep respect for Graham, but is concerned about his eldest son, Franklin Graham, who has called Islam a "very wicked and evil religion" and now leads his father's ministry.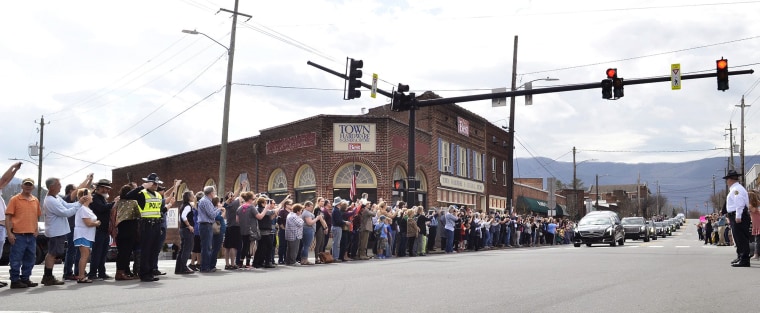 "The problem with Franklin is he's respected," said Hamid, who moved to Charlotte in 1987. "When you have yahoos saying things about Muslims, people will say, 'Oh, he's just an idiot,' but when Franklin Graham says stuff, he holds a lot of sway and he comes from this respectable tree and people listen and believe him. That's dangerous."
Ford declined to comment on his nephew's views, but later told NBC News that Billy Graham had a more obliging view of Islam.
"He certainly would be very different on the Muslim issue than many evangelicals are today," Ford said, mentioning that Graham had made a point of meeting with leading Iraqi imams.
Ford said Graham believed that getting to know people of other religions was important, and maintained relationships with many of them.
Despite those controversies, Graham is likely to be remembered for the religious or moral guidance he provided to many, especially those in Charlotte, whether evangelicals or not.
"Billy Graham's presence means something here in Charlotte, and even now that he's gone he is going to be felt by those who have lived here during his lifetime as long as we live," Ezring said. "Someday people are going to see Billy Graham Parkway and wonder who was Billy Graham, but I think that's a long way off."