The 2016 slate of presidential debate moderators is a far cry from the all-white, all age 55-or-over crop of journalists who were deployed four years ago.
This year, NBC News Lester Holt will anchor the first presidential debate. Martha Raddatz of ABC News and Anderson Cooper from CNN will helm the town hall-style debate, while Chris Wallace of Fox News will anchor the third and final top-of-the-ticket face-off. Elaine Quijano from CBS News will moderate the lone VP debate and represent the first Asian-American to fill the role.
That roster, which is comprised of an African American man, two women — one of whom is Asian American — and a man who is openly gay appears to suggest that the non-partisan Commission on Presidential Debates has heeded recent calls for diversity.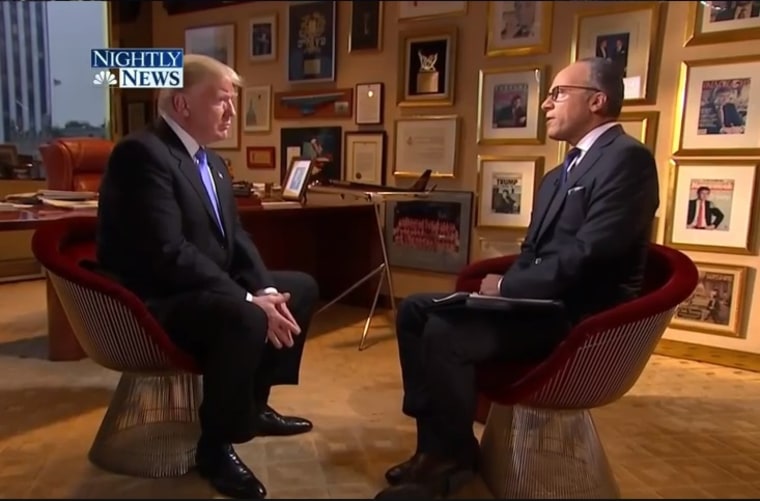 Moderators can have a significant impact on the content of a debate, as well as its tone and tenor. As a result, the makeup of the elite group of journalists who have a rare and high profile opportunity to pose questions to the next U.S. president before a national television audience is often deeply scrutinized.
But not everyone is satisfied with this year's selections.
Hispanics are noticeably absent from the list of moderators. The omission is noticeable in a year in which immigration is widely viewed as one of the most crucial and polarizing domestic issues.
One of the major party presidential nominees — Republican Donald Trump — has repeatedly called for building a massive border wall and the forced deportation of millions of undocumented Latino immigrants. And groups like the National Association of Hispanic Journalists is concerned that the topic may not get the nuanced treatment it deserves.
Related: Moderators Chosen, Presidential Debates Set - NBC News
"This is not the first time NAHJ has addressed this issue," Brandon Benavides, the president of the NAHJ, said in a Sept. 2 statement. "We are dissatisfied no progress has been made in the past four years and once again we have been overlooked."
Randy Falco, the CEO of the Spanish language network Univision, also expressed his frustration, calling the lack of Latino moderators "an abdication of your responsibility to represent and reflect one of the largest and most influential communities in the U.S" in an open letter to executive director of the Commission on Presidential Debates.
In an opinion column for NBC Latino, Raul A. Reyes went even further, suggesting that the Debate Commission has "caved to demands from the Trump campaign."
While the Trump campaign has been publicly critical of the debate process — in particular the scheduling opposite NFL games — they have no say in moderator selection.
It's also not the first time the Commission on Presidential Debates has faced criticism over diversity. The 2012 list of moderator's lack of racial diversity provoked a strong rebuke from the National Association of Black Journalists.
Rarely, if ever, has a moderator completely stolen the spotlight from the presidential contenders. However, their questions, and the politicians' responses, can help shape the course of the race.
When CNN anchor Bernard Shaw asked 1988 Democratic nominee Michael Dukakis the infamous "rape and murder" question , the presidential hopeful's response that he wouldn't shift his opposition to the death penalty — even if his wife were raped and murdered — came off to some dispassionate.
In recent years, moderators sometimes seem to court controversy without even trying to.
In 2012, CNN's Candy Crowley was accused of being in the tank for President Barack Obama, when she fact-checked Republican nominee Mitt Romney in real time after he asserted that the president had never referred to the attack on the U.S. embassy in Benghazi as an "act of terror."
And veteran journalist Gwen Ifill was also knocked for presumed bias before she moderated the vice presidential debate in 2008, because she had authored a book — "The Breakthrough: Politics and Race in the Age of Obama" — that was perceived as favorable towards the Democratic nominee.
"I've got a pretty long track record covering politics and news, so I'm not particularly worried that one-day blog chatter is going to destroy my reputation," Ifill said at the time. "The proof is in the pudding. They can watch the debate tomorrow night and make their own decisions about whether or not I've done my job."
Despite the fact that Ifill received rave reviews for her performance, which widely deemed as fair and balanced, a perception was cemented that moderating debates can be a thankless job in the modern era.
In 2012, Republican candidate Newt Gingrich scored points with GOP voters, after turning on moderator John King during a primary debate, when questions were raised about the lawmaker's divorce from his second wife. And this election cycle, several GOP candidates in particular also took turns vilifying moderators for so-called "gotcha" questions and they routinely brushed aside prepared questions to cite their own talking points.
Related: Clinton Holds Steady Against Trump as Campaign Enters Final Weeks: Poll
The tension continues even when the cameras aren't rolling, according to Fox News anchor Neil Cavuto,
During an appearance on "Late Night with Seth Meyers" last fall he said the candidates often "wander" during commercial breaks, and often approach moderators "like Tony Soprano," tapping their watches in an intimidating manner to imply "you haven't given them enough time."
According to the Commission on Presidential Debatesco-chairman Frank Fahrenkopf, the current crop of moderators will be actively avoiding another Crowley-type moment.
"It is our view that if 'Candidate A' says something that is totally wrong, it is for 'Candidate B' to point that out," he told CNBC last month. "We want the moderator to be the facilitator."
But even his position has riled some critics, who believe that some clarifications may be necessary when both leading candidates have huge deficits with the voters when it comes to honesty and trustworthiness.
Benavides told NBC News on Tuesday that the NAHJ intends to file another complaint with the Commission on Presidential Debates (he called their decision not include Latino moderators "disappointing" and "shameful") and they are currently lobbying networks with predominately Spanish-speaking audiences to host their own potential candidates' forum.
"I think we need to be at the table," he said. "As Latino journalists we bring a unique perspective, with our background, with the stories, we cover, and how intimate we are with our communities."
And while Benavides applauds the choice of Holt, an African-American, to moderate the first debate, he believes that it would still be compelling to hear the specific questions on issues that disproportionately affect the Latino community from someone who is a part of it.
He cited the pointed questions of Telemundo's Lori Montenegro during a NAHJ forum featuring Hillary Clinton in August as an example of the kind of representation that the debates will be sorely lacking.
So far, the NAHJ has not reached out directly to either the Trump or Clinton campaign, but should they secure a host network, that would be the next logical step. Benavides said he can't speculate as to whether or not Trump's presence on the stage and his contentious relationship with some members of the Latino community played a role in the make-up of the moderators, but he believes it shouldn't.
"As a journalist we take everything into account and everything is on the table," said Benavides. "Everything is up for grabs and if you're running for president you need to expect questions from everyone."