Penn State University trustees agreed Friday to seize disciplinary control over Greek fraternities and sororities, which have traditionally been self-governing, in response to a deadly alcohol-involved hazing ritual.
"The self-governance model is broken," Penn State President Eric Barron said before Board of Trustees endorsed the new measures, adding that he wants to "preserve what is good and valuable about the Greek student experience and sense of community that these organizations provide."
The sweeping changes come exactly four months after 19-year-old sophomore Timothy Piazza was involved in alleged heavy drinking at a pledge event and later died after tumbling down stairs at a fraternity house.
Some experts on the issue of fraternity hazing, however, aren't convinced Penn State is going far enough in its actions.
"The new initiatives outlined by Penn State still fail to address the fundamental issue of how universities approach Greek life misconduct," Shan Wu, a former federal prosecutor and now an attorney specializing in student legal issues, told NBC News. "Most schools already have university controls in place over Greek life activities, a zero-tolerance policy for hazing and medical amnesty for students reporting underage drinking-related incidents."
Related: Timothy Piazza's Parents Say Son Treated Like 'Road Kill'
Eighteen members of Beta Theta Pi have been criminally charged, along with the fraternity itself, after prosecutors say the brothers took 12 hours before alerting 911 to Piazza's deteriorating condition.
Penn State's more than 50 fraternities and 30 sororities will now be subject to other requirements, some of which have already been put into place. Those include:
A zero tolerance for hazing, which disregarding will result in a "swift and permanent" revocation of a chapter's status.
Certain restrictions at social functions, including using a trained bartender and no hard liquor.
More spot checks at Greek houses and monitoring of social events by university staff.
Supporting legislation that changes the penalties for hazing to be stronger.
Imposing a fee on students who join Greek houses to pay for costs associated with school monitoring.
In a letter sent Thursday to school trustees, parents James and Evelyn Piazza advocated for some of those proposals, but also wanted the school to take further action, including expelling students and firing administrators connected with their son's death.
Penn State officials did not provide any updates Friday on whether disciplinary actions would be taken against students or staff.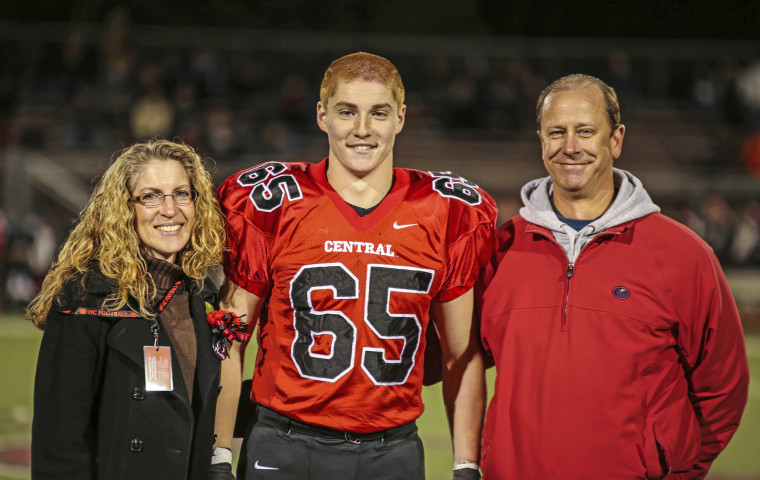 But Barron said other measures would likely be added to the school's list, and that Penn State would propose holding a national conference about reforming their Greek-letter communities during its meeting with other Big 10 schools this weekend.
Thomas Kline, the Piazza family's attorney, said the new initiatives sound like aspirational goals rather than concrete moves to be implemented immediately.
"Time is precious," Kline told NBC Philadelphia. "We don't want to see the next child die for what is the current situation at Penn State."
Author Andrew Lohse, who chronicled hazing at Dartmouth College in his 2014 memoir "Confessions of an Ivy League Frat Boy," said Penn State's oversight ultimately won't work — and believes schools would be better off abolishing the Greek system altogether.
"The problem is the system itself," Lohse said.
Related: Penn State Pledge Timothy Piazza Would Have Helped, Girlfriend Says
Having the university step in to essentially police fraternities might seem beneficial, he added, but schools also can't be trusted to be transparent about incidents and not diminish its impact if the university's reputation is at stake.
"Essentially, the school is saying, 'We're going to permit the fraternities to still exist, and if anything goes wrong, you come to us,'" Lohse said. "Something will go wrong at a certain point — this type of harm is a function of the system itself."
He has argued that fraternities promulgate a culture of peer pressure and secrecy that is difficult to undo — no matter who's lording over them.
In the case of Piazza, prosecutors say, the Beta brothers were reckless by requiring him and other underage pledges to engage in a night of excessive drinking on Feb. 2.
After Piazza fell down basement steps, he lost consciousness. Surveillance footage from inside the frat house revealed members physically assaulted the Lebanon, New Jersey, native in order to get him to wake up, and then failed to offer him help, according to grand jury testimony made public last month.
It wasn't until the following morning when a frat brother finally called 911, police said. Piazza later died in the hospital after sustaining multiple traumatic injuries from the fall, according to a coroner. A doctor told a grand jury that Piazza's blood-alcohol level was .36 — more than 4-1/2 times the legal limit to drive in Pennsylvania.
The prevalence of binge-drinking on college campuses remains a problem that schools such as Penn State need to better address, Wu said.
"If universities want to mitigate the consequences of hazing activities and underage drinking, they need to take a deeper dive into the culture of Greek life and be willing to face the wrath of alumnus," he added.
Barron on Friday again gave the Piazza family the Penn State community's sympathies. He has previously emphasized that the Beta house was situated on private property and was "no 'model' fraternity."
The chapter has since been disbanded, and the Beta Theta Pi International Fraternity said they have "clearly and consistently expressed its position that it does not tolerate hazing or alcohol abuse."
The Penn State Interfraternity Council said in a statement Friday that it presented a draft plan to Penn State administrators prior to the board of trustees meeting that includes substance abuse, enhanced hazing prevention measures and holding fraternities to maintain alcohol-free facilities until they meet all standards.
"Many of these changes align with—and even go further than—the measures President Barron presented today," the IFC said in a statement. It added, "we will continue to push for a partnership between student leaders and the University."