The original captions give little hint of the subject, saying simply: "Scene in front of church, ca. 1860-ca.1865." But a history buff from Maryland says there are tantalizing clues that the photos captured the funeral of assassinated President Abraham Lincoln in New York City.
Paul Taylor of Columbia, Md., told the Washington Post he spotted the images in January among hundreds of images by Civil War-era photographer Mathew Brady that were published on the Flickr photo-sharing site.
"That is not your normal scene in front of church," Taylor told the Post. "There's just people everywhere: the streets, the sidewalks, the roof."
What stood out for Taylor is that one of the images, taken with a four-frame stereoscopic camera, shows men doffing their hats and bowing their heads as a large black object disappears off camera to the left. That black object, blurred with the long exposure that would have been necessary on April 25, 1865, was the funeral hearse, or catafalque, Taylor believes.
If you go to Taylor's Flickr account, you'll see a comparison of a photo of Lincoln's hearse with wispy details from the Brady image. Also, the photos appear to have been taken from a window of Brady's studio, across the street from the church in the photo. The first image appears to show people waiting for the procession.
Historical experts are divided over the photos. Some believe there's no doubt the Lincoln procession is shown. But Nick Natanson, an archivist at the National Archives' still-picture unit, urged caution, telling the Post that the images might show some other procession or funeral. "I don't think it's possible to establish this without any doubt," he said.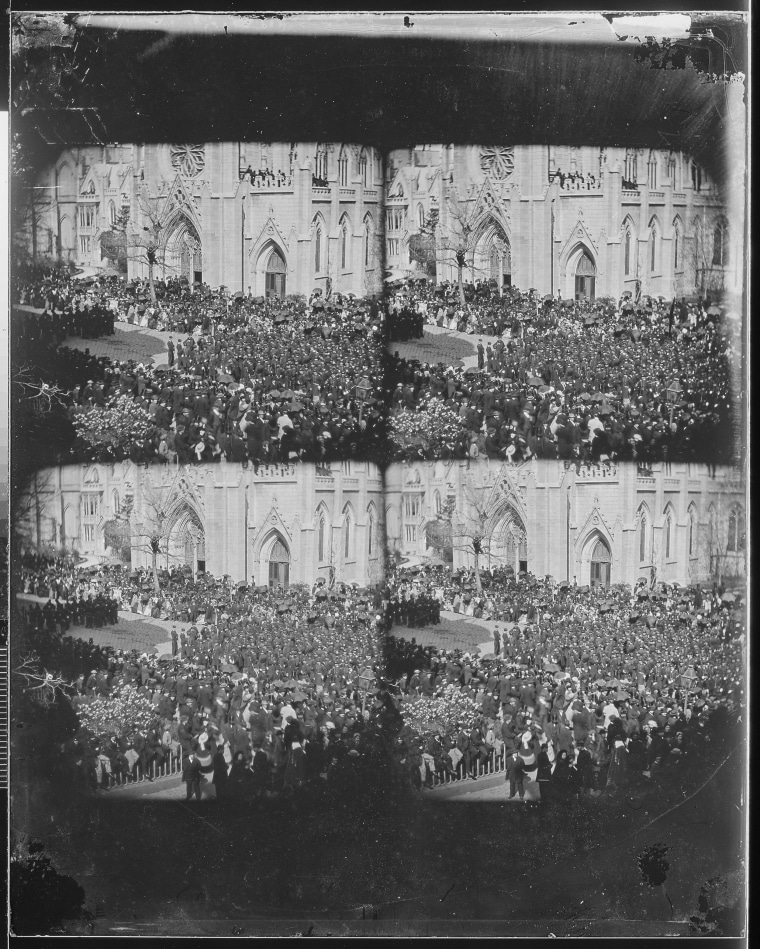 You can closely examine the original images at the National Archives, too: http://research.archives.gov/description/526373
—Gil Aegerter