Ailing octogenarian Anita Morrison was suffering from sharp stomach pains last December when she came across a clinic online called the New Birth New Life ​Medical Center & Urgent Care.
She called the office, located in her hometown of West Palm Beach, Florida, and spoke with a man named Dr. Malachi Love-Robinson, who offered to pay her an in-home visit.
Wearing a white lab coat and stethoscope slung around his neck, Love-Robinson examined Morrison, focusing on her legs, heart and lungs, she said. He told her she had arthritis. Then he sold her natural vitamins to dull the discomfort.
But that wasn't the last time Morrison, 86, would hear from "Dr. Love."
Related: Florida Teen Arrested for Performing Exam as Fake Doctor
She said she allowed the baby-faced physician to return four more times — although by early January, she realized something wasn't right inside her home. Personal checks went missing. In a probable cause affidavit, she told the Palm Beach County Sheriff's Office that she believed Love-Robinson had gained access to her checking account and had stolen her identity to the tune of over $34,500.
Love-Robinson was arrested late Tuesday in connection with Morrison's case — just two weeks after an earlier arrest in which authorities say he faked his identity by masquerading as a medical doctor and gave an undercover officer an exam.
"Just because you saw a season of 'Grey's Anatomy' doesn't mean you could practice medicine," the Palm Beach County Sheriff's Office sneered in a Feb. 16 tweet.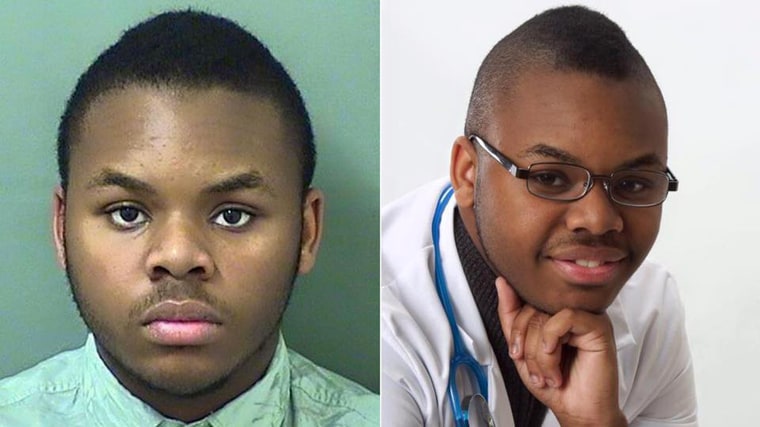 How Love-Robinson — just 18 years old with no official medical training — allegedly deceived people in a "Catch Me If You Can"-like con remains under investigation. But authorities and experts say it was a duplicitous plan built on lies and "loopholes" in the health care system.
Love-Robinson said in a rambling news conference last month that he never implied that he was a doctor of medicine, and that he has been interested in naturopathic treatment, which involves herbal remedies and other alternatives.
"This was not about me trying to hurt people, this was not about me trying to say I'm a medical doctor," Love-Robinson said. "Because, honestly, people have misconstrued my name, they misconstrued my age, they've misconstrued where I'm from, they've misconstrued everything about me."
But officials say it was the young "doctor" who twisted his identity — by managing to open his own practice recently, with the help of investors, and misrepresenting his background.
His now-defunct website featured stock images of people and a simple promise: "We work together to serve your entire family for all of your medical needs in all stages of life."
Love-Robinson's online biography referred to him as a "well rounded professional" who utilizes "physiological, psychological, and mechanical methods" to treat patients. Those methods range from air to water to phototherapy to "nature's remedies."
The biography made no mention of a formal education.
But Love-Robinson explained to reporters that he went to high school in Palm Beach and St. Lucie counties and was homeschooled. He was interested in religion, became a licensed minister and also took examinations to get certified in holistic health.
Love-Robinson gave vague answers to questions about his personal history, making it difficult to determine what about him might check out.
He did receive a certificate from the American Association of Drugless Practitioners in Galveston, Texas, which has its own certification and accreditation board.
But the group's director, Donald Rosenthal, told NBC News that being credentialed doesn't allow someone to diagnose or treat a patient as a medical doctor would.
Rosenthal said that because Love-Robinson allegedly misrepresented himself, "he's no longer a member. We sent everything (pertaining to him) to the state of Florida."
In addition, Love-Robinson's doctorate was from the online Universal Life Church Seminary, according to documents released by the Florida Department of Health. The degree in divinity can be bought from the site for $29.95.
"You will legally be entitled to use the title Dr. in front of your name and D.D. after your name," the website says.
But having that divinity degree appeared to be a cover for "Dr. Love."
"A lot of people don't know the difference when someone says 'doctor,' whether it's between a doctor of divinity and a doctor of medicine," said Marshall Kapp, director of Florida State University's Center for Innovative Collaboration in Medicine & Law.
"People have misconstrued my name, they misconstrued my age ... they've misconstrued everything about me."
Kapp said that while anyone can open up a medical practice in Florida as a business venture, only a licensed medical doctor can be employed to examine and diagnose patients.
Florida stopped issuing licenses for naturopathic practitioners in 1957, and while they can "consult" with people, they can't perform examinations.
Love-Robinson told reporters his clinic had considered bringing an actual doctor on board, and that it applied for a government ID in preparation that would allow him to bill insurance companies.
That National Provider Identifier, or NPI number, associated with Love-Robinson — which is needed for receiving money from Medicare and Medicaid patients — was deactivated on Feb. 18.
A spokesperson for the federal Centers for Medicare & Medicaid Services, which oversees the NPI database, was unable to provide any more information about Love-Robinson and when he obtained his number.
It appears he was able to apply as a medical student, and then edited the information to indicate he was an M.D., said David Marsidi, co-founder of Florida-based EZ Doctor, which compiles reports on physicians and makes them available to consumers.
"When he was listed as an M.D., a lot of other listing sites culled his profile from NPI data, and that allowed him to look like a medical doctor if you were looking online," Marsidi said.
One such website listed Love-Robinson as age 25 and specializing in naturopathy, psychology and mental health.
It's unclear how many people might be misrepresenting themselves through their NPI information. Marsidi said the fact that people can edit their own information after the government initially approves them for a number is unsettling.
Related: Cancer Doc Gets 45 Years in Prison for Scamming Hundreds of Patients
"We were fortunate to catch onto the loophole, as I would refer to it," Marsidi told NBC News. "But you should be able to rely on that database. You would assume by any normal reason it would be reliable."
Marsidi said the portion about having a license shouldn't be accessible without it getting vetted by the government first.
A judge this week ordered Love-Robinson to undergo a mental health evaluation. The teen was released from jail Wednesday, and his phone number was disconnected and a Facebook page on which he claimed he is battling stage 2 kidney cancer and identity theft has been taken down.
His attorney also did not immediately return calls seeking comment, but said in a blog postthat Love-Robinson never claimed to be a doctor to the undercover officer and that it's not illegal in Florida for an 18-year-old to own a medical practice.
During last month's news conference, Love-Robinson blamed his family for allowing the allegations to spread. He also lamented the loss of his credibility and finances, and said the whole situation has been "blown out of proportion."
"Whether people feel that I was wrong, or whatever, that's for me and my attorneys to work out," he said. "But for what they need to understand is that this practice was to help people. Simple."