After her shift at a Florida urgent care clinic on April 3, Dr. Sangeetha Setty pulled up to the gate outside her soon-to-be ex-husband's neighborhood and texted to let him know she had arrived. It was her evening to pick up their 6- and 8-year-old children.
But their father, Dr. Karthikeyan Sai, refused to bring them out. In a series of messages, he told Setty that he was worried that, because of her work as a physician, she would expose the children to the coronavirus. He also accused her of letting them play with neighborhood children the last time she had them, putting them at additional risk.
"Stay calm and go back, and let's keep the kids safe," Sai wrote. "You can have them once this subsides."
Setty protested, and after 45 minutes of waiting, she called the police. Two deputies from the Palm Beach County Sheriff's Office arrived. Setty showed them a copy of her joint-custody agreement, which requires that she and her husband split time with the children. She pointed out that Sai, a physician himself, sometimes works at hospitals and therefore also faces a risk of coronavirus exposure.
The deputies spoke briefly with Sai, but he refused to release the children, according to a police report. He told the deputies that "the children will get the virus" if he allowed their mother to take them.
"I'm sorry," one of the officers told Setty, advising her to argue her case in court. "There's nothing we can do."
She cried as she drove away.
"I was heartbroken," Setty said in an interview. "It's difficult to explain the pain that you feel as a mother when you're cut off from your children and you cannot even explain to them why it's happening."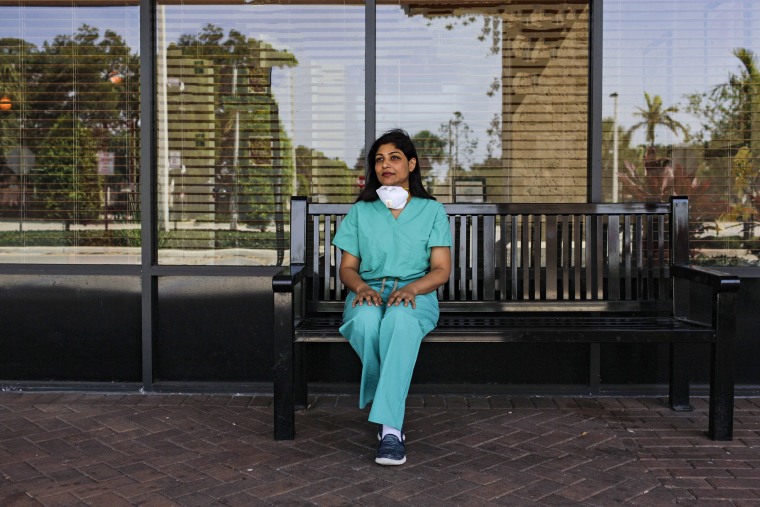 In a statement, Sai's lawyer, James Cunha, said Sai attempted to work out an arrangement with Setty to minimize their children's risk of exposure, but she refused. Cunha said Sai was concerned not only about the health of his children, but also the safety of his parents, who are at higher risk of serious illness from the coronavirus.
Cunha wrote that Sai's parents are elderly and live with him, and he was concerned that Setty "would use the children to spread the virus" to them.
As parents across the country grapple with how best to protect their children from the coronavirus, a growing number of medical workers have been temporarily separated from their children after former spouses raised concerns about their exposure to the virus, according to news reports and interviews with families and lawyers. These parents say they should not be punished for doing their jobs and treating patients who are sick with COVID-19, the disease caused by the coronavirus. Former spouses argue that their children's safety must come first, as well as the health of vulnerable family members.
Full coverage of the coronavirus outbreak
At a time when most family courts are closed and are scheduling video hearings only for the most urgent matters, judges in some states lack clear guidance from higher courts on how to determine what's in a child's best interest in the midst of a pandemic. These decisions are complicated by the fact that there's still much to be learned about whether the coronavirus poses a threat to most children, though initial data suggests that serious illness in pediatric patients is exceedingly rare.
"It's really uncharted territory," said Rebekah Frye, a family lawyer in San Jose, California. "This is the first time we've ever had to go through something like this. It's the first time we haven't had access to our courts when we've needed them for situations that parents would normally feel are emergencies."
In a case this month, Frye represented Dawn Polich, a respiratory therapist who fought to keep joint custody of her 10-year-old daughter after her ex-husband filed a motion arguing that her work at a hospital put the child in danger. During a court hearing, Frye argued that Polich, like most medical workers, was taking extensive precautions to prevent bringing the virus home from work, and that in these difficult times, the last thing the state should do is cut off a child from her mother.
A week later, Santa Clara County Superior Court Judge James Towery sided with Polich. On April 15, he ordered that she and her ex-husband continue to honor their custody arrangement, despite the pandemic.
Earlier in the month, a judge in Miami reached a different conclusion in a similar case, temporarily suspending the custody rights of Dr. Theresa Greene, an emergency room physician, until the pandemic subsided. Circuit Judge Bernard Shapiro approved an emergency motion filed by the doctor's ex-husband, Eric Greene, who had argued that his former spouse's work treating coronavirus patients would endanger their 4-year-old daughter.
"The suspension is solely related to the outbreak of COVID-19," Shapiro wrote.
Last week, however, a Miami appeals court issued a stay of Shapiro's order, allowing Theresa Greene to maintain joint custody while the court considered her appeal. In an interview with WTVJ-TV, Greene said she was outraged at the judge's initial decision.
"I was just shocked that the judge would take this stance without talking to medical experts and knowing the facts and take it so lightly, take my child from me and not think of the effect on her, her mental and psychological well being," Greene said.
The American Medical Association and the American College of Emergency Physicians have each come out in support of physicians who've had their custody rights challenged due to the coronavirus, arguing that doctors should be allowed to stay with their families so long as they are taking proper precautions to prevent spreading the virus.
Dr. Kristin Moffitt, an assistant professor of pediatrics at Harvard Medical School and a pediatric infectious disease specialist at Boston Children's Hospital, said she understands why many parents are scared for their children's safety. This month, a 5-year-old girl in Detroit died from rare complications of COVID-19, making national headlines.
But, Moffitt said, decisions should be driven by data, not anecdotes. All of the data to date suggests that young children are not at serious risk of dying or being hospitalized with COVID-19, Moffitt said. Unlike the flu, which is most dangerous for the very old and the very young, Moffitt said the coronavirus does not appear to pose the same risks to children, though they could still transmit it to older family members.
"What's so difficult with this pandemic is that there's so much more we don't know about it than what we do know, and that will change over time," Moffitt said. "But in the absence of really clear data, it certainly is hard to resist the urge to sort of fill in those gaps with worst-case scenarios and a judgment that may not be totally data driven."
Susan Myres, president of the American Academy of Matrimonial Lawyers, said that, rather than going to court, divorced parents should first attempt to find common-sense solutions to make everyone feel comfortable that a child is safe during the pandemic. They should set ground rules for social contacts and hygiene standards, Myres said, and make sure both parents stick to the plan.
"The No. 1 interest in any of these cases is what is best for these children," Myres said. "And it is not just their physical health from contagions, but their psychological health. Is it important for these children to have time with their medical care provider parents? Generally speaking, the answer is going to be 'Yes.'"
After her husband refused to let her take their two children on April 3, Setty called her lawyer and asked her to file a motion. But with the courts closed, the lawyer said there was no guarantee a judge would schedule a hearing anytime soon.
For the next 19 days, Setty was separated from her children, unsure when she would see them. Over that time, she said she only spoke to them twice, once briefly by phone, and once by video chat. The pace of work at her urgent care had slowed significantly, in part because of the governor's lockdown order, and in part because — despite her husband's concerns — the clinic wasn't even treating suspected COVID-19 patients, but instead was screening them for symptoms and sending them elsewhere for testing.
That left Setty plenty of time to think, and worry.
Finally, on April 14, her lawyer filed an emergency motion asking the judge to find Sai in contempt of court for violating their custody agreement and to order the children returned. A week later, Judge Dina Keever-Agrama scheduled a video hearing.
Download the NBC News app for full coverage and alerts about the coronavirus outbreak
The lawyers argued about who had the children's best interests at heart. Sai's lawyer didn't mention his earlier concerns about Setty's work at an urgent care, but instead argued that she had been ignoring social distancing guidelines and had refused to answer Sai's questions about whether she had been having any symptoms of COVID-19. Setty's lawyer argued that Sai was wrong to withhold the children from their mother, regardless of his concerns.
Keever-Agrama scolded both parents for seeming to put their personal squabbles ahead of what was best for their children, but ultimately, she concluded that the coronavirus wasn't an excuse to break a custody agreement.
"I don't understand why you are not following a court order," Keever-Agrama said, according to a recording of the hearing Setty made and shared with NBC News. "I understand there's a pandemic and we're in uncharted waters. However, parenting doesn't change. Parenting should always be, 'How can we comply with the court order and serve the best interests of our children?' That's the bottom line here."
The judge ordered that Setty be allowed to pick up her children later that evening, and Setty quickly started making plans. She would cook their favorite Indian dish, she said. Maybe they would watch a movie, or set up a tent in the backyard and look at the stars.
"I don't know what we'll do," Setty said, her voice breaking, before the kids arrived. "I have so many plans for them now that they are coming back to me."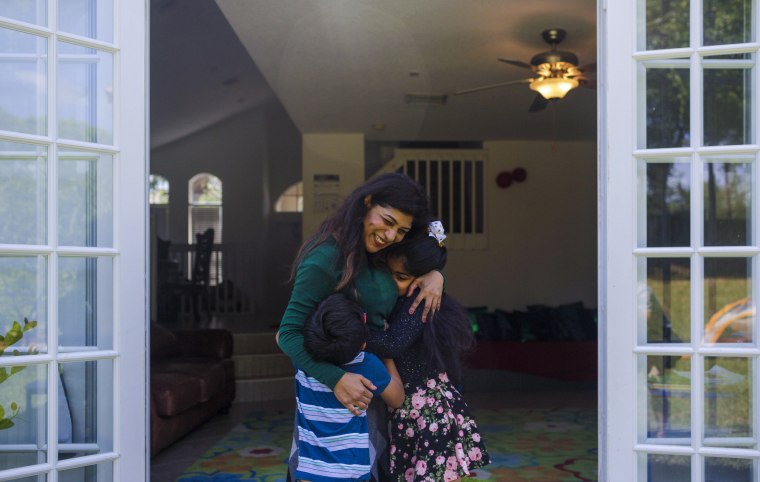 CORRECTION (April 27, 2020, 10:11 a.m. ET): An earlier version of this article misidentified the Santa Clara County Superior Court judge who decided Dawn Polich's case. It was James Towery, not Thomas Kuhnle.