The bruised and bloodied passenger who was forcibly removed this week from an United Airlines flight lost two front teeth and suffered a broken nose and "significant concussion" in the ordeal, his lawyers said Thursday.
Dr. David Dao, who fled war-torn Saigon before immigrating to America in 1975, was released from the hospital Wednesday, but will need reconstructive surgery and remains "shaken" by the experience, attorney Thomas Demetrio told reporters in Chicago.
"He said that being dragged down the aisle was more horrifying and harrowing than what he experienced in leaving Vietnam," Demetrio said.
Crystal Dao Pepper, one of Dao's five adult children, said at the same news conference that her father is "healing."
"What happened to my dad should never have happened to any human being, regardless of the circumstance. We were horrified and shocked and sickened to learn what had happened to him and to see what happened to him," Dao Pepper said.
A lawsuit has not been filed yet, but Demetrio says one is coming down the pike.
Dao, 69, signaled Wednesday that he's gearing up for a legal fight by filing an emergency "bill of discovery" against the carrier in Illinois State Court in order to preserve evidence in the case, including all surveillance videos and cockpit voice recordings.
Related: Here's Why It's Legal for Airlines to Kick You Off Your Flight
Dao's dismissal from United Express Flight 3411 occurred while he and his wife, also a doctor, waited to depart Chicago for their home state of Kentucky. They had been vacationing in California and had a layover in the Windy City, Dao Pepper said.
Attendants told passengers that the sold-out flight needed to make way for extra crew, and four people were being randomly selected to give up their seats in exchange for an $800 voucher.
Dao was one of the chosen — but he refused to deplane. Security officers with the Chicago Department of Aviation were called on board to physically yank him off the flight despite his protests.
Some witnesses told NBC News that Dao was not aggressive.
During the chaos, other passengers' cellphone cameras captured Dao falling and hitting his head on an armrest, causing an injury. Dao was also filmed being pulled by his arms off the plane.
He later managed to get back onto the flight, reportedly saying that he needed to get home because he was a doctor and had patients to see the next day.
Demetrio said Dao was dazed and still can't remember running back onto the aircraft.
"The man suffered a concussion. He has absolutely zippo, nada [memory] going back on," he said.
After videos of the incident went viral, some observers on social media said Dao may have been targeted because he is Asian. Demetrio, however, rejected the racism charges and comparisons of Dao being the "Asian version of Rosa Parks" — although he wants him to be a "poster child" for treating customers right.
"Dr. Dao, I believe to his great credit, has come to understand that he is the guy to stand up for all passengers going forward," Demetrio said.
United Airlines CEO Oscar Munoz has apologized for the incident repeatedly and said the company was conducting an internal investigation. But he has drawn public scorn — and calls for a boycott — after initially saying the crew was merely trying to "re-accommodate" Dao and then blamed him for his "disruptive and belligerent" behavior.
The airline reiterated in a statement Thursday that it will no longer allow officers to pull booked and seated passengers from flights and will review how it incentivizes oversold flights.
"This horrible situation has provided a harsh learning experience from which we will take immediate, concrete action," United Airlines said.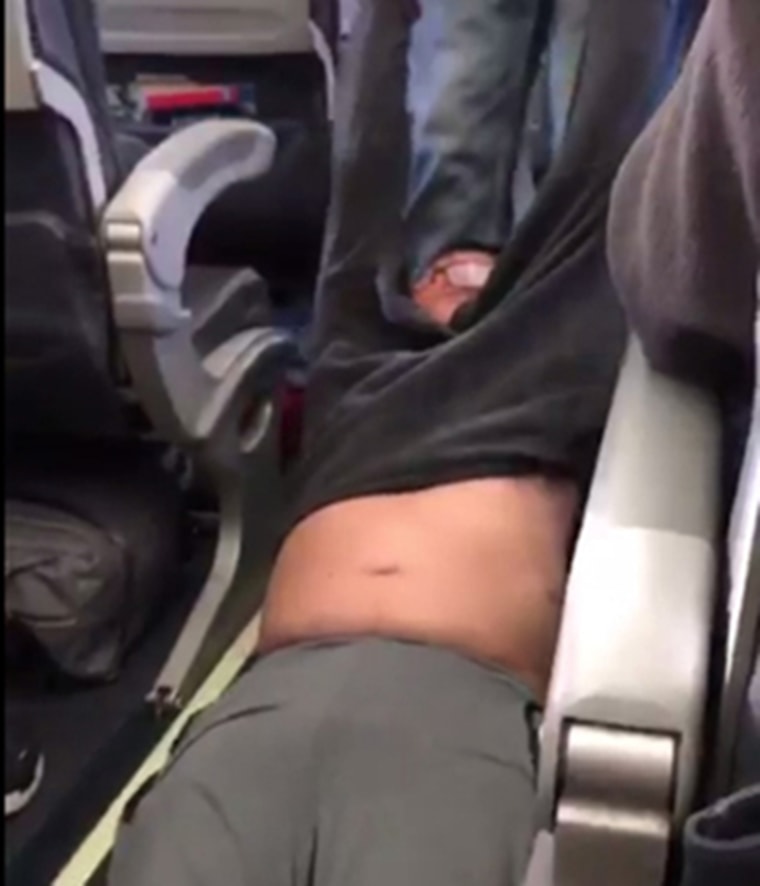 Meanwhile, all three officers involved in the incident have been placed on administrative leave.
While Demetrio said the Dao family has not personally heard from Munoz — although they are accepting his apology — United Airlines said in their statement that the CEO did call Dao to express regret.
Demetrio added that all airlines — not just United — must learn from this case and vastly revamp their customer service.
Related: Asian-American Advocates Call for Review After Doctor Dragged Off Flight
"Are we going to continue to just be treated like cattle? Bullied? Rude treatment?" he asked. "We all have had enough ... angst for flying as it is. Don't treat the people who helped make you be the corporate entity you are like Dr. Dao was treated."
Dao's lawyer said his client remains in a "secure location" Thursday after being thrust into the national spotlight — and he has no immediate plans to board a plane again.
"My guess is he'll be driven [home] to Kentucky," Demetrio added. "I don't really blame him."