Dodgers pitcher Julio Urías has been arrested for alleged domestic violence, police said Monday.
Urías, 27, was arrested at 11:09 p.m. Sunday and booked into the Los Angeles Police Department's Jail Division early Monday morning, according to LAPD Media Relations.
Jail records indicate he posted $50,000 bail and has since been released. A court date was scheduled in the matter for Sept. 27, according to the records.
The circumstances surrounding Urías' arrest aren't clear.
In a statement, the Dodgers said they are aware of an incident involving Urías.
"While we attempt to learn all the facts, he will not be traveling with the team," the statement read. "The organization has no further comment at this time."
It's not clear if the player was suspended. Major League Baseball did not respond to a request for comment.
NBC Los Angeles notes in its coverage of his arrest that he was taken into custody near Los Angeles Memorial Coliseum and BMO Stadium, where LAFC was playing Sunday night against Lionel Messi Inter Miami.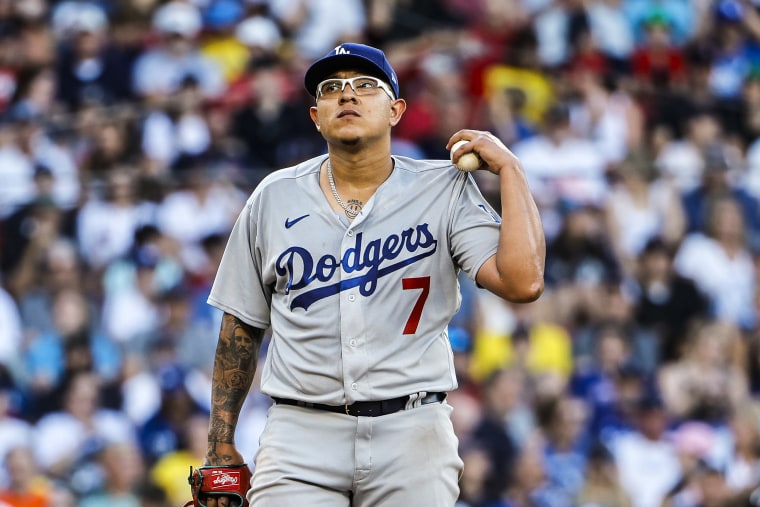 The Los Angeles Times reported that Urías was among multiple celebrities who attended.
The pitcher had a previous arrest for investigation of possible misdemeanor domestic battery, in 2019. He was taken into custody at the Beverly Center mall just east of Beverly Hills, police said at the time.
He was suspended 20 games by MLB. He did not face charges s not charged and instead was ordered to complete a 52-week domestic violence counseling program.
Prosecutors will once again determine if any formal charges should be filed following Urías' weekend arrest.
It wasn't immediately clear if he has retained legal counsel.
The left-hander from Culiacán, Mexico, signed with the Dodgers at age 16 in 2012 and made his Major League debut with the team in 2016.
He was scheduled to pitch Thursday, but the lineup is now up in the air.