The county official in rural Kentucky who has become the focal point for resistance to the U.S. Supreme Court's gay marriage decision will appear this morning before a federal judge to explain why she should not be held in contempt of court.
The judge ordered Rowan County Clerk Kim Davis and all of her deputies to appear before him at 11 a.m. Lawyers for four couples who sought marriage licenses from her but were turned down urged the judge "to impose financial penalties sufficiently serious and increasingly onerous to compel Davis' immediate compliance without further delay."
"I let her know how proud I am of her for not abandoning her religious convictions and standing strong for religious liberty."
She stopped issuing marriage licenses a few hours after the Supreme Court handed down its ruling in June, saying that granting licenses to gay couples would violate her religious convictions.
Federal District Court Judge David Bunning last month ordered her to resume issuing the marriage licenses. She asked a federal appeals court and the US Supreme Court to lift his order, but both declined. Nonetheless, she has continued to defy it.
Republican presidential candidate and former Arkansas governor Mike Huckabee voiced his support for Davis on Wednesday, saying he talked with her on the telephone.
"I let her know how proud I am of her for not abandoning her religious convictions and standing strong for religious liberty," he said in a statement.
And the president of Kentucky's state senate, Republican Robert Stivers, urged the judge to hold off on any decision about contempt of court until the legislature meets next year to clarify state marriage law.
Until then, Davis "cannot be reasonably expected to determine her duties until such time as either the governor by executive order or the General Assembly by legislation provides guidance and clarification."
"It is time for the clerk and the county to follow the law."
Lawyers for Davis said in court filings late Wednesday that she should not be held in contempt for disobeying the judge's August order, because she cannot obey it.
"Davis is unable to comply with the order," her lawyers say, "because it irreparably and irreversibly violates her conscience." They cite federal court decisions, including a U.S. Supreme Court case, holding that someone cannot be held in contempt when complying with an order is factually impossible.
A question for the judge will be whether she is unable to comply or, instead, unwilling.
Her lawyers also say because the underlying issue — whether she has a constitutional right, on religious grounds, to refuse to issue marriage licenses — has yet to be decided, it's too soon to consider any question of contempt.
Kentucky law requires marriage licenses to be issued by county clerks, and the state prescribes the form, which includes the name of the county and the clerk.
"To issue a marriage license which conflicts with God's definition of marriage, with my name affixed to the certificate, would violate my conscience," she said Monday. The Liberty Counsel, a nationwide group of lawyers who litigate on behalf of religious freedom, is representing her.
"You don't lose your conscience rights or you religious freedom rights or constitutional rights just because you accept public employment," says Matt Staver, a lawyer for the organization.
But the U.S. Supreme Court has held that while public employees have the right to speak out on matter of public concern, just as any citizen would, their First Amendment rights concerning their jobs are different.
"When a citizen enters government service, the citizen by necessity must accept certain limitations on his or her freedom," the court said in a 2006 decision involving a prosecutor's comments about the work of his colleagues.
Though that decision involved the First Amendment's protection of free expression, legal experts say the same principle limits the freedom of religion of public employees.
"She waived any right to have an objection to issuing same-sex marriage licenses when she ran for the job," said Prof. Steve Vladeck of American University's Washington College of Law.
Adds Prof. Jonathan Adler of Case Western University School of Law, "Insofar as the state's definition of an acceptable marriage differs from her own, Davis is obligated to follow the state's rule so long as she maintains her current office."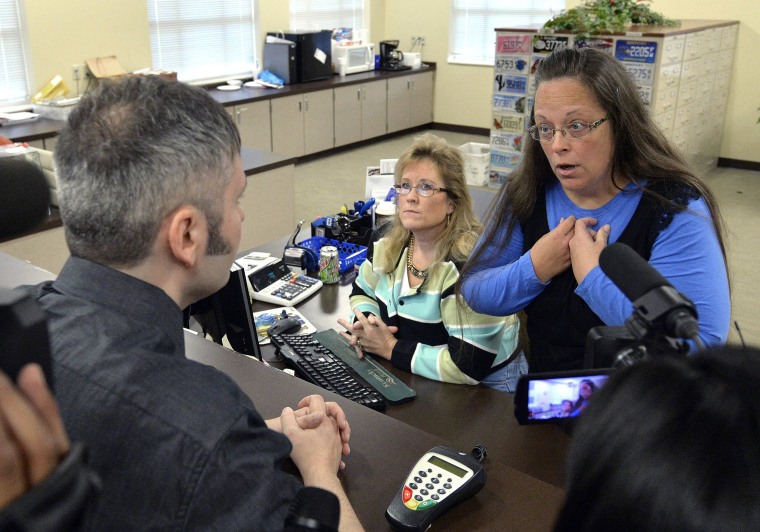 Davis's lawyers have argued that the state has an obligation to accommodate her religious objections if doing so would be reasonable.
One option, they say, would be to change the marriage license form to remove the name of the county clerk.
Another would be to have the state, not counties, issue marriage licenses.
Such a proposal was offered in July by 57 of Kentucky's 120 county clerks, who urged Gov. Steve Beshear to call the legislature into a special session to make the change.
Beshear said Tuesday that the legislature can address the issue, if it chooses, when it convenes next year. "I see no need to spend hundreds of thousands of dollars of taxpayer money calling a special session of the General Assembly when 117 of 120 county clerks are doing their jobs."
Two other county clerks, like Davis, are also declining to issue marriage licenses to same-sex couples.
In ordering Davis to issue marriage licenses, Judge Bunning said the issue isn't merely accommodating her religious beliefs. He said her refusal "promotes her own religious convictions at the expense of others."
Though the federal government is not directly involved in the Rowan County dispute, Kentucky's U.S. Attorney, Kerry Harvey, said Wednesday that his office has "grave concerns about the reported failure to comply with the court's order. Government officials are free to disagree with the law but not disobey it."
He added, "It is time for the clerk and the county to follow the law."