Pet owners are wondering what's really going into their dog bowls.
After NBC News reported on a recent lawsuit claiming that Nestle Purina PetCare Company's Beneful dry kibble dog food contains toxins that may have killed thousands of dogs, readers across the country — via over 100 emails and scores of social media posts — voiced their concerns that the trusted brand may have harmed their pets as well.
"My little boy had been healthy and all of a sudden within a week got super sick and passed away," Morgan Malone, 19, of North Carolina said of her miniature dachshund, Doc, in an email. "He had been eating Purina Beneful dry dog food."
"I lost my dog who was 6-years-old, healthy as a horse just this past December and I know in my heart the food was the cause," said Julie Hyde, 39, of Sandwich, Illinois, in another.
The lawsuit, filed on Feb. 5 in California federal court, was initiated by pet owner Frank Lucido, who alleges one of his dogs died and two others became severely ill after eating Beneful exclusively. The suit, which is seeking class-action status and $5 million in damages, also cites a slew of anecdotal evidence from more than 3,000 pet owners posting similar consumer complaints online.
"You could see her spine and ribs. For her to lose that much weight dramatically there was something definitely wrong."
The day after NBC News and other organizations reported on the lawsuit, Purina published an extensive statement and Q-and-A on their website denying the claims and saying that Beneful is safe for owners to feed their pets. The company called the various online personal tales "unsupported."
Dr. Kurt Venater, director of veterinary strategy and programs at Purina, told NBC News the claims in the lawsuit were "false and misleading."
"Vets know pets get sick for many reasons and the food they eat is often not the root cause," Venater said. "The challenge is this can be confusing and alarming to pet owners," he added, in reference to the lawsuit. Venater is the owner of three yellow Labrador retrievers and feeds them Purina One and Purina Pro Plan.
NBC News reached out to some of the readers who said they believe their dogs may have gotten sick as a result of eating Beneful, reporting symptoms listed in the lawsuit, including kidney failure, liver malfunction, weight loss, vomiting and diarrhea.
Julie Hyde said she started noticing bloody stool, vomiting and dramatic weight loss in her otherwise healthy 6-year-old pit bull Bossy several days after switching to Beneful Healthy Weight dog food this past Thanksgiving.
"You could see her spine and ribs. For her to lose that much weight dramatically there was something definitely wrong," she said. Hyde said she took Bossy to a veterinarian who said her sugar levels "were sky-high" and that Bossy had developed diabetes. Despite receiving treatment, Bossy's health continued to deteriorate, Hyde said, and she had to be put down in December.
Phyllis Blankenship, 68, of West Virginia, spoke through tears about the sudden loss of her dogs, Hercules, a 7-year-old Chihuahua and Dusty, a 4-year-old Pomeranian.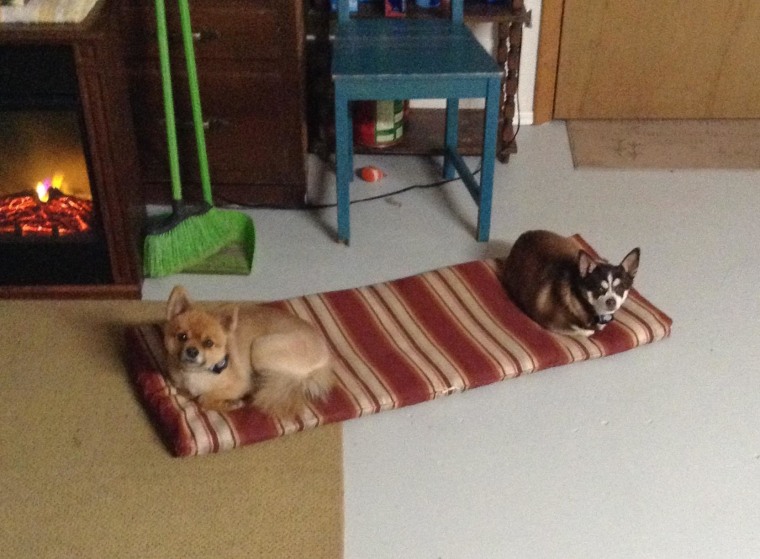 Blankenship said she had been feeding her dogs exclusively Beneful Healthy Weight for about three weeks when the dogs started developing severe lethargy and lack of appetite. The symptoms escalated quickly and on Sunday, Feb. 22 she found Hercules dead in her yard.
By that Tuesday, Dusty was also "violently ill" and Blankenship took him to see a veterinarian.
"Before they could even examine him, he died," she said. The veterinarian did blood work and determined Dusty died of kidney failure. Hyde said the vet asked her if it was possible the dogs had been around any kind of anti-freeze, which could cause the symptoms seen in both dogs, Hyde said she kept no anti-freeze in the house and her dogs could not have had access to her car, which she keeps in a garage.
"Vets know pets get sick for many reasons and the food they eat is often not the root cause."
Purina's statements released after news of the lawsuit broke directly address substances listed in the suit as possible toxins in Beneful.
While the suit alleges that propylene glycol is a known automotive antifreeze component and animal toxin, Purina counters that the substance is an FDA approved food additive for humans and dogs and chemically different than ethylene glycol, an active ingredient in antifreeze, which is toxic. Purina noted in their statement that aside from dog food, propylene glycol is used in "cake mixes, salad dressings, soft drinks, popcorn" and other foods.
The FDA lists propylene glycol as a safe substance for use in both human and dog food — but it is prohibited for use in cat food.
"Propylene glycol is determined to be Generally Recognized as Safe for use in animal feeds, including dog foods, as a general purpose food additive when used in accordance with good manufacturing and feeding practices," FDA spokeswoman Juli Putnam said in a statement to NBC News.
Putnam said FDA regulations do, however, prohibit use of the substance in cat foods, because it has been shown to cause abnormalities in their red blood cells. But the FDA "is not aware of any research that demonstrates the same effect on dogs," Putnam said.
The FDA also encourages anyone with concerns about a specific pet food product to submit a report here.
The lawsuit also mentions mycotoxins, which are produced by mold in certain grains and are known to pose a significant health risk to dogs. Purina says it actively tests for mycotoxins and any incoming grain is accessed for quality and safety.
"When it comes to tracking we have a very sophisticated tracking systems that ensures ingredients are tracked from time of receipt to our plants through their inclusion in finished products and onto retail store shelves," said Venater, the Purina-employed vet.
The FDA has set regulatory levels for certain mycotoxins to prevent safety risks for animals including cats and dogs, specifically aflatoxins, fumonisins and Deoxynivalenol. The agency does that have regulatory levels for other mycotoxins.
Still, some veterinarians have said Purina should be paying attention to the complaints.
Dr. Brett Levitzke, veterinarian and medical director of Veterinary Emergency and Referral Group in New York City, said the amount of anecdotal evidence warranted attention, especially with many consumer complaints listing pet owners noticing symptoms specifically upon switching to Beneful.
And Levitzke noted that positively linking a food to illnesses in pets is no easy task.
"Once there is a suspicion that it is the food causing the problem, proving it becomes difficult for a number of reasons," he said, adding that not all bags of a product may be affected.
"Since the complaints date back years, it is unlikely that there will be samples remaining or the actual bags to obtain the lot numbers," he said.
However, he also said that the clinical signs listed in the lawsuit could stem from various other causes, including a dog consuming a toxin through other means or "concurrent illnesses that consumers are linking to the food that may have nothing to do with the diet."
Matt Wheeler, 30, of Las Vegas, said he believes a change in diet to Beneful Healthy Weight is what made his 1-year-old mini Australian shepherd, Dallas, severely ill. Within just four or five days of switching to the brand, Wheeler said he had to take Dallas to the vet, who told him the dog had kidney failure.
"Dallas almost died — if we did not take him to the vet as fast as we did, he said he would have been dead," Wheeler said. He changed Dallas' diet to nurse him back to health and he has not had any health issues since.
"After that, he got better, and I never fed him that food again," he said.
If a pet owner is ever concerned a particular food product may be causing sickness "first of all, discontinue feeding that food," said Levitzke. "Second, go to your vet, because many of these symptoms, while concerning, if treated early and aggressively can be reversed." He added that pet owners should save any remaining food for testing and consult Purina as well as the FDA directly.
The dry kibble variations named in the suit include Purina Beneful Healthy Weight, Purina Beneful Original, Purina Beneful Incredibites, and Purina Beneful Healthy Growth For Puppies, Purina Beneful Healthy Smile, Purina Beneful Healthy Fiesta, Purina Beneful Healthy Radiance, and Purina Beneful Playful Life.