PUNTA CANA, Dominican Republic — A former Roman Catholic priest who was defrocked after he was convicted of molesting two boys in New Jersey won't face any new sanctions in the Dominican Republic after he was caught teaching children English at a private school.
Hadmels DeFrias was tracked down by an NBC News reporter in March at the Colegio del Caribe school in the resort town of Punta Cana, where he was interviewed while he watched over dozens of young boys and girls playing in the schoolyard.
"This case was closed after we concluded that Mr. DeFrias had been fired from the school he was working in," Glenn Davis, communications director at the Ministry of Education, told NBC News.
"Everyone agreed Mr. DeFrias could not and should not have been allowed to be in the care of small children after his conviction," Davis added. "Unfortunately, there was no way for the Ministry of Education to know his past ahead of time."
That's because the Dominican government does not monitor or do background checks on teachers who are hired by private schools, Davis said.
"The Ministry of Education cannot impose regulations over the hiring of staff in private schools," he said. "In this case, we intervened because the issue had to do with the physical and moral safety of students and that is our responsibility."
Dominican officials launched their investigation just hours after the NBC News story about DeFrias broke — and shortly afterward, the school fired the disgraced 47-year-old ex-priest.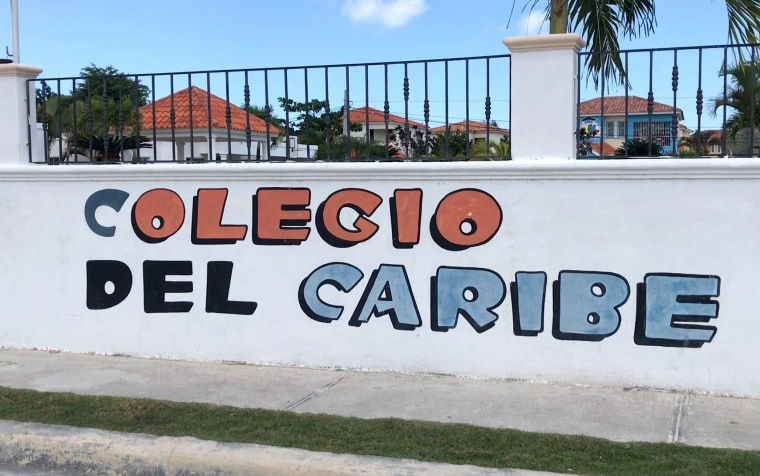 Asked if DeFrias would have been on their radar had he applied for a job with a public school in the Dominican Republic, Davis said he most likely would have been.
But there are more than 1,000 other private schools sprinkled across the Dominican Republic where DeFrias could find another job teaching children — and where background checks range from cursory to nonexistent, said Julio Sánchez Maríñez, director of the Instituto Superior Salomé Ureña, which is the country's leading teaching college.
"Private schools don't have a universal process for background checks and it's not really regulated by anyone," Mariñez said. "Each private school has its own system. Some do require background checks. In others, it's just one interview or even that someone that works there puts in a good word about you."
DeFrias, who insisted in his interview with NBC News that he no longer poses a threat to minors, could not be located immediately for comment. His lawyer said he has given up teaching and plans to go into real estate.
"I've been representing Hadmels DeFrias since he arrived in this country," Jose Francisco Liz told NBC News in an interview at his Santo Domingo office. "Since his arrival, I had suggested that he not work with children."
But DeFrias gravitated towards teaching "because he worked with children a long time and it was a field familiar to him," Liz said.
"He also felt rehabilitated and wanted to teach again," he said. "All school staff who I met said they never heard anything about him behaving wrongly."
DeFrias insisted in his NBC interview that he told the school about his criminal background.
Both DeFrias' lawyer and Davis said that's not what the school said.
"The school said they did not know about his past conviction in the U.S.," Davis said. "We spoke to the school administration and several parents who were concerned about their children being exposed to a child molester."
School officials did not return a request for comment.
DeFrias was ousted from the priesthood after he pleaded guilty in 2004 to criminal sexual contact for fondling two brothers, both under 14, and was sentenced to three years of probation. The Archdiocese of Newark confirmed that it has had no contact with him after that.
His name resurfaced in February when Cardinal Joseph Tobin, the archbishop of Newark, released a list of more than 60 priests dating to 1940 who had been "credibly accused of sexual abuse of minors." DeFrias was one of just a handful of Roman Catholic priests who had been criminally prosecuted for sexually abusing children.
While DeFrias was no longer a priest, NBC News discovered that he continued to refer to himself as a "reverend" online and that in 2017 he started a Dominican chapter of an interfaith group called The Order of Eremitic Servants.
DeFrias went by Father Rafael and described himself online as "a priest with the Progressive Celtic Church, an independent catholic jurisdiction with the Anglican tradition of churches."
Confronted by an NBC News reporter in March, DeFrias conceded that parents might be nervous having someone like him teaching their children. He expressed regret for assaulting the brothers and said he had been in therapy for a decade.
"I don't see the children with those eyes anymore," he said.
Gruber reported from the Dominican Republic, Acevedo and Siemaszko reported from New York.