Republican presidential candidate Donald Trump seemed to suggest Sunday on Twitter that he couldn't recall any of America's great Muslim athletes — despite having met "The Greatest" on several occasions.
The business mogul, as has become custom during his presidential campaign, took to Twitter to offer his thoughts on President Barack Obama's national address.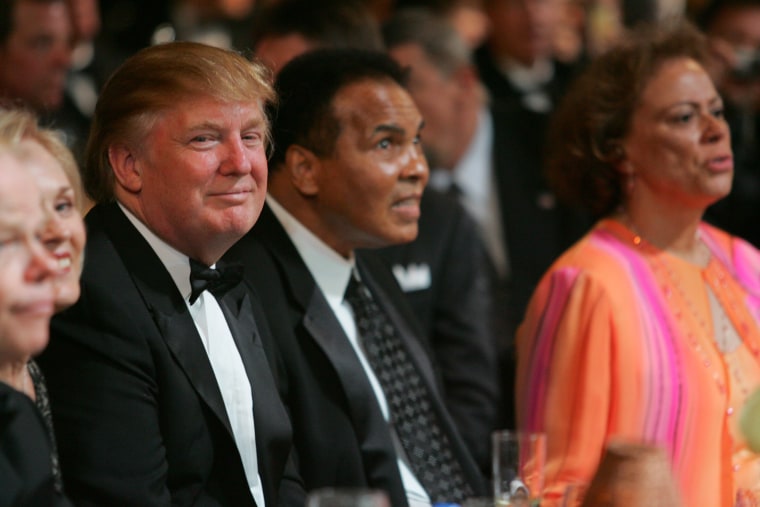 Obama used the speech — just his third delivered from the Oval Office — to outline his strategy for defeating ISIS, and implore Americans to reject discrimination against Muslims.
"Muslim Americans are our friends and our neighbors; our co-workers, our sports heroes — and, yes, they are our men and women in uniform," Obama said.
Trump, who has drawn constant fire for his divisive rhetoric, criticized Obama for not saying America was "at war with radical Islamic terrorists," and asked whether the president was "profiling" when he said some of the nation's sporting greats were Muslim.
Twitter users were quick to point out that Trump — who has claimed to have "the world's greatest memory" — may have been forgetful.
Trump has crossed paths with boxing legend Muhammad Ali many times over the years, including in 2007 when the latter presented Trump with a Muhammad Ali Award.
In May, Trump posted "Throw Back Thursday" photo on Facebook in which he was posing with Ali, who he tagged in the post and described as a friend.
Ali, formerly Cassius Clay, famously converted to Islam in 1964.
Trump is also familiar with the NBA's all-time leading point scorer, Kareem Abdul-Jabbar — also a Muslim — who he locked horns with in September after the basketball great penned an essay critical of Trump's "absurd, uninformed or just plain incorrect" statements.
Other renowned Muslim-American athletes include basketball greats Shaquille O'Neal, Hakeem Olajuwon and Larry Johnson, and boxing champions Mike Tyson and Bernard Hopkins.