Donald Trump Jr. asked a Russian lawyer at the June 2016 Trump Tower meeting whether she had evidence of illegal donations to the Clinton Foundation, the lawyer told the Senate Judiciary Committee in answers to written questions obtained exclusively by NBC News.
The lawyer, Natalia Veselnitskaya, told the committee that she didn't have any such evidence, and that she believes Trump misunderstood the nature of the meeting after receiving emails from a music promoter promising incriminating information on Hillary Clinton, Donald Trump's Democratic opponent.
Once it became apparent that she did not have meaningful information about Clinton, Trump seemed to lose interest, Veselnitskaya said, and the meeting petered out.
"Today, I understand why it took place to begin with and why it ended so quickly with a feeling of mutual disappointment and time wasted," Veselnitskaya wrote. "The answer lies in the roguish letters of Mr. Goldstone."
Related: Veselnitskaya says she didn't give Donald Trump Jr. info on Hillary Clinton
She was referring to Rob Goldstone, a music promoter who worked for the Agalarov family. They are Russian oligarchs with Kremlin connections who had business and social ties to the Trump family. Goldstone's emails to Trump Jr. arranging the meeting on behalf of the Agalarovs called Veselnitskaya a "Russian government lawyer" who had dirt on Clinton as part of a Russian government effort to help Trump. Goldstone has since said he exaggerated.
In her 51-page statement to the Senate Judiciary Committee, Veselnitskaya said she did not work for the Russian government and was not carrying any messages from government officials. She said her motive was to get the Trump team to examine what she argues is a fraud that led the U.S. to impose sanctions on Russia known as the Magnitsky Act.
Click here to read Veselnitskaya's statement to the Senate Judiciary Committee
Her ultimate goal was a congressional investigation into that matter, she said. She has long argued that U.S.-born hedge fund investor Bill Browder lied about the circumstances of the death of his accountant, Sergei Magnitsky, who died in a Russian jail, and that the U.S. government imposed Magnitsky Act sanctions on Russia, which are named after the accountant, based on a fraud. Browder and American officials dismiss that allegation, calling it part of a Russian disinformation campaign.
Veselnitskaya said there was no discussion at the Trump Tower meeting of hacked or leaked emails, social media campaigns or any of the other main aspects of Russian interference in the U.S. election. Previously, she told NBC News she had raised the issue of potential questionable contributions to Clinton's campaign by Americans accused in Russia of tax evasion.
Related: Russian lawyer in Trump Tower meeting says Mueller hasn't called
Though some may see her answers as self-serving, Veselnitskaya's written answers reinforced what has long been understood about the Trump Tower meeting: that Donald Trump Jr. accepted it on the promise of incriminating information about Clinton that he had been told was coming from the Russian government. And he asked Veselnitskaya directly whether she had it, according to her written answers. Jared Kushner and Paul Manafort were also in attendance, as were a Russian lobbyist, a Russian businessman and a translator.
Special counsel Robert Mueller and the House and Senate investigating committees continue to look into the Trump Tower meeting, according to multiple officials familiar with the probes.
Veselnitskaya insists they will find nothing that isn't already known. She says she wishes the meeting had never happened.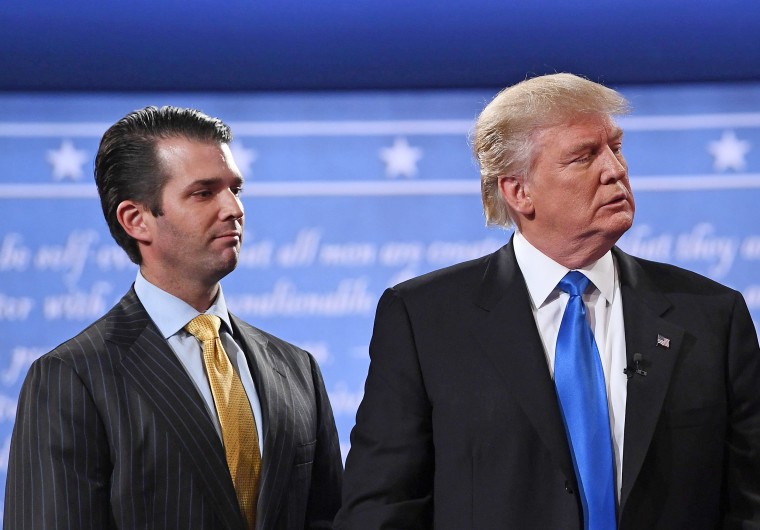 "Now that I know the kind of apocalyptic Hollywood scenario that a private conversation between a lawyer and a businessman can be turned into, I very much regret that the desire to bring the truth to the [Congress] has thrown the U.S. president's family, as well as Mrs. Clinton, into the whirlwind of mutual political accusations and fueled the fire of the morbid, completely groundless hatred for Russia," Veselnitskaya wrote.
In another noteworthy aspect of her answers, Veselnitskaya acknowledged that she worked with Glenn Simpson, a former Wall Street Journal reporter, in an investigation of Browder, whose campaign led Congress to pass the Magnitsky Act.
At the time he was working on that case, Simpson and his firm, Fusion GPS, were also working with former British intelligence operative Christopher Steele on the infamous Trump dossier.
But Veselnitskaya says she had no idea about that, confirming testimony Simpson has provided to House and Senate investigators.
Some Republicans have suggested that Simpson's work on behalf of a Russian client investigating the premise of the Magnitsky Act means the dossier could be tainted by Russian disinformation, but no evidence has surfaced to buttress that allegation.
Veselnitskaya called those allegations "unsubstantiated and outrageous insinuations."
A lawyer for Trump Jr. declined to comment, but referred NBC News to the statement his client released in September, which said Trump Jr. wanted to "hear (the Russians) out" if they had information concerning Clinton's "fitness, character or qualifications."