President-elect Donald Trump announced his intention to select Oklahoma Attorney General Scott Pruitt to lead the Environmental Protection Agency on Thursday, the clearest sign yet that he will pursue an agenda which could undo President Barack Obama's climate change legacy.
"For too long, the Environmental Protection Agency has spent taxpayer dollars on an out-of-control anti-energy agenda that has destroyed millions of jobs, while also undermining our incredible farmers and many other businesses and industries at every turn," Trump said in a statement Thursday, adding that Pruitt would "reverse this trend."
An ally to the fossil fuel industry, Pruitt has aggressively fought against environmental regulations, becoming one of a number of attorneys general to craft a 28-state lawsuit against the Obama administration's rules to curb carbon emissions. The case is currently awaiting a decision from the United States Court of Appeals for the District of Columbia, which heard oral arguments in September.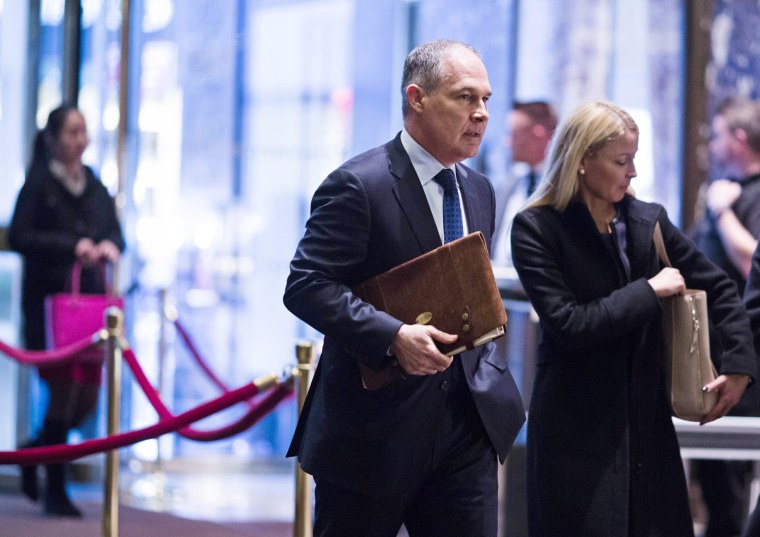 Pruitt, who questions the impact of climate change, along with Alabama Attorney General Luther Strange, penned an op-ed in the Tulsa World earlier this year that called criticism they've received "un-American."
"Healthy debate is the lifeblood of American democracy, and global warming has inspired one of the major policy debates of our time," states the op-ed. "That debate is far from settled. Scientists continue to disagree about the degree and extent of global warming and its connection to the actions of mankind… Dissent is not a crime."
On the campaign trail, Trump called climate change a hoax — a sentiment he has echoed over the years. In a 2012 tweet he blamed the Chinese government for perpetuating what he sees as a myth. Trump's campaign has since said the tweet was a joke.
Trump has also vowed to "cancel" the Paris climate deal — an agreement between more than 100 nations to ensure the planet warms no more than 3.6 degrees Fahrenheit.
While Trump could help end U.S. involvement in the Paris accord, State Department spokesman Mark Toner said the agency had confidence the global community would move forward.
The State Department has "confidence that as this new administration transitions into power they will also see the merits of the direction we are moving, the world is moving," said Toner Wednesday. "In a way that shift has already taken place. That train left the station."
Former Vice President Al Gore on Monday met with both the president-elect and Ivanka Trump, who reportedly wants to make climate change one of her signature issues.
Gore told reporters after the meeting that he "found it an extremely interesting conversation" and a "sincere search for areas of common ground."
But news of Pruitt's selection Wednesday was met with swift disapproval from environmentalists and Democratic lawmakers who have vowed to oppose his nomination
"Attorney General Pruitt's reluctance to accept the facts or science on climate change couldn't make him any more out of touch with the American people – and with reality," said Sen. Chuck Schumer in a statement. "Climate change is one of the biggest threats facing our country and the world today, and we must take it seriously and take action to address it. President-elect Trump promised to break the special interests' grip on Washington, but his nomination of Mr. Pruitt — who has a troubling history of advocating on behalf of big oil at the expense of public health —only tightens it."
Schumer added "I expect he will have to answer many tough questions throughout the nomination process to address these significant concerns."
Rhea Suh, president of the Natural Resources Defense Council, said in a statement that if confirmed, "Pruitt seems destined for the environmental hall of shame."
"The mission of the EPA and its administrator requires an absolute commitment to safeguard public health and protect our air, land, water and planet. That's the litmus test. By naming Pruitt, President-elect Trump has flunked," Suh said.
Democratic Sen. Brian Schatz of Hawaii, meanwhile, said in a statement he "cannot support Scott Pruitt, a denier of climate science, to lead the EPA."
"The EPA has the enormous responsibility of protecting our environment and keeping Americans safe and healthy. Its administrator should share those goals, but Scott Pruitt's record has shown us that he does not," Schatz said. "While the EPA is tasked with protecting our people and our environment from the impacts of climate change, he denies the science behind it. And while the agency has worked to keep our air and water clean and safe, Scott Pruitt has worked to undermine the very rules that protect those resources."