Donald Trump's business savvy came under fire last week — and the Republican presidential front-runner was none too pleased.
Trump exploded when Mitt Romney, in a scathing anti-Trump speech in Utah, declared: "A business genius he is not."
The former GOP nominee ticked off a list of Trump's corporate misadventures: Trump University, Trump Airlines, Trump Vodka, Trump Magazine, Trump Steaks.
Trump fired back, calling Romney a "choke artist" and a "failed candidate," and claimed Romney "begged" for Trump's endorsement in 2012.
"I could have said, 'Mitt drop to your knees,' and he would have dropped to his knees," Trump said.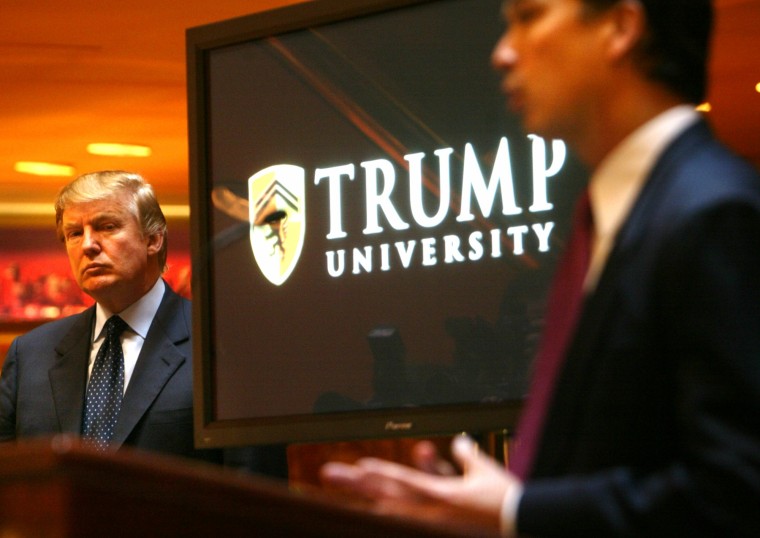 Trump, who claims to be worth $10 billion and whose fortune is estimated by Forbes at $4.1 billion, also appeared stung when Florida Sen. Marco Rubio on the campaign trail called him a "con man" with a mixed track record of business success.
But after notching victories in Michigan and Mississippi on Tuesday, Trump trotted out some "Trump Steaks," held a glossy copy of a Trump Magazine that he claimed to have just looked at, and vowed to reopen Trump University "after we win the lawsuit."
Trump has had numerous business successes, like Trump Tower, 40 Wall Street and "The Apprentice." But not every Trump venture turned to gold — and the businesses Romney cited were notorious misfires.
Trump University was an online college launched in 2005 that offered to teach the mogul's real estate and entrepreneurship strategies, and charged fees ranging from $1,500 to $35,000. But it was never accredited.
In 2013, New York Attorney General Eric Schneiderman sued, claiming the university was a scam operation that defrauded around 600 students out of thousands of dollars.
Trump, via his lawyer Michael D. Cohen, denied defrauding anybody and claimed the school had a 98 percent approval rating. He filed a complaint alleging that the AG's office was looking for a campaign contribution.
On the campaign trail, Trump has also claimed that Trump U got an A rating from the Better Business Bureau. The BBB on Tuesday said the school "does not currently have an A rating."
"The BB Business Review for this company has continually been 'No Rating' since September 2015," the company said in a statement. "Prior to that, it fluctuated between D- and A+."
When Trump U was running, the BBB "received multiple customer complaints about this business. These complaints affected the Trump University BBB rating, which was as low as D- in 2010."
But after 2013, no new complaints were reported as "the company appeared to be winding down."
"As a result, over time, Trump University's BBB rating went to an A in July 2014 and then to an A+ in January 2015," the BBB said.
Recently, Trump criticized a California judge presiding over another lawsuit against Trump U — this one a federal class-action lawsuit — as "very hostile," and added: "I believe he happens to be Spanish, which is fine."
In 2013, Trump countersued the lead plaintiff in the California lawsuit, Tarla Makaeff, for defamation. An appeals court dismissed Trump's challenge. But the Associated Press reported Wednesday that Makaeff has asked a judge to withdraw from the suit because Trump and his lawyer have put her "through the wringer."
Records show Trump is also currently being sued by a Long Island man named Gregory Ryan who claimed in court papers filed in Suffolk County Supreme Court that he was the victim of a $25,000 "ripoff."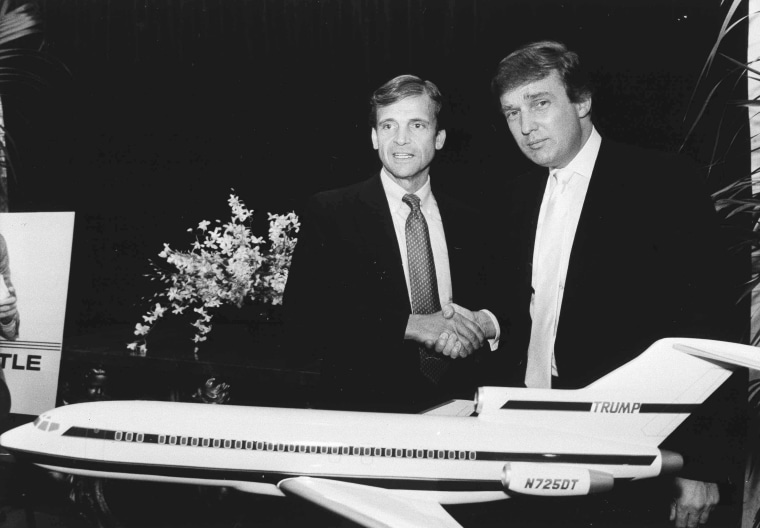 Trump Airlines was Trump's attempt to make money by offering a luxury shuttle service to Washington and Boston from New York City.
Back in 1989, Trump pounced at the chance to buy the troubled Eastern Air Lines shuttle service for $365 million. He put the Trump name on the planes, dressed them up inside — and waited for business to boom. It didn't.
But the business took on too much debt and eventually defaulted. It was sold to USAir.
Trump Vodka was the teetotaling Trump's attempt to break into the lucrative liquor market. Sold in a skyscraper-shaped bottle, it had a gold-encrusted letter 'T' on all its four sides and the slogan "Success Distilled."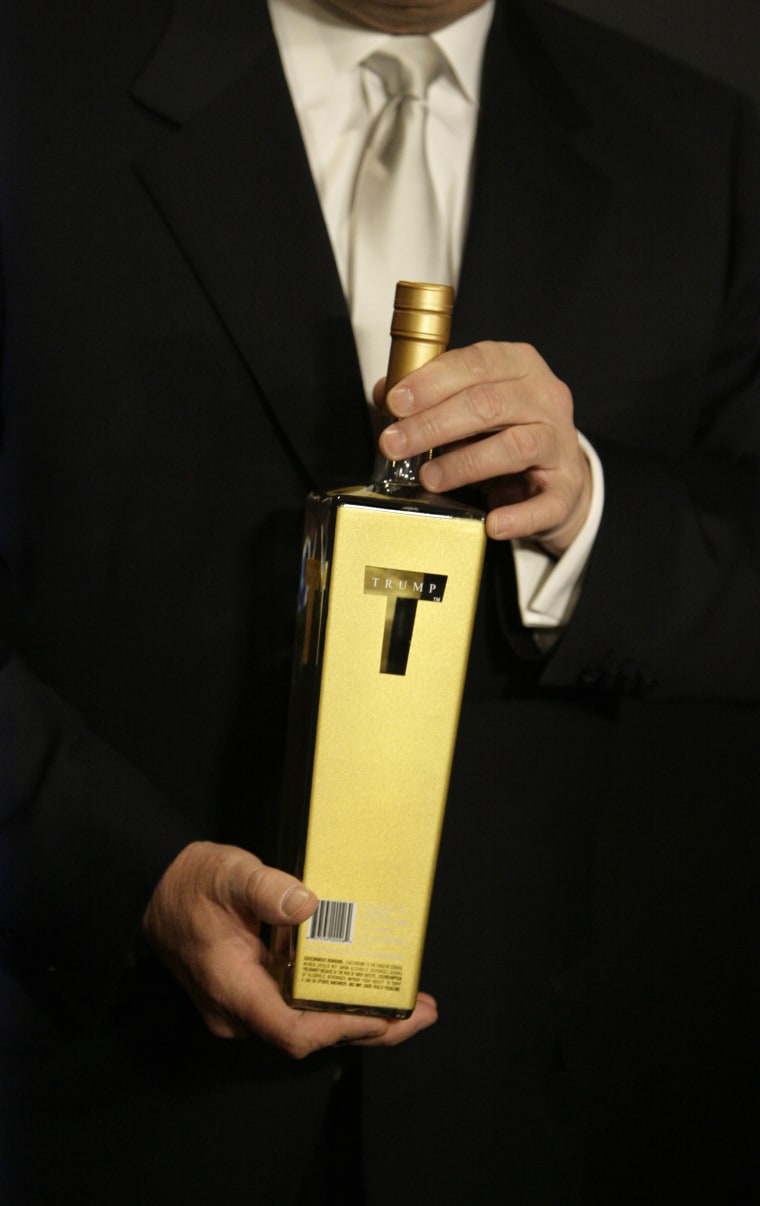 After it launched in 2006, Trump predicted the T&T (Trump and tonic) would be the most popular drink in America. Two years later, Trump Vodka was history.
Trump Steaks was launched in 2007 in partnership with retailer Sharper Image and QVC to "deliver a taste of Donald Trump's luxurious lifestyle." By 2014, this business venture was dead. But the reviews — the good ones and the bad ones — live on at QVC.com.
Trump Magazine made its debut in 2007 and was the mogul's foray into what detractors derided as "wealth porn." The glossy pages featured yacht reviews, stories about private jet makeover, ads for jewel-encrusted watches, and lots of pictures of Trump. By 2009, the recession was in full swing and Trump's magazine as a quarterly sold at newsstands was no more.
Trump Mortgage was also a victim of bad timing — and the recession. "I think it's a great time to start a mortgage company," Trump told CNBC in 2006. "The real estate market is going to be very strong for a long time to come."
Two years later, the housing market collapsed — and so did Trump Mortgage LLC.