What's an acceptable tip for a driver who delivers a $20 pizza?
A TikTok video purporting to show a DoorDash delivery driver in Texas swearing at a customer over the $5 tip she gave him has gone viral, sparking fresh online debate over tipping culture in the U.S.
"I just want to say it's a nice house for a $5 tip," the driver can be heard saying as he walks away from a home in the door camera video a user under the name Lacey Purciful posted on TikTok this week.
"You're welcome!" the resident says, appearing surprised by the remark. "F--- you," the driver responds before he walks away.
"So how much should I be tipping for a $20 pie?" Purciful — who, in a separate post, said she has worked in the service industry for over 10 years and tips "very well" — wrote in a caption.
Purciful, who did not immediately respond to an overnight request for comment, said DoorDash fired the driver.
A DoorDash spokesperson confirmed that a worker had been removed from the platform in connection with the incident. The spokesperson said the company had also reached out to the customer.
"Respectfully asking for a tip is acceptable, but abusing or harassing someone is never acceptable," the spokesperson said.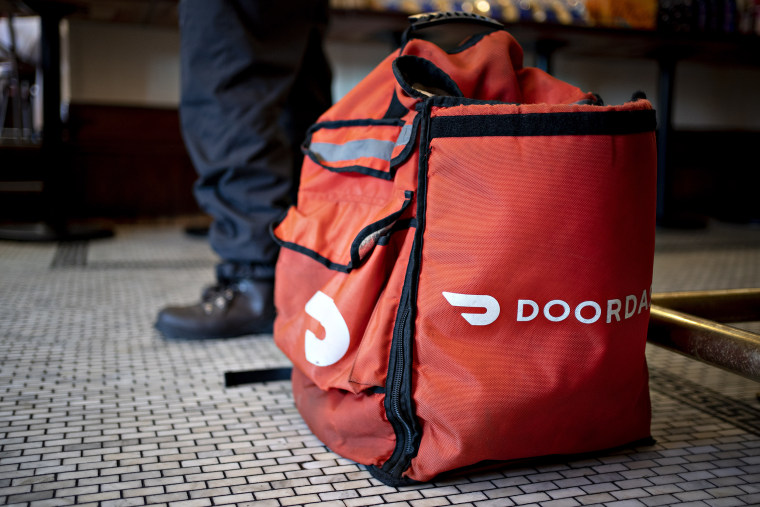 "Our rules exist to help ensure everyone who uses our platform — Dashers, customers, merchants — have a safe and enjoyable experience," the spokesperson said. "We expect everyone to treat others with respect, and we will enforce our rules fairly and consistently."
The video added fuel to a growing debate in the U.S. over tipping culture, with some complaining current trends may have reached a tipping point.
"Tipping is out of control," a social media user said, commenting on the video. The user said $5 for a $20 pizza felt "more than" enough.
Another user said: "I doordash and most (not all) pizza delivery orders don't tip. That was a Rockstar tip."
Not everyone agreed, however, with some branding Purciful a "Karen" for having contacted DoorDash.
One poster said the driver should not have lost his job, writing: "What he said was not right, but he didn't have to lose job over it. Everyone is trying to make a living."
Another commenter noted that the driver may have been concerned about mileage, writing: "Maybe $5 wasn't enough."
The Covid-19 pandemic brought consumer willingness to give tips, particularly during times of hardship, into new focus, with many people ponying up to pay higher gratuities during the crisis, according to research.
Figures provided this year by the payment processor Square showed the frequency of gratuities at full-service restaurants grew 17% in the fourth quarter last year from the same period in 2021. Meanwhile, tip frequency at quick-service restaurants, such as coffee shops and fast-food chains, rose 16%, according to the company's data.
Tipping apparently rose despite a period of record inflation, which has eaten away at many consumers' discretionary income.
While the pandemic appeared to spur widespread changes in tipping culture, the growing use of point-of-service systems to process payments also appears to have made it easier than ever for customers to provide — and for businesses to ask for — tips.
In a survey of restaurant executives by the industry group Hospitality Technology, 71% of respondents said using data to "understand guest preferences and behavior" was their primary reason for facilitating point-of-service system upgrades, while enabling new payment options was the priority for 57%.
A recent Lending Tree survey found that 60% of Americans felt they were tipping more, NBC Boston reported. Around 24% said they felt pressured to tip when the option was presented, while 41% said they had changed their buying habits because of gratuity expectations and 60% felt tipping expectations had gotten out of hand.