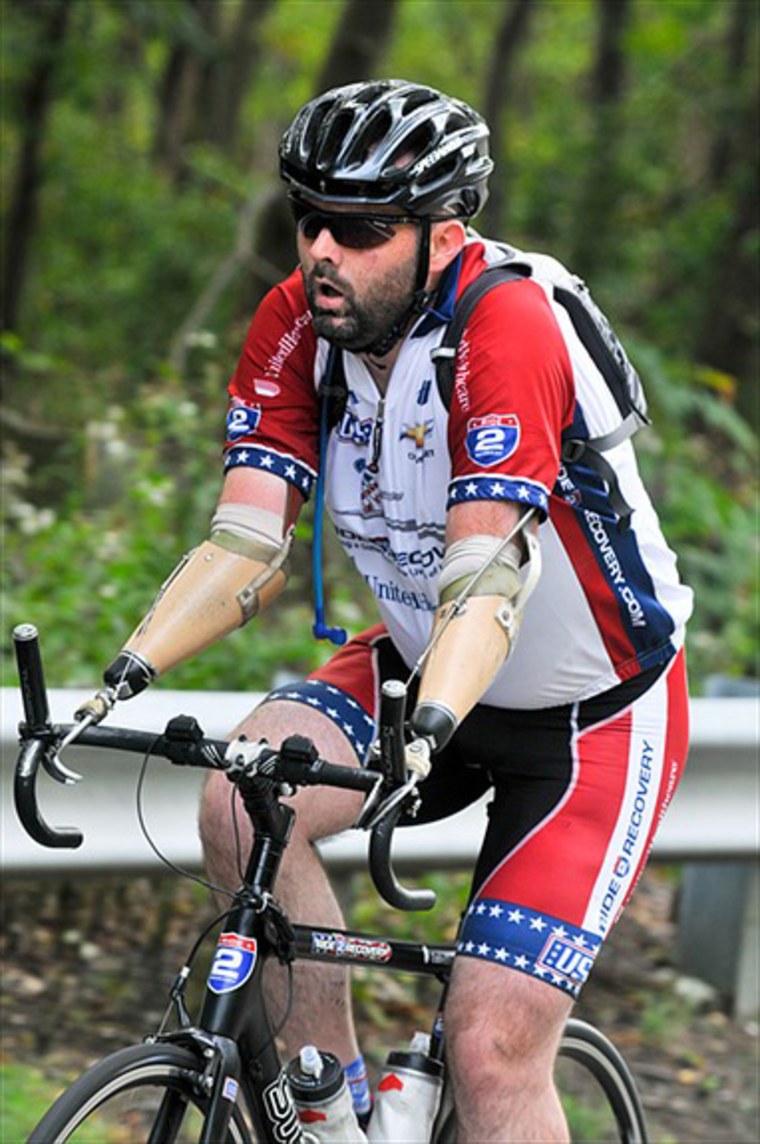 A custom-made bike for a double amputee veteran was found Wednesday morning, after it had been stolen two days earlier along with four other vets' bikes in Alaska, police said.
The bike was built by an organization called Ride 2 Recovery for Matt DeWitt, an Army veteran who served six years in Afghanistan before losing his forearms.  
DeWitt said the first time he rode it was Monday, the first day of an R2R-sponsored trip to Alaska. After the group locked it up in a U-haul truck outside of their hotel that night, the bike was stolen, preventing DeWitt from participating in the remaining two rides during the trip.
John Wordin, founder of Ride 2 Recovery, said that everywhere they went in Alaska, people knew about the bike from local media coverage. "We had to make sure whoever had that bike knew exactly what it was and knew it was worthless to that person."
Dani Myren, a spokeswoman for the Anchorage Police Department who had assisted the Ride 2 Recovery staff on Tuesday, said that Wednesday "around 8:20 a.m., we received a call from a citizen who saw an unattended bicycle in Kincaid Park."
She said the thief must have dropped it off after realizing he or she couldn't "really resell this without drawing attention to it.'"
When DeWitt got news that his bike had been turned in, Wordin said the vet was "very, very excited and happy."
On Tuesday, DeWitt had expressed his disappointment that, if the bike wasn't returned, he wouldn't be able to train for an upcoming 100-mile race that he had been invited to enter in August.
Alison Valenziano, R2R's director of administrative operations, was not sure they would even be able to rebuild a bike for DeWitt before the race.
Scott Moro, the technician who built the bike said that designing and modifying it took about three months. When he heard the police had found the bike, "I screamed out 'woohoo,'" Moro said.
Wordin said he and Moro actually may have been more happy than DeWitt when they heard the news. The two men had struggled to figure out how to help DeWitt steer with his prosthetics and shift gears with his knees.
"It was super, super-cool — it took a long time to perfect," Wordin said.
Valenziano said the bike was worth more than $10,000, not including Moro and Wordin's time and labor.
"The cool thing is that this is the special bike," Myren said, adding: "I don't want to minimize that the other bikes are missing."
Myren said the officer who recovered the bike confirmed it was, in fact, DeWitt's -- and then took fingerprints from the bike, in hope that it would lead him to the remaining four missing bikes.
Police were trying to track down the group in order to get the bike back to DeWitt, Myren said. The group had gone on a daytrip "right after they heard" the bike had been turned in, said Valenziano.
Myren said the bike wasn't terribly damaged, but police were working to make sure they could "present it to the gentleman in full operational order," so DeWitt could resume riding as soon as he gets it back.
Ride 2 Recovery gives mountain bikes to veterans to help them overcome their physical and mental wounds, said Valenziano. She said they have modified bikes for vets without arms, vets without legs and even a tandem bike for a man who lost his sight at war.
Related:
Thief takes custom-made bike made for double amputee veteran