HIGHLAND PARK, Ill. — A crime scene reverted to a cherished town square Sunday as police tape and barricades came down at the site of America's most recent mass killing.
Central Avenue, between Green Bay Road and Second Street, and neighboring blocks had been closed since Monday, when a gunman opened fire at a Fourth of July parade, killing seven people and injuring dozens more.
But by Sunday morning, the former crime scene looked like any other day in this affluent Chicagoland suburb, showing no signs of the carnage.
Few businesses were open, but neighbors were out and about on the pleasant Sunday morning.
Bonnie Fear, who runs a church-based therapy dog operation, and her three golden retrievers were among the most popular figures on the streets of downtown Highland Park on Sunday.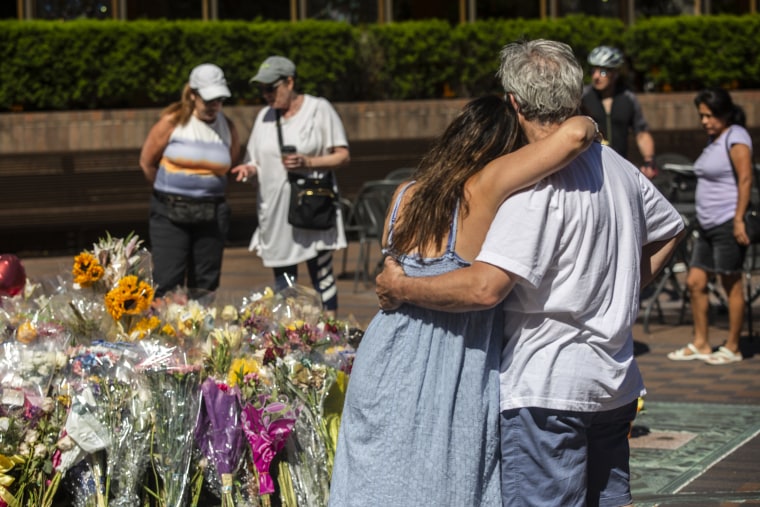 "We see all of the emotion. They are thankful, they are crying, they're happy, there's silence. We see it all," Fear said. "And when they see these dogs, that's been an overwhelming expression of thanks, gratefulness." 
The dogs have been terribly busy recently, giving comfort at memorials in Highland Park after a stint in Uvalde, Texas.
"We see it, we feel it, and we know it's where we're supposed to be," Fear said. "Our faith gives us the strength to be here for these people. We see it, we feel it, and we know it's where we're supposed to be."
Police cordoned off much of downtown, processing the crime scene where more than 70 rounds were fired from a rooftop perch, officials said.
Police said the gunman scaled a ladder attached to a downtown building, which allowed him to make the sniper's nest from which he opened fire about 10:14 a.m. CT Monday.
The neighborhood was finally released from investigators' control at about 6:30 a.m. Sunday, said Paris Lewbel, a spokesman for the nearby Aurora Police Department, who has been acting as a representative for Highland Park police.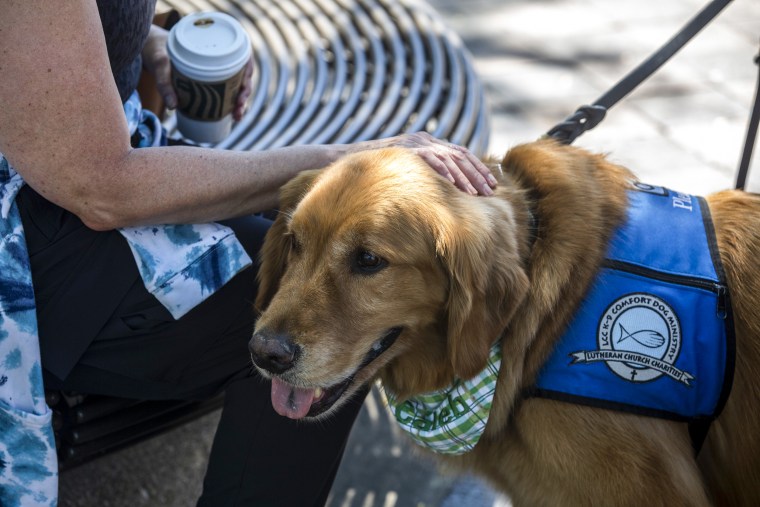 Mayor Nancy Rotering lamented that there are so many mass shootings in America that there is actually a how-to guide for communities to deal with the tragic aftermath.
"No mayor that's ever prepared for this [shooting], but there is a handbook for mayors for post mass shooting situations," Rotering told Sky News. "A 198-page handbook that's now being sent to us in an effort to help us, because so many have gone before us through this ridiculous tragedy."
Robert E. Crimo was arrested in North Chicago hours after the shooting, but not before he drove to Madison, Wisconsin, contemplating an attack there, police have said.
The shooting has brought attention to Crimo's father, former Highland Park mayoral candidate Bob Crimo Jr.
Authorities say the suspect was under 21 in 2020 when he purchased the AR-15-style weapon alleged to have been used in Monday's attack — a purchase he could make only because his father sponsored his Firearm Owners Identification application.
Bob Crimo Jr. "may have responsibility in certain circumstances," state police said last week.
"He [Bob Crimo Jr.] didn't believe at any point that he [the suspect] was a danger to anyone," family attorney George Gomez told NBC News on Saturday.
Katherine Koretski and Kathy Park reported from Highland Park, Illinois, and David K. Li from New York.