A man was dead and more than a dozen people were injured in an industrial plant explosion outside Cleveland on Monday, an NBC affiliate and local officials said.
The death of a 46-year-old man was confirmed Monday evening by a spokesperson for the Cuyahoga County Medical Examiner's Office.
A captain with the Oakwood Fire Department described the blast at the I Schumann & Co. metal alloy manufacturer in Oakwood Village, southeast of Cleveland, as a "large explosion" and said some of the injured had been burned.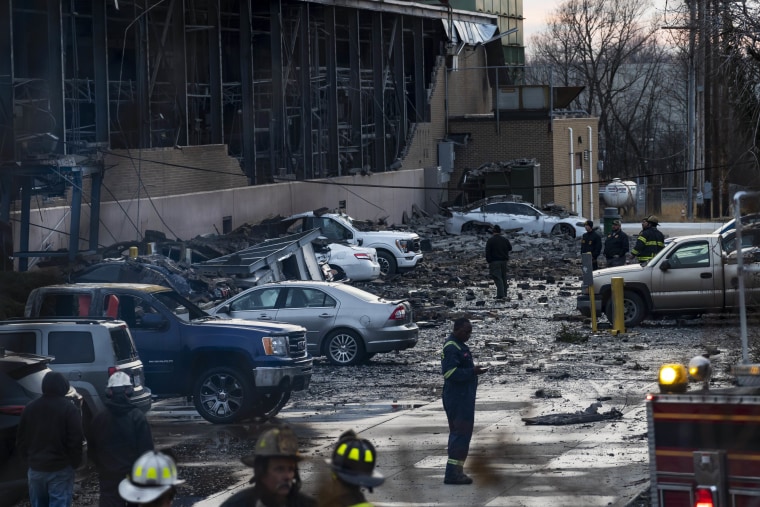 The official said at least one person was flown by helicopter to a hospital. The subsequent fire was under control Monday afternoon, but crews were still working on hot spots, the captain said.
MetroHealth Medical Center in Cleveland was treating four patients, a spokesperson said. Two were described as being in critical condition. NBC affiliate WKYC of Cleveland reported more than a dozen total were injured in the blast.
The blast sent debris across the street, produced a crater in a building and created a smoke plume that could be seen for miles, according to social media video reviewed by NBC News and as seen in affiliate video from the scene.
All employees at the plant have been accounted for, the Oakwood fire official said.
I Schumann & Co. said in a statement Monday evening that employees have been injured and that the blast had caused "significant damage" to its facility. The company said it would support investigators who are trying to determine the origins of the explosion.
"We will work alongside investigators in their search for answers as part of our commitment to Northeast Ohio where we have been operating for more than 100 years," it said. "Our thoughts and prayers are with our team members and their families at this difficult time."
WKYC noted that the plant was the location of a blast in 2006.