SAN ANTONIO — Dozens of migrants were found dead in an abandoned big rig in San Antonio on Monday in what appears to be the deadliest human smuggling case in modern U.S. history.
The tragedy's death toll rose to 51 on Tuesday afternoon, Bexar County officials said at a news conference, and some of the deceased could be teenagers who never reached adulthood.
Most of the victims were found dead in the tractor-trailer in the sweltering Texas heat, officials said.
Contributing to the number of deceased Tuesday was the demise of three patients being treated at Baptist Medical Center, where two survivors remained in critical condition, hospital spokesperson Patti Tanner said.
Sixteen people, including four children, were initially hospitalized, San Antonio Fire Chief Charles Hood said. None of those children have died.
The dead include 39 males and 12 females, Bexar County officials said at an afternoon news conference. Tom Peine, the assistant public information officer for the county manager's office, said it was possible some had not reached adulthood.
"Potentially some of them are under the age of 18," he said. "These are potentially people under 18 — I would say in the teenage age range, not younger."
The regional medical examiner would likely be able to identify 34 of the deceased at this point in the investigation, officials said.
On Tuesday morning, Mexican President Andrés Manuel López Obrador said 22 of the dead were Mexican nationals, while seven were from Guatemala and two from Honduras. The nationalities of the remaining 20 people had yet to be confirmed.
López Obrador said the Mexican government would be providing assistance to the family members of the dead.
Three people were taken into custody following the discovery, San Antonio Police Chief William P. McManus said, though he added authorities did not know if they were definitely connected to the incident. He did not expand on their identities.
The grim find was made early Monday evening in an undeveloped area of southwest San Antonio near railroad tracks. A person who works in the area reported hearing a cry for help and spotted at least one body, officials said.
Homeland Security Investigations responded to the incident on Quintana Road near Cassin Road following a call from the San Antonio Police Department and found more than 40 deceased individuals at the scene, U.S. Immigration and Customs Enforcement said Tuesday in a statement.
"We're not supposed to open up a truck and see stacks of bodies in there," Hood said.
McManus said the survivors lacked water and air conditioning. "The patients that we saw were hot to the touch," he said. "They were suffering from heat stroke, heat exhaustion."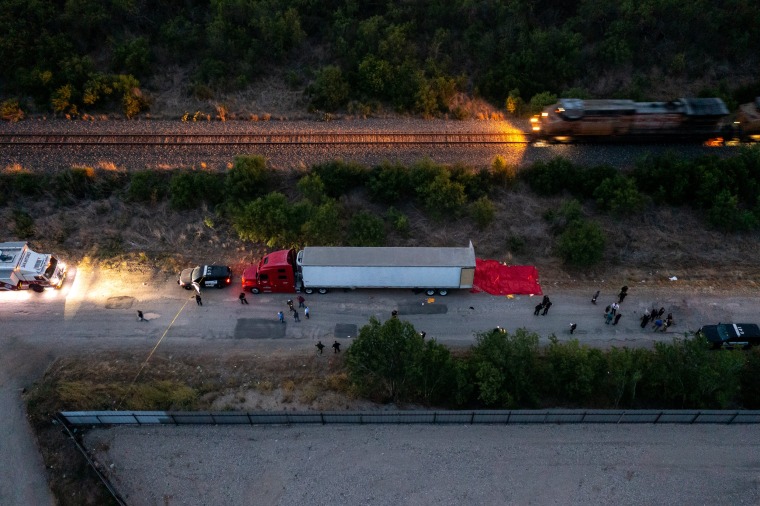 McManus said Homeland Security Investigations had taken over the investigation into the deadly incident. The heat is likely to be a focus, with temperatures climbing to 101 Monday, according to the National Weather Service.
The heat inside the trailer packed with people was likely to have been significantly higher than the outside temperature.
A committee of the National Association of Medical Examiners has recommended that bodies with temperatures of 105 or greater at the time of collapse be certified as heat-related deaths.
Survivors were clinging to life at three area hospitals
Methodist Hospital Metropolitan in downtown San Antonio is treating three patients, described by officials as two males and one female who are listed in critical but stable condition. The hospital has been unable to verify their ages. 
Meanwhile, University Hospital in San Antonio is treating two patients: a 23-year-old woman in serious condition and an adolescent male in critical condition, hospital spokesperson Andra Wazir said.
County Commissioner Rebeca Clay-Flores said the woman, from Guatemala, was improving and was able to speak, but that the condition of one teenage survivor at University Hospital was dire.
"We are asking for prayers for him," she said at the news conference.
Two Mexican nationals at Texas Vista Medical Center are "dehydrated, receiving medical care now," Mexican Foreign Minister Marcelo Ebrard said on Twitter.
J. Antonio Fernandez, CEO of Catholic Charities in San Antonio, and Archbishop Gustavo García-Siller, who leads the archdiocese of San Antonio, visited the University Hospital patients.
Fernandez could not confirm the patients' names or ages.
They were intubated and had many other tubes connected to them. The male patient could not speak but he was wearing a scapular, a Catholic religious accessory that goes around the neck, he said.
There was security posted for the female patient but not for the male patient, Fernandez noted.
He and García-Siller asked her if they could pray for her and she nodded her head, Fernandez said.
They asked if she was from Guatemala and she nodded again, he said.
"It was a nice experience to end the day that way," Fernandez said.
Guatemalan authorities estimate it will take three days to identify the bodies of migrants from that nation, the country's Ministry of Foreign Affairs said.
The Guatemalan consulate in McAllen, Texas, has contacted forensic doctors working to identify the dead and indicated that "the probable cause of death was heat stroke due to being overcrowded." 
U.S., Mexico investigate smuggling tragedy
San Antonio Mayor Ron Nirenberg said the people who died had "families who were likely trying to find a better life."
"This is nothing short of a horrific human tragedy," he said.
At the afternoon news conference, Bexar County Judge Nelson W. Wolff said the tragedy strikes at the foundation of the country.
"Our nation was built on the backs of poor immigrants that made us a great nation," he said. "Today we mourn for those ... immigrants."
Secretary of Homeland Security Alejandro Mayorkas said he was "heartbroken by the tragic loss of life today and am praying for those still fighting for their lives."
"Far too many lives have been lost as individuals — including families, women, and children — take this dangerous journey," he said in a tweet.
Noting that Homeland Security Investigations had launched its investigation with the support of the San Antonio Police Department and U.S. Customs and Border Protection, Mayorkas also took aim at human smugglers as "callous individuals who have no regard for the vulnerable people they exploit and endanger in order to make a profit."
Homeland Security Investigations said in its statement that the department "continues its enforcement efforts to ensure the safety and well-being of our communities."
"We will continue to address the serious public safety threat posed by human smuggling organizations and their reckless disregard for the health and safety of those smuggled," the statement continued.
Ebrard on Tuesday said Mexico will open an investigation into the death of the migrants in Texas on matters relating to its nation, according to a post on his Twitter account. 
Monday's tragedy comes as the number of migrants apprehended at the southern border recently reached record-breaking numbers.
According to CBP data, authorities encountered more than 1 million migrants along the southwest border since January. The number is over six times that of incidents recorded during the same time period in 2020 and more than double the number of cases in 2019, before the coronavirus pandemic began, according to the data.
The agency reported at least 557 deaths on the southwest border in the 12-month period before Sept. 30, representing more than double the 247 deaths reported in the year prior, according to The Associated Press. Most were related to heat exposure.
Texas Gov. Greg Abbott, a Republican, blamed the incident on President Joe Biden's immigration policies.
"These deaths are on Biden," he said in a tweet. "They are a result of his deadly open border policies."
The White House declined to comment on Abbott's tweet, pointing reporters instead to Mayorkas' tweet.
Clay-Flores struck back at the governor, in English and in Spanish, arguing the Republican policy of highlighting border issues during election cycles contributed to the tragedy.
"People need to get registered to vote and vote for a governor of Texas who cares about people, period," she said. "Thats what I think we need to do."
Ebrard said a consul general for the country was headed to the site of the incident and would visit hospitals to assist survivors.
Guatemala's government said in a statement that officials from the Guatemalan Consular Network in the southern U.S. are also traveling to San Antonio to identify 12 injured people and four minors who were found across four hospitals.
Honduran Foreign Minister Enrique Reina said in a tweet that the country was investigating whether any Hondurans were among the deceased.
The registration number of the truck found in San Antonio was traced to a vehicle belonging to a man named Felipe Betancourt, based in the city of Alamo.
When contacted by NBC News, Betancourt said the vehicle appeared to have been "cloned." He said the operators of the truck found in San Antonio appeared to have duplicated his truck's registration numbers. He said he wanted his name cleared of the matter.
Monday's tragedy carried echoes of an incident in 2017, when 10 migrants died in a packed truck carrying 39 people in San Antonio in the heat of summer.
The driver, James Matthew Bradley Jr., 60, of Clearwater, Florida, pleaded guilty to conspiracy and transporting migrants, although his wife said he did not know people were in the trailer. In April 2018, he was sentenced to life in federal prison without parole.
In 2003, in Victoria, Texas, 19 people died in the back of a truck belonging to Tyrone Williams, who had been paid $7,500 to drive them through a Border Patrol checkpoint.
Williams was also sentenced to life behind bars over what was, until Monday, the nation's deadliest human smuggling attempt. He was later handed additional sentences to be carried out alongside the life sentence he was already serving.
Dennis Romero reported from Los Angeles, Suzanne Gamboa from San Antonio, Chantal Da Silva from London and Rhoda Kwan from Taipei.