Dozens of people are still missing in Tennessee after the second-deadliest tornado event in state history leveled buildings and left at least 24 people dead.
In hard-hit Putnam County, 85 miles east of Nashville, where one twister left at least 18 dead and dozens injured, 20 people remained missing late Wednesday morning, said Putnam County Mayor Randy Porter.
The county on Wednesday identified 17 of the people who died. Five were children ages 3 to 13.
Collegeside Church posted on Facebook that one of its youngest members, Hattie Collins, 4, was killed.
The one victim who remains unidentified is a woman with dark curly hair about 30 to 35 years old. Authorities asked the public for help identifying her.
Another 88 people in Putnam County were treated at hospitals for their injuries, Porter said.
The tornado that hit Putnam was one of four to wreak havoc in Tennessee on Tuesday, according to the National Oceanic and Atmospheric Administration.
The tornado event also killed three people in Wilson County, one in Benton County and two in East Nashville in Davidson County, an area that is a hub for eateries, bars and shops, where buildings were shredded by the twister.
The victims in East Nashville were identified as Michael Dolfini, 36, and his girlfriend, Albree Sexton, 33, according to Nashville police. They had just left Attaboy Lounge, where Dolfini worked, in the area's trendy Five Points district when they were hit by flying debris. Another East Nashville bar paid tribute to the couple on social media.
Nashville Mayor John Cooper said Wednesday that there were no current reports of anyone missing in the city or greater Davidson County.
A man who was waiting outside for a ride in Mt. Juliet, outside Nashville, before a twister hit was reported missing early Wednesday but was later found safe in Knoxville, police said.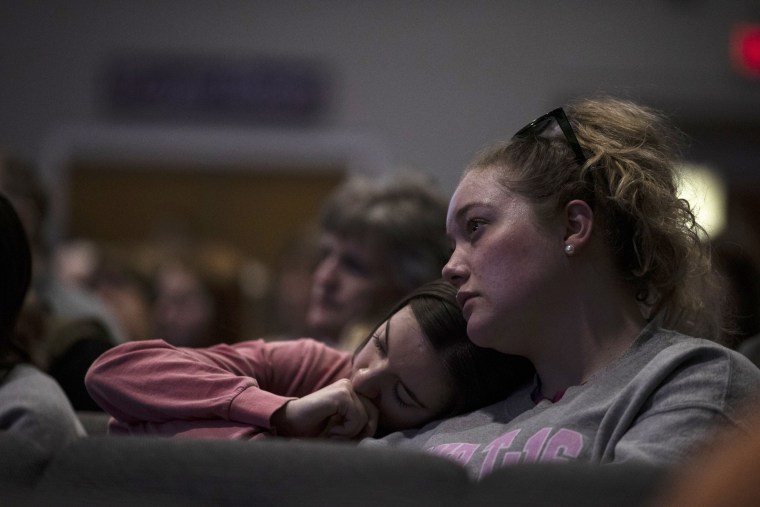 The series of tornadoes became the second-deadliest tornado event in Tennessee history, according to the National Weather Service's Storm Prediction Center. The deadliest was on March 22, 1952, when twisters killed 38 people. A tornado on Feb. 5, 2008, killed 22, according to federal authorities.
Country music stars such as Carrie Underwood, Kacey Musgraves and Faith Hill, meanwhile, shared their concerns and personal accounts of the disaster.
Underwood told "TODAY" that her husband was at their Nashville home with their two young children during the tornado and rushed to take shelter. "He said he had to go upstairs at, like, 2 a.m. and grab the boys and take them down to a little safe room in our house," she said.
Musgraves tweeted Tuesday: "Me and my fam are safe but many friends aren't so lucky ... I'm so nervous to find out who the fatalities are."
She said she was going to help "in any way I can," an offer echoed by other stars like Hill.
In Putnam County, Porter said hundreds of volunteers were lending assistance Wednesday. "And when I say hundreds, currently on South Jefferson, traffic is back up for about a mile," he said. More than 800 people had already given blood, Cookeville Mayor Ricky Shelton said.
Volunteer Jason Stewart said he showed up to help Wednesday because "it's our community."
"We live here. We thrive together," he said.