It's a wonder her arm didn't fall off.
From December 2002 to January 2010, more than 335,130 prescriptions for painkillers were issued under the name of Dr. Katherine Hoover at the West Virginia clinic where she worked — a rate of about 130 per day, assuming she worked seven days a week.
Another doctor who worked with her in the Mountain Medical Care Center, in tiny Williamson, West Virginia, was charged with selling prescriptions to people he never examined, and the office manager was arrested as well. The clinic was closed. But Hoover was not prosecuted and headed to the Bahamas while her colleagues faced prison.
In her first extended interviews since then, Hoover — whose name was invoked as a symbol of the deadly opioid crisis at a recent congressional hearing — told NBC News there is a very simple reason why the government did not throw the book at her.
"I was never charged or ever investigated because I didn't commit any crimes," Hoover said by telephone. "I prescribed narcotics to people in pain. I did everything I could to help people have a better life, which I told the FBI."
"Every prescription I wrote was justified for the person who had gotten it," she added.
Hoover, 68, wrote more opioid prescriptions than any other doctor in West Virginia from 2002 to 2010, government investigators said in court documents. As of 2016, West Virginia has the nation's highest rate of fatal drug overdoses due to opioids.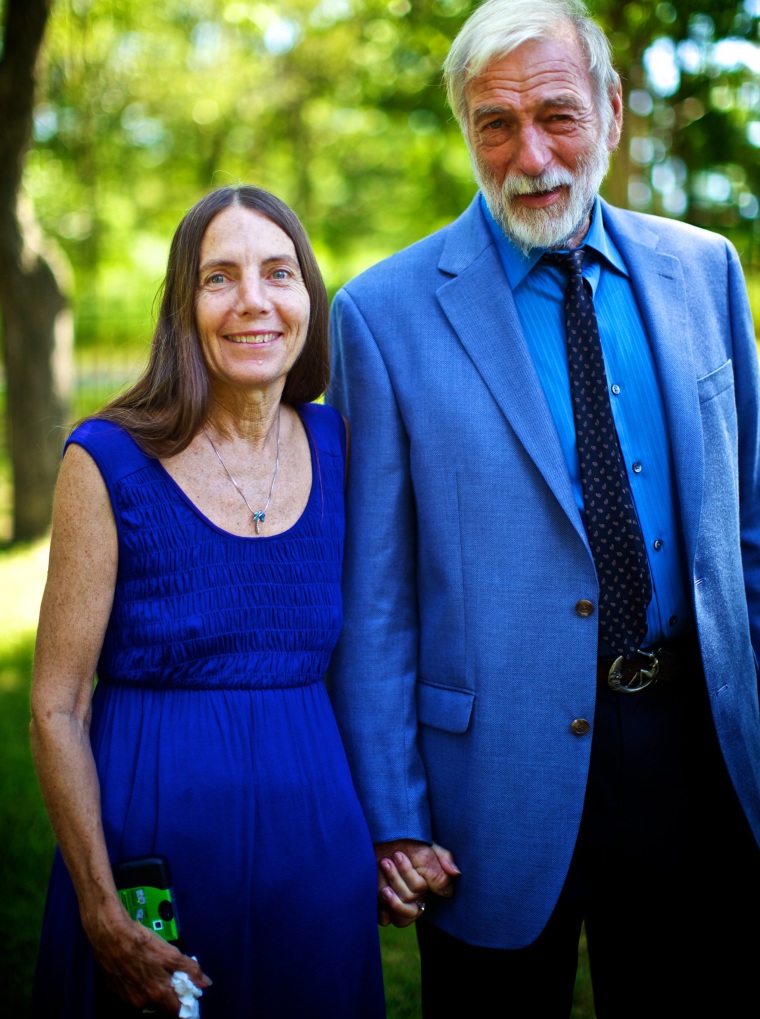 "That's not because of doctors," Hoover said. "It's actually gotten worse since they forced doctors out of business who do their best to treat pain patients. … The first and real problem in our country is the high rate of suicide and the distress people are in. That's the epidemic that we need to start looking at."
Many people disagree. James Cagle, a Charleston, West Virginia, lawyer who represented some of the people who got hooked on the opioids that Hoover prescribed, said Hoover was known in the state for signing prescriptions without asking too many questions.
"She sure as hell got away with this," Cagle said. "She basically wore the prosecutors out. She found that if you're crazy enough and loud enough and just undaunted, they don't know what to do with that. They decided she was too much trouble and walked away."
Not completely — the government did confiscate $88,029 from Hoover through a civil proceeding. But that's all they got from her.
The U.S. attorney's office in Charleston and the former federal prosecutor in charge of the case, Booth Goodwin, did not respond to calls for comment on why they did not pursue criminal charges against Hoover.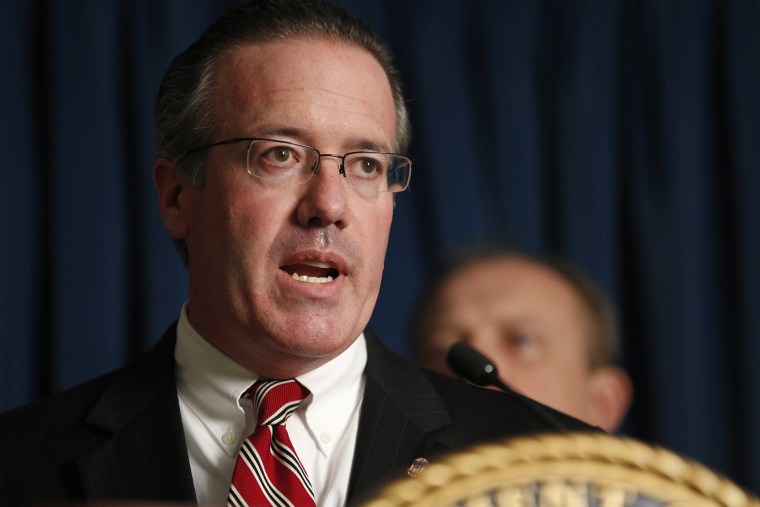 Theories — aside from Hoover's innocence — range from the difficulty of prosecuting doctors to speculation that Hoover was a government witness. But Harry Litman, a former U.S. attorney who was not involved in the case, says none of those potential explanations is satisfying — and the true reason may remain a mystery.
While Hoover is cast in court papers and interviews as a villain in the opioid epidemic, she's also revealed as fiercely loyal to her husband of 42 years, John Tomasic — in 1993, she tackled a deputy who was arresting him and was arrested herself. And the couple had big dreams — they shared a loathing for clothing and hoped to open a nudist colony in the Bahamas. But their marriage was marked by tragedy: Their first son, Michael, died in 2005, and their second, Stephen, died in 2016.
There was plenty Hoover didn't want to talk about in her recent conversations with NBC News — including where, exactly, she was calling from — but she kept returning to a single point: She just wanted to stop people's pain.
'THEY CALLED IT "PILLIAMSON"'
Hoover arrived in Williamson around 2002 and began working at the Mountain Medical Care Center, a private clinic formerly known as the Williamson Wellness Center, which took anyone who could pay in cash.
At the time, her medical license was suspended because she had been accused of asking a 17-year-old girl during her first gynecological visit seven years earlier in Philippi, West Virginia, if she or any of her female friends would "have sex with her teenage sons," according to administrative agency records. She was allowed to continue practicing, but only under the supervision of another doctor.
Williamson is a struggling city of some 3,000 residents just across the Tug Fork River from Kentucky. When coal mining collapsed, it left behind a lot of proud but hurting miners — many of whom were already reliant on painkillers.
Hoover and the other Mountain Medical Care workers exploited that drug addiction, federal investigators said.
Every day, hundreds of customers, some of whom lived hours away, lined up outside the clinic starting at 6 a.m. to get their opioid prescriptions renewed.
First-timers paid $450 in cash to see a doctor and get a prescription, undercover investigators discovered. Returning customers paid $150 to a receptionist, who would hand out new prescriptions after asking a cursory question or two about their health, investigators found.
One of the investigators reported that he was told by a nurse at the clinic to get an X-ray because "if the feds walk in right now, she wanted them to be able to pick up any chart that they want and find that the clinic is searching for what's wrong with the patient."
The prescriptions were filled at two Williamson pharmacies just four blocks apart that dispensed some 20.8 million painkillers over a decade.
"They called it 'Pilliamson,' instead of Williamson," Mingo County Prosecuting Attorney Michael Sparks told The Charleston Gazette in 2011. "It was an open secret, you might say."
Hoover was West Virginia's top prescriber of controlled substances, according to federal court records. She was described by the clinic's owner as its "bread and butter," during a period when it was bringing in large sums of money.
In 2009 alone, Mountain Medical took in more than $4.6 million in cash, investigators said in court filings.
THE RAID AND ITS FALLOUT
On March 2, 2010, federal investigators capped a two-year undercover probe by raiding the clinic and shutting it down.
Goodwin, who made a name for himself overseeing the prosecution of former Massey Energy coal king Don Blankenship following the deaths of 29 mineworkers, later boasted about shutting down the "notorious pill mill."
"Now we've put the operators in prison and hit them in the pocketbook, to the tune of more than $1.5 million," Goodwin said in 2013.
Hoover and the others were accused of prescribing boatloads of pills to people in return for cash.
Unlike Hoover, Myra Sue Miller, the office manager, and William Ryckman, another doctor who worked at the clinic, were charged with crimes.
Ryckman was convicted in 2012 of selling narcotics prescriptions to patients he never examined. He was sentenced to six months in prison and had $413,050.89 confiscated from a Mountain Medical account that was listed in his name.
Contacted by NBC News, Ryckman was not eager to talk at length about Hoover.
"From what I understood, she just left the country and went to her island," Ryckman said in an interview. "The less I know about it, the better."
"Any time I tried to get people off medication, they would go to her and she would just keep increasing people's medication."
Ryckman recalled Hoover as a doctor who could not say no to patients seeking opioids. He said she pre-wrote painkiller prescriptions and never even saw many of the patients who came in to collect them.
"She was the softest person," he said. "Any time I tried to get people off medication, they would go to her and she would just keep increasing people's medication."
Ryckman's recollections were echoed by former patients of Hoover's, including Wilbert Hatcher. Hatcher told The Guardian in 2016 that he was referred to the clinic in 2003 after he fell down stairs while working at a motel. Within six months of being prescribed painkillers by Hoover, he was hooked.
"I had to have that pill every morning to get out of bed, to function," he told The Guardian. "To go without it, the physical pain. Oh gosh. Your hands is jerking. You feel the cramps in your arms and your legs. The anxiety. You're trying to figure out, what am I going to do here? It's real bad. I'll tell you, it's the worst time in my life."
Hatcher did not return calls for comment.
Miller, the office manager, pleaded guilty in March 2013 to misusing a Drug Enforcement Administration registration number that belonged to Ryckman. She was sentenced to six months in prison. Through a lawyer, she declined to discuss Hoover.
As part of her guilty plea, Miller agreed to turn over two buildings worth more than $600,000 to the government. More than $475,823 in cash found at her Williamson home was also confiscated.
While Hoover worked at Mountain Medical, she lived with another doctor, Diane Shafer, who ran a smaller clinic of her own in town. Shafer was arrested as part of the same investigation and was sentenced in September 2012 to six months in prison for conspiring to misuse her DEA registration number.
"Shafer, by herself, wrote more prescriptions for controlled substances than several West Virginia hospitals during that period," Goodwin stated in a 2013 press release.
Shafer did not respond to an emailed request for comment.
HOOVER FLEES TO THE BAHAMAS
Four days after the feds raided Mountain Medical, Hoover fled to the Bahamas, where she and her husband say they own the 700-acres Little Ragged Island. They planned to turn the island into a clothing-optional resort, though it's unclear whether they took steps toward building one.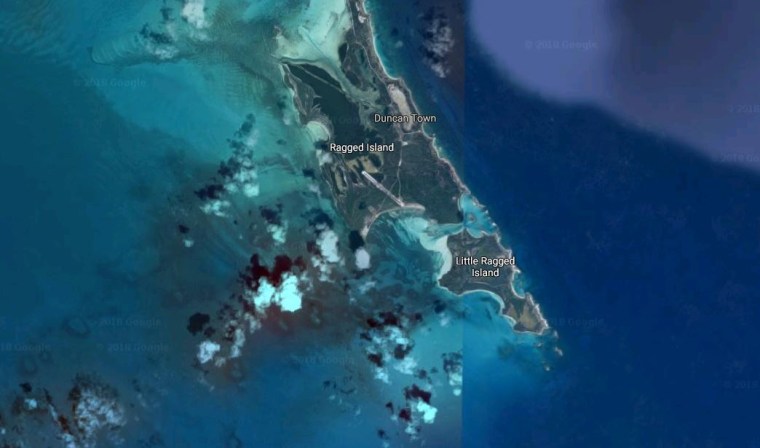 Hoover and her husband, John Tomasic, are longtime nudists. In the 1993 incident, she and her husband were arrested for attacking a sheriff's deputy who told her to cover up as she sunbathed topless at a beach in Key West, Florida, where Hoover had been operating a private medical practice, police said. A jury found Hoover guilty of battery on a deputy and sentenced her to one year of probation and 50 hours of community service, The Miami Herald reported at the time.
She didn't flee to Little Ragged Island after the raid, however. Instead, she decamped for a condo in Nassau that was owned by a local doctor, Norman Gay, who ran an anti-aging clinic there, according to court records.
She said her move had nothing to do with the feds' raid on the clinic.
Hoover, then 59, told The Associated Press that she went to the Bahamas for her "health and safety." She claimed to be recovering from what she said was an attempt to poison her, an explanation she repeated in recent interviews.
That claim has roots in the death of her firstborn son in a West Virginia jail. Michael Tomasic, 26, was booked in the North Central Regional Jail on Sept. 29, 2005, on a misdemeanor trespassing charge and was later found unresponsive in his cell. He died Oct. 7.
Hoover and her husband sued, claiming in court papers that Michael had been abused by either fellow inmates or the guards. The family won a settlement in 2008 — as the federal government was investigating Mountain Medical.
"We settled that lawsuit for $750,000, and after that they went after us and got a lot of that back," she said in a recent phone conversation. "There is a whole lot of corruption in West Virginia law enforcement."
Hoover's lawyer in that case, Timothy Koontz of Charleston, previously told the AP he had no knowledge of any attempted poisoning.
THE LEGAL BATTLE
In July 2011, federal prosecutors filed a petition asking a judge to require Hoover to appear and testify under oath for an out-of-court deposition in connection to the Mountain Medical bust. They wanted her testimony for one of several civil cases in which prosecutors sought control of $2.2 million in assets seized in the initial raid on the clinic and the doctors' homes.
Acting as her own attorney, Hoover filed motion after motion, refused to cooperate and even challenged the government's right to take a deposition from her or to investigate physicians, federal court papers show.
"Every patient was receiving legitimate care at the clinic," Hoover told the AP previously. "If we found that people were selling drugs or abusing drugs, we discharged them and did everything we could to get them help."
Hoover also said in court documents that she was not a staffer at the Williamson clinic, merely an hourly independent contractor. She repeatedly argued that the federal government lacks jurisdiction over the practice of medicine.
The feds disagreed with her contention that they had no right to intervene.
"Dr. Hoover's basis for trying to avoid the taking of her deposition is without merit," a government motion said. "Dr. Hoover has no legitimate basis to refuse to submit to a deposition."
In August, a federal judge agreed with the prosecutors and ordered Hoover to appear in court.
She says she never did.
And in the end, while federal prosecutors were able to recoup $1.5 million in cash and property from Hoover's alleged accomplices in the pill mill, they got a grand total of $88,029 from her, less than they had sought.
Hoover did ultimately lose her medical license — but it was because of the 1995 incident in which she urged a teenage patient to have sex with her sons, not because of anything she did at the West Virginia clinic, according to state Board of Medicine records. Her already-suspended medical license was revoked in May 2010, not long after she moved to the Bahamas.
WHY WASN'T HOOVER PROSECUTED?
Valarie Blake, an associate professor at West Virginia University's law school, said prosecutors probably would have faced an uphill battle convincing a jury that Hoover had committed a crime.
"It's very difficult to prove these cases," said Blake.
Pain management is often subjective, and crooked doctors can cover their tracks by insisting that patients bring in X-rays or other documents to support their claims, Blake said.
Also, patient records are hard for prosecutors to get their hands on and they need to be vetted by experts before they can be introduced as evidence, she said.
"Then you have to convince a jury that a physician, who holds a time-honored position in society, used her license in a way that was intentionally harmful," said Blake. "That's a tough sell."
"The nonprosecution decision here is puzzling."
Litman, the former U.S. attorney in Western Pennsylvania and an NBC contributor, countered that those obstacles likely wouldn't have stopped prosecutors.
"The nonprosecution decision here is puzzling," Litman said in an email. "It's not just that the facts are egregious, but also that the problem is severe in West Virginia. And it seems like a paradigmatic case for the use of federal resources."
Litman added that Goodwin, the prosecutor on the case, has a solid reputation and deemed it "implausible" that Hoover could have worn him, or his team, down.
"This would have been a big case and this is what they do," Litman wrote.
Extraditing Hoover from the Bahamas would not have been difficult, he added.
Asked if it's possible that Hoover was secretly cooperating with investigators, which Hoover wouldn't directly address, Litman said that "the cooperating witness theory is interesting but you would think she would have been charged with a crime by now."
Litman also said the Williamson crackdown came during a period of "severe DEA dysfunction," which could have played a role.
The Drug Enforcement Agency has been criticized repeatedly by federal lawmakers for failing to stop pharmaceutical companies and distributors from flooding West Virginia with opioid painkillers.
Asked about the Hoover case, DEA spokesman Melvin Patterson said the agency's job is to present evidence to prosecutors and "at that point the decision to prosecute or not prosecute an individual rests solely upon that office."
"We are not aware of factors involving Dr. Hoover which led the USAO to decide not to prosecute Dr. Hoover and do not wish to speculate about such factors," Patterson wrote in an email, referring to the U.S. attorney's office. "That is a question that can only be addressed by the declining office."
'EVERYONE IN OUR SOCIETY IS ADDICTED'
During a recent congressional grilling of five Big Pharma executives over the deadly opioid crisis, a Georgia lawmaker brought up Hoover's name.
"Do you know whatever came about with Dr. Hoover?" Rep. Buddy Carter, a Republican, asked. "She fled to the Bahamas. She bought an island."
If Carter was expecting an answer from any of the pharmaceutical chiefs appearing before a subcommittee of the House Energy and Commerce Committee, he was disappointed.
Nobody appeared to know. And Carter did not pursue that line of questioning.
But if anyone really wanted to find Hoover, there is a lengthy trail of legal breadcrumbs to follow. Court records suggest she and Tomasic have been shuttling between Michigan, Georgia, California, Florida and West Virginia for much of the last 10 years.
During her talks with NBC News, Hoover declined for the most part to go into specifics about her movements and was reluctant to sit down for an in-person interview.
In a handwritten court document Hoover filed on June 24 — part of a long-running legal battle the couple has been waging with a Jacksonville, Florida-based dry docking company they accused of wrecking their yacht "Sunny" — Hoover listed a mail forwarding service in Green Cove Springs, Florida, as their home.
Hoover has also spent time in her native Michigan, where she was living in 2013 when she fought with her four sisters in court over who should care for their elderly mother.
Asked again about her alleged role in the opioid crisis, Hoover continued to insist that the blame lay elsewhere.
"We need to stop putting people in jail," she said. "Our jails are full of innocent people. This needs to be addressed as a public health problem. Everybody in our society is addicted to something."