A doctor who treated America's Olympic gymnasts 20 years was fired from his post at Michigan State University on Tuesday as the school continued to investigate allegations of sexual misconduct against him.
The school said it terminated Dr. Larry Nassar after learning that he was violating "certain employment requirements" put into place after a misconduct complaint was lodged by a recent graduate in 2014.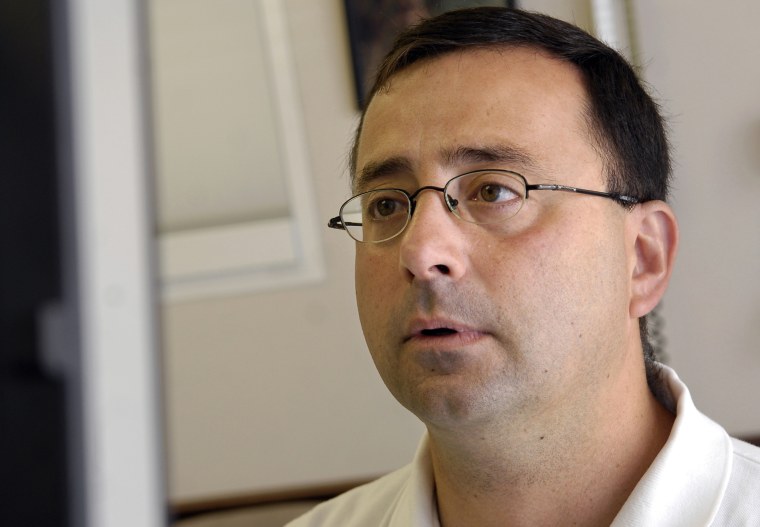 An investigation into the 2014 allegation did not result in any charges. But in recent weeks, two more gymnasts, one of them an Olympic medalist, accused him of molesting them in the past.
After those claims surfaced, MSU reassigned Nassar from his clinical and teaching duties.
Since then, according to prosecutors, an undisclosed number of other women have made complaints against Nassar, who was the team doctor for USA Gymnastics from 1996 to 2015.
Related: Former USA Gymnastic Doc Faces More Abuse Allegations
Nassar, who has denied any abuse through his legal team, has not been charged with a crime. His new attorney, Matt Newburg, had no comment on his firing.
MSU did not detail what requirements it had put into place after the 2014 report but said it received information that they "were not consistently met." The school said Nassar also "was not forthcoming when questioned about other previous allegations."
Although Nassar claims he retired from his role with USA Gymnastics, the sport's national governing body, the organization said it fired him in 2015 and notified law enforcement "after learning of athlete concerns."