A doctor who treated America's top gymnasts, who has been accused of sexually abusing athletes during treatment, did use techniques "involving vaginal penetration," his attorneys said Thursday.
Dr. Larry Nassar's lawyers said in a statement that the procedures were "medically accepted and appropriate treatments," according to doctors who practice osteopathic manipulation like him.
"Any allegations that Dr. Nassar was performing these procedures for any purpose other than proper medical treatment are patently false and untrue," the attorneys, Matt Newburg and Shannon Smith, said.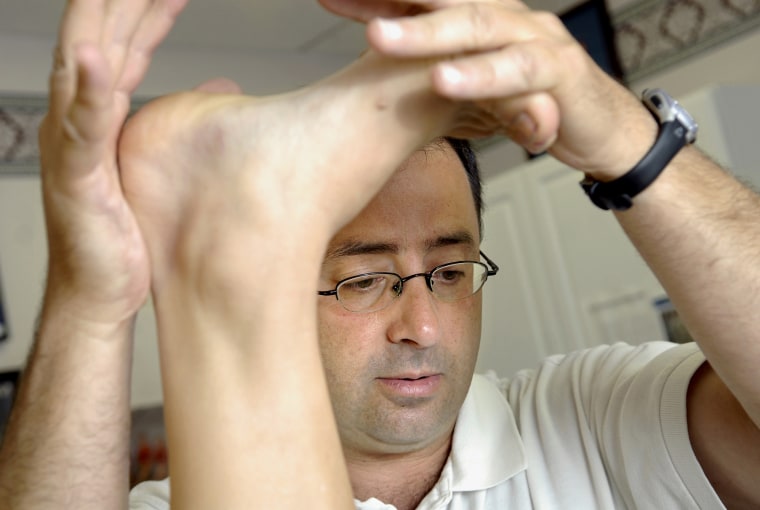 The American Osteopathic Association, which represents 110,000 physicians, told NBC News that while a "small number" of osteopathic physicians are trained to do intra-pelvic procedures, "it is not at all common."
"Thousands of patients, including large numbers of Olympians and other competitive athletes, get relief from [osteopathic manipulative treatment] and it's extremely troubling to learn of the allegations against Dr. Nassar," the organization said.
Nassar worked with USA Gymnastics, the sport's governing body, for two decades, before he was fired in 2015 in response to "athlete concerns."
Related: Former USA Gymnastics Doctor Faces More Sex Abuse Claims
Earlier this month, the Indianapolis Star reported that two former gymnasts had lodged complaints against him — a former Olympian who filed a lawsuit in California and a club-level athlete who made a report to police at Michigan State University, where Nassar had his practice until being fired this week.
Both women allege that Nassar penetrated them with his fingers under the guise of an intravaginal adjustment and that he groped and massaged other body parts. The Olympian, who filed her lawsuit until the name Jane Doe, also alleged that Nassar made sexually inappropriate comments.
Since the Indianapolis Star report, other women have filed complaints with Michigan State police, according to law enforcement officials.
Nassar, who has not been charged with a crime, said he has explained his procedures to investigators.
"Dr. Nassar has never denied that he used medical techniques involving vaginal penetration and in fact, he provided the police with detailed information about the techniques he used to treat athletes and patients for decades," the statement from his attorneys said.
In a followup email, they said they were using Michigan's legal definition, which applies to "even the slightest penetration."
Jason Cody, a spokesman for Michigan State, said he could not comment on Nassar's claim about his techniques "as both our police and administrative investigation continues."
Ingham County Prosecuting Attorney Gretcher Whitmer said she also could not comment.